Surrey Police correct Twitter user after claim that cyclists' road position make drivers 'risk their lives'
Surrey Police Road Policing Unit put one Twitter user right after they attempted to give wrong advice to cyclists on British roads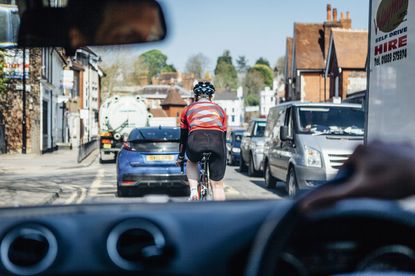 (Image credit: catchpole)
One Twitter user was thoroughly corrected by Surrey Police's Road Policing Unit on Wednesday after Tweeting a complaint about the position of cyclists on the road.
The original message from the Twitter user attempted to advise cyclists that they should ride at the extreme left of the road lane "so people can overtake you without risking their lives".
"Advice to British cyclists. If you're turning left, don't first move one meter or more to the right," said the Twitter user.
"If you're turning right, don't stop/slow down in the middle of the lane. If you're not making a turn, keep to the left so people can overtake you without risking their lives. Thx!"
Surrey Police RPU then replied "Actually they should do exactly what you are telling people not to do.
"They firstly have every right to use all the lane, secondly the positions you describe allow them to be seen and prevent unsafe overtakes.
"If you have to put your self at risk to overtake DON'T".
>>> Transport minister hits back at reports of 'plan' for compulsory helmets and hi-vis for cyclists
It's not the first time that Surrey Police RPU has corrected Twitter users on points of law, safety and common sense concerning the treatment of cyclists – and all other users – on the roads.
Last week, RPU was recognised for the work done via its Twitter account after it won the 'Best Tweeting Roads Police Account' category at the national Police Twitter Awards.
Thank you for reading 10 articles this month* Join now for unlimited access
Enjoy your first month for just £1 / $1 / €1
*Read 5 free articles per month without a subscription
Join now for unlimited access
Try first month for just £1 / $1 / €1