TALES FROM THE BROOMWAGON: CASSOULET WEEKEND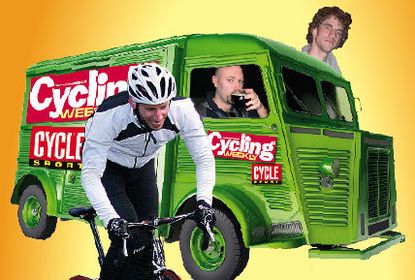 Get The Leadout Newsletter
The latest race content, interviews, features, reviews and expert buying guides, direct to your inbox!
Thank you for signing up to The Pick. You will receive a verification email shortly.
There was a problem. Please refresh the page and try again.
Day 14
Friday
Montpellier - Revel
The start in Montpellier was insane. The press pack had a new target after news of Michael Rasmussen's four missed out-of-competition dope tests broke. Hundreds of journalists, photographers and cameramen pushed and shoved and waited for the Dane to come out and answer some questions.
Rasmussen looked startled and his answers were not wholly encouraging. Without wishing to prejudice him, we've heard it all before. The Tour's yellow jersey began to look like a poisoned chalice or a garment fitted with extremely heavy shoulder pads to bear down on the wearer.
But this is the Tour and it's not going to change in a hurry. The riders blame the media for exposing drug-taking, the misconception being that scandal sells papers or magazines. Anyone who makes an allegation against a rider is said to have a murky motive, money or fame usually. But what about the motivation of a cheat? Huge riches follow success in professional sport. What about that motive? Oh, but of course, sportsmen always behave in a sporting manner.
For the specialist media a smeared yellow jersey or a race lacking credibility is a disaster.
Rasmussen had to be escorted to the line by a ring of policemen but at least once he crossed the start line he was guaranteed a few hours' peace and quiet.
After the circus had left town we met up with a friend of Simon's who is to drive us for a few days. He thinks he's coming on holiday. He's in for a shock.
His name is Stephen Roach so, naturally, on greeting him, Ed mimicked Phil Liggett's infamous commentary from the 1987 Tour: "It's Roche. It's Stephen Roche." Stephen Roach had the grace to laugh as if he'd never heard it before.
We drove off, planning to have lunch at Narbonne Plage, which we thought would be a delightful seaside town. Instead we found a place that resembled Margate. Gaudy shops, pavement cafes selling burgers, hot dogs and chips.
Simon did at least manage to buy some swimming trunks - although they looked very small, like children's swimming trunks. Now all he has to do is find half an hour's spare time and a swimming pool. My bet is that he does neither.
Revel brought the first stage of a three-day cassoulet marathon. We stayed in Revel last year and the cassoulet was every bit as good as I remembered it. For the uninitiated, cassoulet is a speciality of this region. It's basically haricot beans, with duck meat, Toulouse sausage and sometimes pork or goose meat too. It's delicious and it always leads to a disrupted night's sleep. Today was no exception.
THE LOWDOWN
Where we stayed: Camping Salvan, Revel
Rating: 2 tents
What we ate: Cassoulet stage one
Kilometres driven: 245km (total so far: 2,539km)
Day 15
Saturday
Revel - Revel
What we saw today: Bradley Wiggins winning the 54km time trial in Albi in a time of one hour eight minutes and 48 seconds. That?s what we saw.
I used to believe in Father Christmas until I saw the silhouette of my Dad delivering parcels in a sack at the end of my bed when I was about eight.
Despite everything, I used to believe in the Tour de France as well.
Now I don?t.
THE LOWDOWN
Where we stayed: Revel
Rating: 2 tents
What we ate: Cassoulet stage two
Kilometres driven: 110km (total so far: 2,649km)
Day 16
Sunday
Revel - Tarascon
There was, undeniably, a feeling of gloom after the time trial. Unfortunately, libel laws prevent me from explaining exactly why but let's just say that for anyone seeking a credible sporting event, it's a bit of a blow when three riders from the same team rock up and take three of the top four places in the time trial. Of the top 12, seven of the riders were shared by two teams. Of course it could just be because those teams have signed all the best time trial riders.
But that argument is exactly the flip side of one suggesting that all French people are rubbish at cycling. The numbers don't stand up to scrutiny. All the French riders are not rubbish, yet they routinely finish outside the top 30 in the time trials and the mountains. It simply doesn't stack up.
Anyway, as we returned from the restaurant on Saturday night we passed a bar with a karaoke set-up. Sam, Dan's girlfriend, impressed with accomplished versions of songs by Kylie Minogue and Madonna. Ed attempted Don't Stop Me Now by Queen which turned out to be a lot more difficult than he'd bargained for. The high notes gave him particular trouble and seemed to disturb the local cat community. Stephen Roach gave a sort of spoken word rendition of Don't You Want Me by Human League which wouldn't have been out of place at a lounge bar inhabited by octogenarians. The single is out on Tuesday.
Sunday meant a long drive south to Tarascon.
Ed had booked the ?best cassoulet restaurant in France? for dinner and, after foolishly eating cassoulet for each of the previous two dinners, I approached the restaurant with trepidation. We picked up CW Italian correspondent Steve Farrand on the way which meant a detour to the press room and a ten-minute wait outside in the taxi.
The cassoulet was good but I couldn?t finish the beans. Ed stripped the duck bone like a hungry piranha and then polished off a hors categorie mountain of profiteroles. Where does he put it all? He must have a fast-running metabolism that can spin out the 56x11.
As we left the restaurant I was delighted to see Charly Mottet, twice fourth in the Tour, tucking into cassoulet. It?s the food of champions but, after three in a row, I think it?ll be a year or so before I attempt it again.
Disaster very nearly struck when we couldn?t get a taxi in Foix to take us the 20 kilometres back to Tarascon. We rang several taxi companies and stood around looking helpless for about 40 minutes until someone said they could pick us up.
A minibus arrived but our joy was shortlived as the driver had a heavy right foot and a habit of muttering to himself. Delicious though cassoulet is, I wouldn?t have chosen it as a final meal.
THE LOWDOWN
Where we stayed: Camping Pre Lombard, Tarascon
Rating: 1 star, it was like Butlins with a full time-table of organised fun which, as Ed pointed out, is the best kind of fun
What we ate: Cassoulet stage three
Kilometres driven: 290km (total so far: 2,939km)
PREVIOUS TALES FROM THE BROOMWAGON:
Tuesday, July 17: Naturally it was tempting fate to comment on how smoothly things had been going
Sunday, July 15 and Monday, July 16: Dramatic scenery, flouro shades and cooking your own meat
Saturday, July 14: Fame, fortune and scouring grassy verges
Friday, July 13: Hogged by a sycophantic French television reporter wearing a blue linen jacket
Thursday, July 12: Nearly a week done already. And nothing's gone wrong
Wednesday, July 11: As days following the Tour de France in a lumbering camper van go, Wednesday was about as close to perfect as you can get.
Tuesday, July 10: Back to Pierrefonds, scene of the great missing dinner disaster
Monday, July 9: Half-wheeling, grumpy campsite staff and greasy takeaways
Sunday, July 8: The day when the Tour went to Kent, and the boys went to Ghent
Saturday, July 7: Three men in a sweaty, underpowered van following the Tour
Friday, July 6: Ignore all other imitations - this is the original Idiots In A Camper Van Tour blog
Thank you for reading 20 articles this month* Join now for unlimited access
Enjoy your first month for just £1 / $1 / €1
*Read 5 free articles per month without a subscription
Join now for unlimited access
Try first month for just £1 / $1 / €1
Get The Leadout Newsletter
The latest race content, interviews, features, reviews and expert buying guides, direct to your inbox!
Sports journalist Lionel Birnie has written professionally for Sunday Times, Procycling and of course Cycling Weekly. He is also an author, publisher, and co-founder of The Cycling Podcast. His first experience covering the Tour de France came in 1999, and he has presented The Cycling Podcast with Richard Moore and Daniel Friebe since 2013. He founded Peloton Publishing in 2010 and has ghostwritten and published the autobiography of Sean Kelly, as well as a number of other sports icons.