TALES FROM THE BROOMWAGON: SUNDAY, JULY 8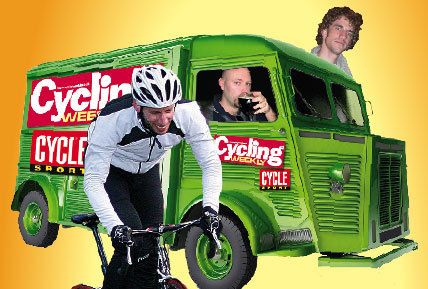 Sunday
Day 2 - London to Ghent
Calling this blog Tales from the Broomwagon is a bit of a fraud - until Monday at least. We haven't even picked up our luxury six-berth camper van yet. Instead we've been cosseted in five-star luxury in a top Park Lane hotel, followed by a slight downgrading in star value - though no significant drop in comfort - at the Marriot in Ghent.
When, in years to come, people ask me what I thought of the Tour's visit to Kent, I won't be able to answer them with any authority. That's because I spent the day in a taxi, a car, the Eurotunnel train and a traffic jam on the motorway that crosses Belgium.
Work duties meant we had to get ahead of the race so we had to rely on text message updates from friends and colleagues to fill us in on David Millar's breakaway, Mark Cavendish's crash and the increasingly erratic Phil and Paul show on ITV1.
Cycling on ITV1? It doesn't seem right somehow. ITV is the home of sitcoms about as funny as a saddle sore the size of a pomegranate, Coronation Street, which is about as entertaining as the Vattenfalls Classic, and This Morning with Phil and Paul - or is it Phil and Fern? They also interrupt movies with the news, which is unforgivable unless the news is that my house is about to slip into a large crater and perhaps I'd better escape out of the back door?
The Tour de France was interrupted by the British Grand Prix - and we didn't get a home win in that either.
We emerged from the Eurotunnel just in time to reach a hotel in Calais Coquelles to see the final five kilometres on the telly in the bar.
Robbie McEwen's win was so convincing he made Tom Boonen look like a lumbering beast. But just you wait Robbie, you won't be having it all your own way once Cav has had his wounds dressed and is up and fighting again. In the realm of MTV's Celebrity Death Match McEwen v Cavendish would be a great bout. They may not look big but I wouldn't go out of my way to spill either of their pints.
THE PREDICTION GAME
Stage 1
Simon -11 points: McEwen 1st (25 bonus points deducted from score), Forster 6th, Freire 7th
Ed 54 points: Zabel 13th, Napolitano 19th, Cancellara 22nd
Lionel 95 points: Hushovd 2nd, Haussler 41st, Bennati 52nd
Nigel 210 points: Boonen 3rd, Hunter 21st, Cavendish 186th
THE LOWDOWN
Where we stayed: The Marriott Hotel, Ghent
What we ate: Steak as soft as melting butter and a glass of Leffe Blond at the Monopol Restaurant in Korenmarkt
Kilometres driven so far: 0 in the Broomwagon
PREVIOUS TALES FROM THE BROOMWAGON:
Tales from the Broomwagon: Saturday, July 7
Tales from the Broomwagon: Friday, July 6