TALES FROM THE BROOMWAGON: THURSDAY, JULY 12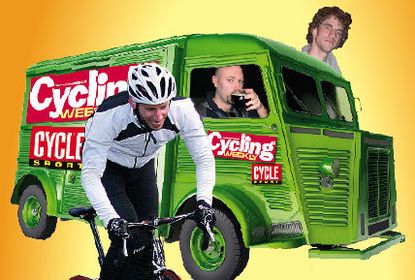 Thursday
Day 6 - Avallon - St Pereuse
Simon made some friends today. We were giving the Broomwagon a bit of a tidy up when we heard some quacking. Three ducks - a big one and two smaller ones - ventured close to the camper van, which was on a plot close to a lake. Simon threw them some bread, which brought out some rather bullying traits in the biggest one, which we nicknamed Big Tex.
Big Tex didn't want to share very much so we had to resort to devious tactics - distracting him by throwing a piece of bread a fair way in one direction, then throwing smaller scraps to Sandy Casar and Geoffrey Lequatre - named after Ed's favourite ever rider and the Lanterne Rouge after the stage to Autun.
It had been another spookily smooth-running day on the Tour de France. Disaster must surely be around the corner. Technology has certainly helped. Having a satellite navigation system cuts out an awful lot of problems when it comes to finding campsites that are tucked away and poorly signposted.
Being able to watch the race unfold on television in the Broomwagon is a big bonus too. It means we can park up, point the satellite dish roughly in the direction of south and get a picture. It means we can drive to a designated point on the route, watch them come past, then watch the rest of the stage on television.
This time last year we'd missed a dinner, missed the race at least twice and logistics were proving extremely difficult.
Of course we cannot compare ourselves to the real camper van heroes - the veterans who know every trick in the book and always seem to have bagged all the parking spaces on the climbs well before we get there.
It meant we had to stop on the descent of the second-category Haut Folin climb on the way to Autun.
Those who are following the Tour for fun, as opposed to having to work, tend to watch on alternate days. That way they can get well ahead and find a spot on the climbs, wait 36 hours and leapfrog the race again. Sadly we don't have that luxury and have to take the vantage points we can get.
THE LOWDOWN
Where we stayed: Manoir de Bezolle, St Pereuse
Rating: 2 tents. Had a swimming pool, which was closed, and well-kept grounds but was a bit too family holiday camp for our liking
What we ate: The worst meal so far - a poor quality frozen pizza and a ham salad. The beer was nice though.
Kilometres driven: 153 kilometres (total so far: 745km)
PREDICTION GAME
Remarkably a fourth stage win in six days for Simon, who is having the opposite of Astana's luck so far. Mercifully his first pick, Philippe Gilbert, was caught after a long escape, otherwise he would have been insufferably smug. It puts him in an almost unassailable position and has prompted the first complaint about the rules from Nigel.
Simon 129 points: Schumacher 8th, Valverde 13th, Gilbert 108th
Ed 163 points: Zabel 5th, Fedrigo 75th, Vinokourov 83rd
Lionel 195 points: Kirchen 4th, Astarloza 35th, Paulinho 146th
Nigel 321 points: Casar 69th, Boonen 100th, O'Grady 152nd
PREVIOUS TALES FROM THE BROOMWAGON:
Wednesday, July 11: As days following the Tour de France in a lumbering camper van go, Wednesday was about as close to perfect as you can get.
Tuesday, July 10: Back to Pierrefonds, scene of the great missing dinner disaster
Monday, July 9: Half-wheeling, grumpy campsite staff and greasy takeaways
Sunday, July 8: The day when the Tour went to Kent, and the boys went to Ghent
Saturday, July 7: Three men in a sweaty, underpowered van following the Tour
Friday, July 6: Ignore all other imitations - this is the original Idiots In A Camper Van Tour blog
Thank you for reading 20 articles this month* Join now for unlimited access
Enjoy your first month for just £1 / $1 / €1
*Read 5 free articles per month without a subscription
Join now for unlimited access
Try first month for just £1 / $1 / €1