TALES FROM THE BROOMWAGON: THURSDAY, JULY 19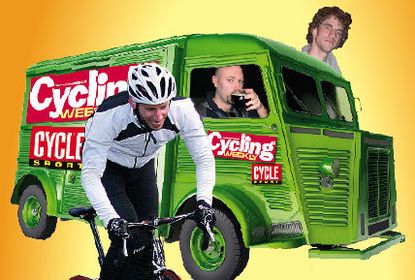 Get The Leadout Newsletter
The latest race content, interviews, features, reviews and expert buying guides, direct to your inbox!
Thank you for signing up to The Pick. You will receive a verification email shortly.
There was a problem. Please refresh the page and try again.
Thursday
Aix-en-Provence - Montpellier
Marseille gives the impression of being a city that doesn't wash on the basis that it's only going to get dirty again.
The city presented us with an aroma of smells, not many of them pleasant. I accept this may sound a bit rich coming from three men who've been living in a camper van in 35 degree heat for the past few days.
The start village was in the shadow of the Stade de Velodrome, home of Olympique Marseille, the great French football side that won the European Cup in 1993 and then had it taken away because the club was found guilty of
match-fixing.
There is a link between L'OM and cycling. The multi-millionaire businessman Bernard Tapie once owned the club. He was the man who brought Bernard Hinault and Greg LeMond together in the La Vie Clair team in the mid-1980s. Their stadium used to be a velodrome and sections of the old concrete track can still be seen in the corners, between the banks of seats.
Having driven the short distance from Aix en Provence to Marseille for the start, we tried to get breakfast in the centre of town. Monsieur at the cafe said they were out of croissants but offered 'tartin beurre' which we assumed was a buttery tart of some kind. It was, therefore, a huge disappointment to be presented with two pieces of baguette and a foil-wrapped packet of butter.
The buzz in the start village surrounded the German TV station ARD's decision to halt broadcasting the Tour after Patrick Sinkewitz of T-Mobile tested positive for testosterone at a team training camp in the Pyrenees last month.
In no particular order the issues this raises are:
* This shows that, no matter how strident a team's anti-doping policy and testing policy it is still possible to slip through the net. Unless professional cycling adopts the practices of Japanese Keirin racing and forces all the riders to live together in a commune. Now that could be fun. Perhaps television production company Endemol could be persuaded to sign up - Peloton Big Brother anyone?
* Why did it take more than a month for the results of this out-of-competition to be revealed?
* What will the Tour de France do to plug the 23million Euro gap that'll be left if German television pulls the plug for good?
* What was Sinkewitz's reaction when he awoke from his nose operation (having broken it after crashing into a spectator descending the mountain at Tignes after the stage the other day)? "So, what's going on? And why aren't I wearing my T-Mobile team issue pyjamas?"
* What was Sinkewitz thinking? Having seen the mess Jan Ullrich got himself into - and having seen T-Mobile's new ethical code, does Sinkewitz really have marshmallow for brains?
* And finally, what wacky excuse will his lawyer come up with to explain the 24:1 ratio between testosterone and epitestosterone? (normal ratio 1:1, dope test failure rate 4:1) "I ate bull testicles for supper that day." "I left a window open and the testosterone blew in." "Wolves did it."
Anyway, only a fool would have expected any Tour de France to reach its conclusion without at least one scandal...
As for the intrepid Broomwagon crew, we drove straight from Marseille to Montpellier, where the finish was just outside the Stade de Mosson,
Montpellier FC's stadium and like Marseille a venue for the 1998 World Cup.
We joined the race route five or so kilometres from the finish. As we crested a small rise Ed said: "This is where I'd attack."
About 800 metres from the line, there was a big roundabout, just as the road narrowed. So close to the line, it was crazy. There'll be a crash here, we agreed. Sure enough, they went down like skittles.
We spent a pleasant evening in Montpellier, where we sat like three judges in a game of Montpellier's Got Talent as a breakdance troupe did their thing. Simon said: "Ed can breakdance".
Before bed, we heard that Dan, one of our technical writers, is joining us for a few days tomorrow. He won't be staying in the Broomwagon though, he's bringing a tent. And his girlfriend, Sam.
So, just to get this straight, her holiday will involve traipsing round team hotels looking at cranksets and handlebars? It must be love.
THE LOWDOWN
Where we stayed: Camping Floreal on the outskirts of Montpellier, near the motorway
Rating: 1 tent
What we ate: protein-rich tuna carpaccio followed by steak
Kilometres driven: 215km (total so far: 2,094km)
Thank you for reading 20 articles this month* Join now for unlimited access
Enjoy your first month for just £1 / $1 / €1
*Read 5 free articles per month without a subscription
Join now for unlimited access
Try first month for just £1 / $1 / €1