THE BIG INTERVIEW: BRIAN HOLM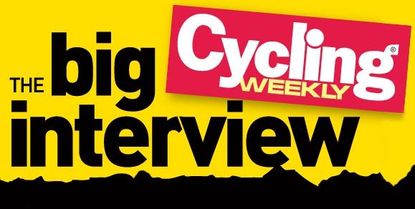 Brian Holm is the calm, approachable Dane whose job it is to coax and cajole Mark Cavendish into becoming a world beating sprinter. The 45 year old was a respected domestique during a career that saw him ride on the same Telekom team as Bjarne Riis.
Last year Holm was one of the riders who admitted using EPO during his career but says he learned from his mistakes and wants to help a new generation win clean.
He tells CW about what makes Cavendish tick and how he handles such a raw talent.
CW: What is Mark?s best quality as a rider?
BH: His enthusiasm. He wants to race, all the time. Everywhere. He even wanted to do Paris-Roubaix this year. Loads of top riders wouldn?t want to do Roubaix because it?s too dangerous, but Mark? He says ?Bring it on!?
He just loves riding his bike. The first year in the Tour of Britain, it was chucking it down with rain, guys were really out of it and I lean out of the car and say ?Hard day, eh?? And he says back to me: ?I?m lovin? it.?
He?s so motivated to race it?s unbelievable. Maybe he?s not the fastest rider right now, but he?s definitely one of them. He?s so young he?ll be the fastest soon.
Some sprinters are tricky to deal with. Is Mark?
BH: He?s very easy going. I think it?s a British thing, because [High Road team-mates Roger] Hammond and Bradley Wiggins, they?re so polite too. And I like that, especially after dealing with the Germans for so long!
There?s nothing wrong with the Germans, but they?ve got a very different mentality. German riders are more fussy. They play the prima donna a lot more.
Does Mark risk putting people?s noses out of joint by being so good so young?
BH: I like it. I think it?s going to happen whatever you do. You can have a coffee with riders from another team and it?s friendly ? but on the bike they are enemies. Do you think anybody had friends in a sprint like Ghent-Wevelgem, with 80 guys all going for the line?
It must be frustrating for older riders seeing this kid coming up. It must be hard to get beaten. But that?s cycling. In 15 years? time, Mark?ll get beaten by a kid, too.
So he?s not unpopular?
BH: Mark?s liked because he?s not a risk-taker. You know [sprinter] Graeme Brown from Rabobank? Maybe he?s a nice guy, but he?s not popular, because he?s dangerous. And I don?t hear the same stories about Mark.
How would you describe Mark?s style as a racer?
BH: He?s a bit of a kamikaze in the sprints. Of course he is. He bounces around like a rubber ball. But he?s never dangerous.
What?s it like working with him day to day?
BH: He?s sharp, he?s proud, he?s got a great sense of humour. Somebody says something about him, he remembers it. That?s what makes him a good sprinter: his pride.
He?s done so well that sometimes it seems people are already more interested when he loses than when he wins.
BH: He?s going to have to learn to live with that. Tom Boonen has the same problem. Boonen doesn?t win for a bit, plus he doesn?t win Flanders, and everybody writes him off. That?s not fun, it?s not fair, but it?s what happens. Tall trees catch the most wind.
At the same time, I do wonder whether we were right to put Mark in the Tour last year. OK, we said he was going to pull out after two weeks maximum ? and he could have won a stage ? but there was a huge increase in expectations of what he could do.
Holm congratulates Cavendish after one of his four 2008 Tour de France stage wins
Does he remind you of anybody else as a rider?
BH: He?s maybe a little bit like Erik Zabel, because like Erik he?s got a really strong head.
We know his target races, more or less, but what do you think the challenges will be for
Mark in 2008 as a rider?
BH: Part of it he?s already achieved. Coming off the Kemmelberg climb in the first group at the Ghent-Wevelgem Classic was hugely important for his future development.
Everybody was saying he was going to win Wevelgem, but it?s not that easy to win. People should remember that two weeks before that he was riding round the track in Manchester.
But then he got over the Kemmel in the front. In 2007 he wouldn?t have been able to do that. Next year, he?ll win Wevelgem, or finish in the top three at the very least.
What do you think of his ability to combine track and road racing?
BH: I come from a track background myself and I love it, especially the Madison.
But I don?t think all these six-days and track stuff he did last winter have put him in great shape for the season. So maybe a little bit less track and a little bit more road would be better.
I can see him having a normal winter break, taking a week or two off, starting up slowly, maybe going running and doing a little bit of track work ? but just to get things going.
He should stay away from competition, stop chasing all the Olympic points in December and January. When he races the World Cups and everything all year round ? it?s too hard. He needs some time to relax and ease back a little. Disconnect a bit.
Any other changes we can expect in the future?
BH: Sooner or later Mark will lose a little bit more weight. That?ll come naturally.
But in general we?ve just got to let him grow at his own pace. Winning 11 races in 2007 has put him a long way ahead of guys the same age. Now he?s got to get to know the races better.
When you?re that young and riding one race after another it?s like you?re stuck inside a washing machine. You don?t know what?s coming up in each race, what?s round the next corner ? cobbles, roundabouts, or whatever... it?s tiring mentally.
Once you?re aware of what?s coming up, it?s a lot easier. And you win even more.
Thank you for reading 20 articles this month* Join now for unlimited access
Enjoy your first month for just £1 / $1 / €1
*Read 5 free articles per month without a subscription
Join now for unlimited access
Try first month for just £1 / $1 / €1