'I'm disappointed how reluctant the police are to use the law against badly behaved drivers'
Barrister Martin Porter QC explains how he pursues justice for his fellow riders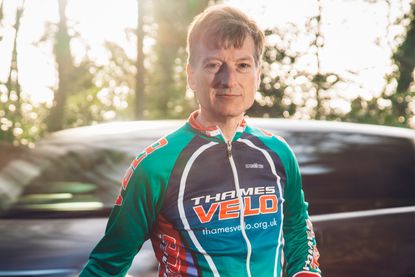 Get The Leadout Newsletter
The latest race content, interviews, features, reviews and expert buying guides, direct to your inbox!
Thank you for signing up to The Pick. You will receive a verification email shortly.
There was a problem. Please refresh the page and try again.
In his line of work as a QC, Martin Porter is presented with the risks cyclists face on a horribly frequent basis. As he sits in his living room reeling off cases of death, paralysis and amputation, it sounds like enough to deter him chucking a leg over a top tube ever again.
But Porter is chairman of the Thames Velo cycling club. He tries to ride at least four times a week, races local time trials and considers pedalling the 28 miles from his Berkshire home to his legal practice 2TG in Central London a far better option than taking the train.
>>> This video sums up why we cycle to work
"If you just went by my work experience you'd think cycling an extremely hazardous thing to do," he says. "But I see the worst of it. I know from statistics that I'm just looking at a tip of a huge iceberg."
Instead, Porter's exposure to cycling's horror stories is what strengthens his resolve to do something about them.
"I feel we all need to do our bit," he says. "I'm not a great one for lying down in the road at a demonstration or pushing for Dutch-style infrastructure. The contribution I think I can make is around law enforcement and getting appropriate compensation [for accident victims]."
Thanks to his professional seniority, personal interest and a strong social media presence (he blogs at thecyclingsilk.blogspot.co.uk and tweets as @martinporter6), Porter is one of Britain's leading legal authorities on cycling safety.
Having been a barrister since 1986, he maintains cyclists are well protected by the statutes and precedents of Britain's legal system. But he's also enormously frustrated by the reluctance of the police and the Crown Prosecution Service to follow through on enforcing it.
>>> Racing cyclist 'let down' after driver fined just £145 for collision that left her needing surgery
"I became a lawyer because I'm a great believer in the rule of law," he says. "When I'm threatened by badly behaved motorists my instinct is to use the law.
"But I'm regularly disappointed how reluctant the police are to use it to its
full effect."
"I regret that I didn't train like I did in my 40s earlier in my career"
Late starter
Porter hasn't always been the 'cycling silk'. When he was a junior barrister, he was far too busy building up a practice to spend much time being physically active at all. He was introduced to the sport in 2002, aged 40, when a friend's illness prompted him to sign up for a charity event.
One hundred miles on a bike seemed an easier option than running a marathon or walking 50 miles. The bug bit and his involvement turned up a notch when he was promoted to Queen's Counsel in 2006.
>>> Five invaluable tips to help you step up from riding 60 to 100 miles
"That's when I started finding the time to race — and every year since then I've also done the Etape," he explains.
Professionally, Porter specialised in clinical negligence — typically defending doctors — and aspects of health and safety legislation. He had already dealt with a few cycling cases but his deepening immersion in the sport heightened his sympathy. Cycling became an area where he was willing to offer pro bono assistance.
"I think I do have a natural empathy for cyclists who run into trouble," he says. "I'm always willing to help out with a little bit of legal advice for a cyclist."
Porter takes a particular interest in cases where injuries have been devastating or where non-use of a cycling facility — such as a cycle path — or bits of safety equipment are presented by the defence as contributory negligence.
"I take the view that arguments such as whether there should be reductions [in damages] for failing to wear a helmet or high-vis are important enough to justify the involvement of a QC," he explains.
>>> Boardman: Helmet debate being used to avoid making real decisions
To this end, when we head out for a loop around his local roads, Porter opts not to wear a lid. It should be a personal choice, he maintains; helmets don't always offer the protection they're cracked up to; make cyclists wear them and it'll put some people off riding bikes.
"If you reduce damages dramatically for not wearing a helmet, that's compulsion by the backdoor," he says.
"I'm always looking for the case that might go to the Court of Appeal," he adds. "When it does, that might be the end of it. I don't think the insurance industry want to see it going to the Court of Appeal. They know they'll lose it."
>>> Richmond Park cyclists be warned, Putney has already exceeded its annual pollution limit
Clearly many of Porter's guiding principles align with those of cycling campaigners. But what was it that provoked him to publicly volunteer assistance when a cyclist was nabbed breaching the 20mph speed limit in Richmond Park? Speeding is speeding. Wasn't the cyclist simply in the wrong?
Have a perfect week away
Blazing a trail
Porter thinks not. He argues that the Royal Parks' regulations are very poorly drafted and, due to technical definitions of what constitutes a vehicle, the speed restrictions shouldn't apply to cyclists. But alongside such loopholing, Porter offers some impassioned reasoning.
"It really annoys me that they [the police] don't have time to follow up drivers who threaten my life by coming past within a few inches of me at 50mph but they've got time to hide in a hedge and catch people going 25mph in Richmond Park," he says.
>>> Cyclist fined £400 for speeding in Richmond Park hits out at 'hiding' policemen
"It's ridiculous. It's self-evident that no one's doing anything particularly dangerous because they permit time trials there and no one enforces the regulations then."
Porter has twice been seriously injured in road race crashes: once in Oxfordshire, where he was knocked out cold; and another at West London's Hillingdon Circuit early in 2014, an incident which landed him in the Severe Trauma Unit at St Mary's Hospital, Paddington, with several broken ribs and a collapsed lung.
Both situations, he says, were caused by other riders but he replies, when asked, that he'd never even considered bringing legal action. "In entering a race, you accept that the skill demonstrated by your competitors will be in the heat of competition," he reasons. For now, he's going to stick to time trials.
One personal case that Porter is bringing to court is a potentially groundbreaking private prosecution against a motorist he alleges drove dangerously close to him. He took on pursuing this criminal case — due in court this month — himself after the police, despite having been provided with video evidence, failed to refer the case to the CPS.
"As far as I know, it's the first private prosecution for a dangerous driving offence in modern times," he says. "This is the only real alternative if some decision makers within the police and CPS continue failing to do their job."
Thank you for reading 20 articles this month* Join now for unlimited access
Enjoy your first month for just £1 / $1 / €1
*Read 5 free articles per month without a subscription
Join now for unlimited access
Try first month for just £1 / $1 / €1
Get The Leadout Newsletter
The latest race content, interviews, features, reviews and expert buying guides, direct to your inbox!