The good, the bad and the ugly for Brits in Majorca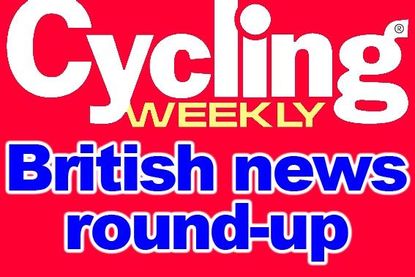 THE GOOD, BAD AND UGLY FOR BRITS IN MAJORCA
It was a mixed bag for the three British riders starting their season at the Tour of Majorca this week. The best result came courtesy of Omega Pharma-Lotto neo-pro Adam Blythe, who took a fine thirteenth in the Trofeo Cala Millor - in just his second race as a regular member of the ProTour pack.
However, the hill-packed Trofeo Magaluf was a different prospect altogether for the sprinter. After fighting to stay in touch, he was jettisoned going up the Coll de Soller, 75 kilometres from the finish, and finished twenty minutes down, just outside the time limit.
"I chased like a loonie down the hill, got to about 100 metres at the bottom and just couldn't get on in the wind. Still, I went as hard as I could so I was happy," Blythe said.
Rather than heading to the Tour of the Algarve as previously scheduled, Blythe will now train in Belgium for a couple of weeks before his next race.
As for roommate and "Dad figure" Charly Wegelius, the race was a more painful proposition. The experienced domestique got through the flat and fast openers fine, finishing 183rd and 171st.
However, two kilometers from the finish of Wednesday's hilly Trofeo Deia, he was on the deck. "The bunch was going round a corner and they didn't point out a rock - he hit it and went down," Blythe explained.
After picking himself up and riding to the finish, Wegelius later Tweeted a photo of the grapefruit-sized bump on his hip.
Cheltenham-born Tom Faiers was also making his ProTour debut on the Balearic islands In his first ever UCI .1 rated races, the 24-year-old acquitted himself well.
The Footon-Servetto rider finished 163rd , a few minutes behind the bunch, in the Trofeo Cala Millor, and finished alongside compatriot Blythe in the race-ending Trofeo Magaluf.
SKY HEADING FOR OMAN

After a relatively successful Tour of Qatar, Sky will remain on the Arabian Peninsula for the inaugural Tour of Oman.
Geraint Thomas and Ian Stannard, both of whom rode the Tour of Qatar, will be the British interest in this year's race.
Stannard and Thomas will be joined by Edvald Boasson Hagen, Juan Antonio Flecha, Matthew Hayman, Lars-Petter Nordhaug, Chris Sutton and Davide Vigano.
MOTORPOINT ON LINE
Ian Bibby and Hannah Barnes gave UK squad Motorpoint-Marshalls Pasta a dream start to the season, both claiming titles at the National cyclo-cross Championships in Birmingham.
You can follow the team's progress as the road season gets underway at the team's new website. www.motorpointprocycling.com
TOP FIELD EXPECTED FOR JOCK WADLEY

The early-season Jock Wadley Memorial will likely benefit from a top field this year as there are no clashes with any other national event.
Notable entries so far include Andy Lyons of Orbea For Goodness Shakes, a two-time former winner of the race.
Jock Wadley Memorial, Sunday March 14, Colchester.
Entries close on February 21.
EARLY-SEASON CTC RELIABILITY RUN IN ESSEX
Looking for an early-year leg stretcher? Why not give the CTC South East Group's 75-mile reliability run on February 21.
The ride starts at Lake Meadows Café in Billericay, Essex, CM12 0AQ from 8:30am.
Contact: Stefan, 01268 655619, s.eichenseher@googlemail.com, http://www.essexcycling.co.uk/events/seg75.php
For GPS-routsheet-info go to http://www.velocipede.org.uk/velocipede/SEG75_2010.html
LVRC SEASON TO KICK OFF IN MARCH
The League of Veteran Racing Cyclists calendar kicks off on March 7 with a new event, a 22-mile two-up time trial.
Held on undulating roads in south Warwickshire between Southam and Daventry, it is the same course that will be used for the LVRC National Time Trial Champs later in the year.
First team off 10:30am.
H.Q.Napton.
Open to all riders over 40 yrs and members of LVRC. Entries on std. LVRC Entry Form. Entry fee £8.
Awards for fastest three teams and fastest six teams on standard plus fastest male/female team.
Further details on www.lvrc.org
CHARD WHEELERS SPRING CIRCUITS

The Spring Circuits at RNAS Merryfield Airfield, near Ilton in Somerset, kicks off the road racing season in the county for 2010. A full programme of racing from youth to Elites, including a women's race, is on offer.
The three-mile circuit around Ilton's wide airfield perimeter track is a good test of early season legs, yet is ideal for beginner riders wanting to try racing. Last year's event attracted nearly 200 riders across all categories.
Postal entries are accepted, but all races are enter on the line on the day. The race HQ will open at 9.00am
There is ample parking and refreshments will be available to riders and spectators. For any more information contact Brandon Ellis on 01460 221479 or email brandon_ellis@btinternet.com
CTC SOUTH BUCKS SPRING RANDONEES
CTC South Bucks Spring Randonees take place this year on Sunday March 14.
The event attracts riders from across the UK and occasionally further afield. This year the event is expected to attract more than 150 riders split across 100km and 200km routes.
From the start at Great Kingshill the 200km event goes out to Chipping Norton and Minster Lovell in the Cotswolds. The 100km route, popular with touring riders, will head via a picturesque route towards the Thames Valley at Benson.
Ten point triathletes from Chesham Bois will be using the event in preparation for Ironman Austria 2010.
For further information contact Terry Lister on 01494865372 or by email at lister4cycling@btinternet.com
SPINNING TO RAISE MONEY FOR CHARITY
Jon Porter and Mike Boland are organising a six-hour Spinathon to raise money for Action Medical Research that takes place on March 2 in the Student Union Bar of St George's University, Tooting."A Spinathon is basically a continuous set of spinning classes with about 5 minutes between each class," Jon explained.
"People could take on the challenge of spinning for all six sessions if they choose, or doing as many as they feel they can. We'd also like teams to take part, relaying riders on a bike. We have 25 bikes in total and we've been lucky enough to get the support of the Healthy Living 2020 campaign and Student Union who are very kindly hosting the event in their bar."
Sponsoring Jon will be help the charity to find ways to reduce premature birth, to support children facing a lifetime of challenges caused by disabilities and to develop cutting-edge therapies for rare and incurable diseases.
If you want to sponsor Jon or Mike, please visit http://www.action.org.uk/sponsor/jonathanporter1
Thank you for reading 20 articles this month* Join now for unlimited access
Enjoy your first month for just £1 / $1 / €1
*Read 5 free articles per month without a subscription
Join now for unlimited access
Try first month for just £1 / $1 / €1