The horrific photographs that show the aftermath of a collision involving five cyclists and a car
Thankfully nobody was seriously hurt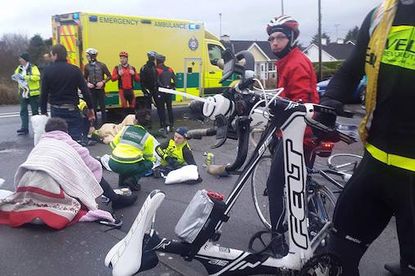 These horrific pictures show the aftermath of a collision involving five cyclists on a training ride and a car in County Donnegal, Ireland.
The incident occurred at 9am on Saturday morning outside the Millbridge Bar in Kilmacrennan. The road is popular with cyclists and the bar is often used as a meeting point for club rides.
The five riders, including two juniors, from Errigal CC were an hour into their training ride and were being led by Sean McFadden. He said: "I was about to wave to another group of cyclists coming the other way when I heard the screech of brakes and saw the riders rag doll, one of them flew 75 yards. It was a miracle nobody was killed."
McFadden believes the driver was speeding to overtake the group but realised too late there was an island in the road and cars coming the other way. The windscreen of the car was broken and there were dents in the bodywork from the impact of hitting the cyclists. As you can see, the collision also left a number of bikes in tatters.
Thankfully two passing cyclists happened to be trained nurses who were able to give first aid to the injured cyclists until the emergency services arrived. Two of the riders were taken to hospital but there were no serious injuries or broken bones. The driver was also taken to hospital for blood tests and is being investigated by the Garda.
McFadden also told the Donnegal Daily how the situation could have been much worse. He said: "We had planned to go back into Letterkenny around 10am to meet with some of the other cyclists, the more younger ones including my daughter Shauna.
"I don't want to even begin to think about what could have happened if they had been involved when the crash happened."
All photos courtesy of Sean McFadden
Thank you for reading 20 articles this month* Join now for unlimited access
Enjoy your first month for just £1 / $1 / €1
*Read 5 free articles per month without a subscription
Join now for unlimited access
Try first month for just £1 / $1 / €1