The six best cycling videos of the week: Armitstead wins World Cup, cycling gymnastics and more
Here's our pick of the best cycling videos from the past week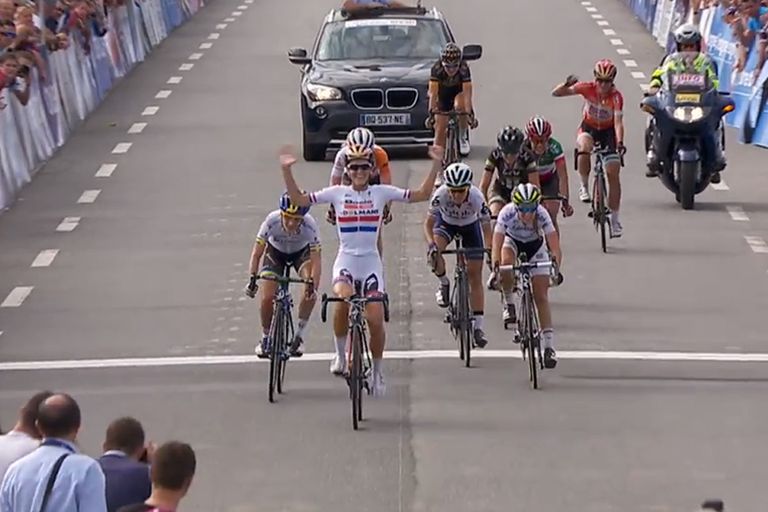 It's usually the case that the clips selected for cycling videos of the week aren't put out in any particular order, and for the most part that is true here. However, the first video is definitely the highlight of the lot and deserves top spot.
Away from that, there's some amazing bike-gymnastics a look at a tiny chunk of London that might finally be safe for cycling, a headcam video that's well worth watching to the end and a guide to some budget road bikes.
They're all worth a watch so sit back and press play.
Lizzie Armitstead wins round and overall World Cup
https://youtu.be/XTXUJDcz2YY?t=3m56s
Showing that she is a cut above the rest this year, and more than making the most of Marianne Vos's absence, Lizzie Armitstead rode the perfect race to win the GP Plouay round and with it defended her overall UCI Women's World Cup crown.
With the victory, the present British National Champion equalled compatriot Nicole Cooke's World Cup record and will surely now be the favourite for the world championships later this month.
Incredible balance
https://www.youtube.com/watch?v=ZBl1D8ja3zU
This video has been doing the rounds on social media, and with good reason. Bicycle gymnastics aren't anything new but this is especially good.
You might think you've got the idea from the first couple of minutes but if you've got the time watch it all the way through and prepare to be impressed.
Safe cycling infrastructure in sight of the Commons
https://youtu.be/9mVHs5uanFk?t=14s
In a glimpse of how good London could be - for all road users, not just those on two wheels - this video shows the open section of the new segregated cycle lane on the Embankment.
Road works cause delays but when they're cleared away and this is left, hopefully people will be satisfied with the outcome.
Arguing van driver bumps car in front
http://youtu.be/0q-NFoEkeag
This is a bit of a slow burner, but worth watching as it doesn't appear to be entirely clear cut as to what happens in the lead up.
Regardless, there's a minor collision between two motor vehicles which probably spoilt a couple of people's day.
"The war on our roads!" or is it?
http://youtu.be/cYgF9E2-Fqs
Camera wearing is a great way for cyclists to record genuine incidents and give a clear account of anything that happens when they're out riding. However, it does sometimes appear that the camera wearer is overly antagonistic in order to get a worthwhile clip.
>>> Motorist takes a tumble while trying to attack cyclist (video)
Poking fun at the vigilante style approach of some headcam wearing cyclists, this video doesn't end the way most of these do.
You don't need to spend a fortune to enjoy cycling
In this exclusive Cycling Weekly video, our tech writer Oliver Bridgewood runs through what's available to those looking to spend under £500 on a road bike.
The key point here is that in order to experience the freedom, fun and fitness that road cycling can bring, there's no need to spend the earth.