There's snow stopping the pros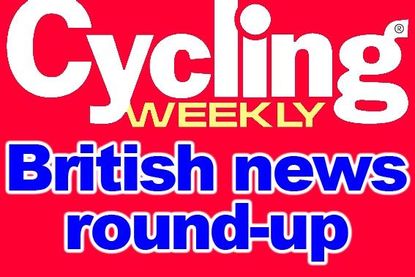 THERE'S SNOW STOPPING THE PROS
Parts of southern and central England awoke to several inches of fresh snow this morning. However, it hasn't stopped some of the harder home-based professionals from getting in some training.
MagnusMaximusCoffee.com rider and former ODP star Russell Hampton braved the bitter conditions in Essex. "I got out on the cross bike and went over into the woods. That was pretty cool, something a bit different," he smiled.
"I didn't get out on the roads - I probably won't all weekend, it's all iced over," he added wisely.
Hampton heads to Mallorca to train in early January, where snow will be much more of a far-fetched possibility.
His first race of the year with MagnusMaximusCoffee.com is expected to be the GP la Marseillaise on January 31.
ENTER THE OUTDOOR SHOW 100
The second Outdoors Show 100 bike ride will be held on Sunday March 28, leaving from the NEC in Birmingham.
There are two rides to choose from: a 100-mile and a 100-kilometre offering. The longer option takes in the likes of Saintbury Hill and Broadway Hill as it dips into the Cotswolds.
The event serves as a great way to kick-start your sportive season, and is also backed by top children's charity Action Medical Research.
Participants also get free entry to the Outdoors Show, which runs from March 26-28, where there are over 130 stands showcasing cycling, canoeing, climbing, scuba diving and mountain boarding.
To register for the Outdoors Show 100, enter online at www.action.org,uk/out100, email out100@action.org.uk or call Tracey Edwards on 01225 776691
NO NEW RECRUITS FOR GIRLS' ACADEMY
No new recruits will be taken on next year in British Cycling's girls' Olympic Academy track endurance programme, with Alex Greenfield leaving the system.
Despite there being a flurry of young talent progressing through the ranks, there were no riders ready to make the jump from Olympic Development Programme to the Academy according to BC Academy coach, Simon Cope.
"There was nobody ready to progress this year," said Cope, "but that's definitely not through lack of interest in the programme. We'd rather wait than put someone up to the Academy who wasn't ready."
TICKETS RELEASED FOR 2010 UCI CROSS COUNTRY MOUNTAIN BIKE WORLD CUP

Tickets are now available for the opening round of the 2010 Mountain Bike World Cup in Dalby Forest in Yorkshire.
The main event gets underway on Saturday April 24 with the Junior World Cup, culminating on the Sunday with the Elite men's and women's World Cup races. The weekend will be a family-friendly festival of mountain biking with a brand new mass participation event staged on the Saturday combined with a range of activities.
"We are extremely excited to be staging the opening round of the Mountain Bike World Cup in Yorkshire in what is simply going to be a great weekend for fans of the discipline but also their families and visitors to Yorkshire," said Jonny Clay, British Cycling's Cycle Sport and Membership Director.
"Dalby Forest is one of the best mountain bike venues in the country and a brand new 5km course has been built specifically for this event with the help of Britain's best cross country riders Oli Beckingsale and Nick Craig, presenting a real challenge for the world's best riders."
Members of British Cycling are entitled to a 10% discount on tickets. Day and weekend passes are available for purchase via Ticketmaster.
For more information about the event, please visit www.yorkshiremtbworldcup.co.uk
LIZZIE ARMITSTEAD TRAINING IN CANARY ISLANDS

British track and road sensation Lizzie Armitstead is currently in the Canary Islands for her first get-together with her new Cervélo team.
After a brief Christmas break, Armitstead will meet again with the team in mid-January for more training in the Algarve where she will join up with fellow Britons, Emma Pooley and Sharon Laws.
Read the full story>>>
ROLLAPALUZA WINTER LEAGUES KICKS OFF NEXT WEEK

Round one of the winter league kicks off next Tuesday (December 22) in London.
Expect the usual mixture of booze, gurning and an electric atmosphere.
Horseshoe Pub, 24 Clerkenwell Close, EC1R 0AG. 18:00-23:00.
For more see www.rollapaluza.com
Thank you for reading 20 articles this month* Join now for unlimited access
Enjoy your first month for just £1 / $1 / €1
*Read 5 free articles per month without a subscription
Join now for unlimited access
Try first month for just £1 / $1 / €1