Thomas takes positives from race opener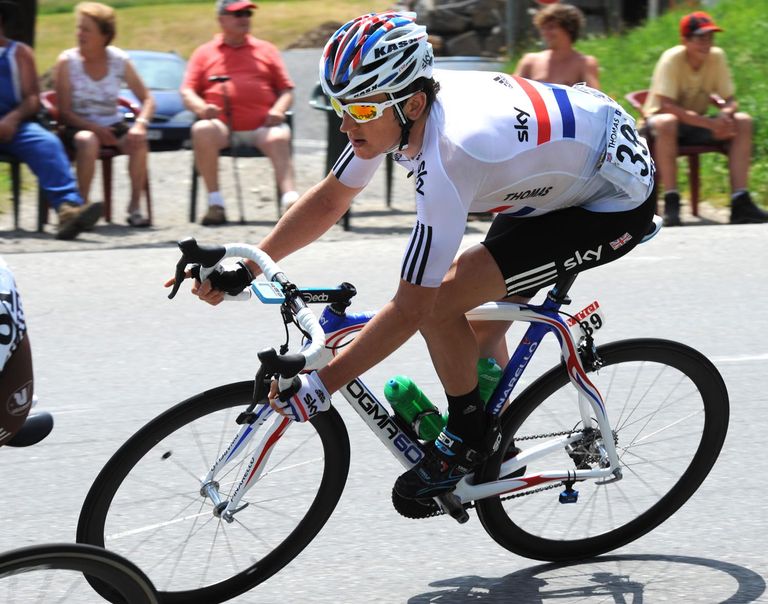 Despite missing out on a race-opening Tour of Britain victory after Greg Henderson was jumped in today's sprint into Blackpool, British champion Geraint Thomas is hopeful that Team Sky can leave their mark on the race.


Thomas was pleased with how the 132km opening stage between Rochdale and Blackpool panned out. "It was good. We did a lot of work today and still managed to lead it out for Henderson, but unfortunately somebody had the jump on him and he was a bit stuck on the right hand side," he said after the finish.
There is pressure on Team Sky to win what is effectively their national tour, and the onus was accordingly put on the British team to chase down the day's three-man break.
 "Everyone looked to us to get stuck in once the break had gone," Thomas told Cycling Weekly.
"Obviously it's a home race for us. Hopefully the other riders would come and help us out, but we waited a while. That's going to be the story of the whole week, people looking to us to do our fair share."
When asked about his aims for the week, Thomas underlined Sky's variety of options. "Just race hard and take the opportunities when they come. We've got Russ [Downing], he knows what this race is about and he's got bonuses, which is quite vital in this race."
"Obviously myself, Hayman, and Steve [Cummings] as well, we're all hoping to get in a breakaway. Until the race gets a bit structured, all of us are in the running for it," he added.
"I've ridden this race every year since 2005 and it's getting better every time. It's always nice to come back and race on home roads for home fans, see my family and to see the old faces, people like Ed [Clancy] and Rob Partridge who I grew up racing with," he said.
Thomas's best past result in the race was sixth place in last year's edition.
Though the Welshman pointed out stages four and five in the West Country as the toughest, he unsurprisingly has his eye on Monday's stage in his back yard from Newtown to Swansea. "For myself, racing in Wales, I'll definitely be up for that stage. A few time gaps could form after Constitution Hill."
The Tour of Britain will likely be Thomas's last race before the Commonwealth Games. The 24-year-old is feeling the effects of a long season, and that is the reason behind his recent withdrawal from the British world championships team.
 "It was hard to go out training after the Tour; I was just tired physically and mentally. ENECO Tour, I was okay but just getting round. I decided not to ride the Worlds; they're massive and only having three riders in the team, I thought I'd step aside for someone a bit more ready."



Tour of Britain 2010: stage reportsStage one: Greipel takes opener

Tour of Britain 2010: Latest newsTour of Britain riders get ready: in picturesTour of Britain 2010: Start listTeam Sky go green for Tour of BritainTour of Britain 2010 route revealed



Tour of Britain 2010: StagesAnalysis of the 2010 Tour of Britain route>>