Tough Tour in store for Cavendish and the sprinters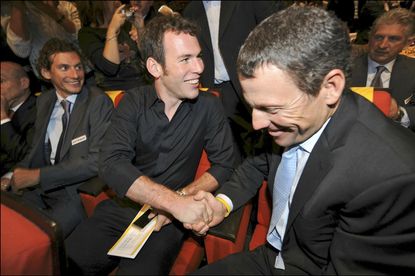 See the 2010 Tour de France route here
Mark Cavendish will have his work cut out if he's to repeat his tally of six Tour de France stage wins in 2010.
After the route was unveiled, he identified five strong opportunities for the sprinters - three in the first week, one in the second and one in the third.
However, if everything fell into place for Team Columbia, there could be as many as eight chances for Cavendish to win. Although flat, the stage over the cobbles to Arenberg is highly unlikely to be a sprint finish.
It is certainly not going to be as straightforward for Columbia as this year.
The race for the green jersey will be complicated too. This year Thor Hushovd of Norway won the points competition despite winning just one stage to Cavendish's six. However, he attacked in the mountains and got over the climbs in the Vosges well to score vital points.
Of course Cavendish was also relegated for irregular sprinting in Besançon, even though the replays showed it was the barriers which narrowed rather the rider altering his line.
CHANCES FOR CAV
Stage 1: Rotterdam to Brussels
It's flat, but it's also likely to be windy. At 224 kilometres it's a long stage for Columbia to control, and they may find it difficult to recruit other teams to help keep the bunch together.
Chance of a Cavendish win: ****
Stage 3: Wanze to Arenberg
The cobbles make this a difficult stage and with the last section coming just 10 kilometres from the finish, it's hard to see this staying together.
Chance of a Cavendish win: *
Stage 4: Cambrai to Reims
Flat, windy, but if the sprinters failed to bring it together in Brussels they surely will here.
Chance of a Cavendish win: *****
Stage 5: Epernay to Montargis
Once Columbia and Cavendish are into their rhythm there's no stopping them.
Chance of a Cavendish win: *****
Stage 6: Montargis to Guegnon
Could this be three in a row?
Chance of a Cavendish win: *****
Stage 11: Sisteron to Bourg-lès-Valence
This is not pan-flat country but no one expected Cavendish to get over the second-category climb to win at Aubenas this year.
Chance of a Cavendish win: **
Stage 13: Rodez to Revel
Much will depend on the pattern of racing. If the sprinters have had three or four good days already they may not want to chase the breaks.
Chance of a Cavendish win: ****
Stage 18: Salies-de-Béarn to Bordeaux
There will be some very tired legs by now and 190 kilometres coming straight off the back of the Pyrenees may persuade the bunch to take it easy. The terrain is welcoming enough though
Chance of a Cavendish win: ***
Stage 20: Longjumeau to Paris
Cavendish won his sixth stage of this year's Tour on the Champs-Elysees. Will he be in the hunt for the green jersey this time?
Chance of a Cavendish win: *****
Thank you for reading 20 articles this month* Join now for unlimited access
Enjoy your first month for just £1 / $1 / €1
*Read 5 free articles per month without a subscription
Join now for unlimited access
Try first month for just £1 / $1 / €1