Tour de France to honour centenary of the Tourmalet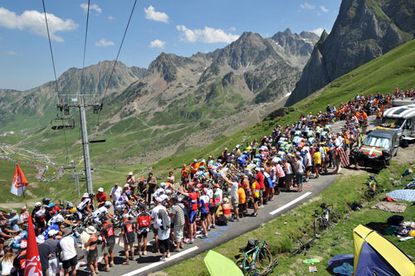 The iconic Col du Tourmalet will be ascended twice in next year's Tour de France as part of the centenary celebration of the Pyrenees in the Tour.
Tracing its relationship with the Tour back for almost a century, the Tourmalet is one of the race's most frequented and longest-serving cols and will be honoured with two stages in next year's race.
The first will be on stage 16 from Bagnères-de-Luchon to Pau, the second coming on the next stage (after a rest day) from Pau to the summit of the Tourmalet to mark next year the centenary of its first appearance in the race.
With the inclusion of the cols of the Peyresourde, Aspin and the Aubisque, the stage re-traces the route of the stage in 1910 in which Octave Lapize was the first man to scale the top of the Tourmalet, emptying his lungs with cries of, "vous êtes des assassins! Oui, des assassins," directed at Henri Desgrange and the race organisers.
Lapize's outburst gives some insight into the nature of the beast. Ascending from the Ardour valley, the Tourmalet has a constantly changing gradient with unpredictable weather, which can turn as quickly as the climb's many switchback corners.
Over the many years the Tourmalet has appeared in the route of the Tour de France, it has played host to countless tales of heroics that dominate the race's history.
It was on the Tourmalet in 1969 that the great Eddy Merckx attacked in the yellow jersey to launch a 120km solo break to wrap up the first of his five Tour wins.
It was also on the lower slopes of the Tourmalet that Eugène Christophe broke his forks in 1913; he then walked for 14km to the village of Saint-Marie-de-Campan where he worked for almost four hours at a blacksmith's repairing the damage.
The effect of the Tourmalet in 2009 was muted, coming as it did 50km before the finish. However, steeped in history, steeped in mystique, the organisers certainly have something special planned for the Tourmalet's centenary in 2010.
Key statistics

Col du Tourmalet, 2115m
Length: 19km
Altitude gained: 1403m
Average gradient: 7.4%
Maximum gradient: 9.5%
Tour appearances: 47
Leaders over the summit in the last ten Tour de France appearances:
2009 - Saint-Gaudens-Tarbes, Franco Pellizotti
2008 - Pau-Hautacam, Rémy di Gregorio
2006 - Tarbes-Val d'Aran-Pla-de-Beret, David de la Fuente
2003 - Bagnères-de-Bigorre-Luz Ardiden, Sylvain Chavanel
2001 - Tarbes-Luz Ardiden, Sven Montgomery
1999 - Lannemezan-Pau, Alberto Elli
1998 - Pau- Bagnères-de-Bigorre, Alberto Elli
1997 - Pau-Loudenvielle, Javier Pascual-Rodriguez
1995 - Saint-Girons-Cauterets, Richard Virenque
1994 - Lourdes-Luz Ardiden, Richard Virenque
RELATED LINK
Follow the unveiling of this year's Tour route live>>>
Thank you for reading 20 articles this month* Join now for unlimited access
Enjoy your first month for just £1 / $1 / €1
*Read 5 free articles per month without a subscription
Join now for unlimited access
Try first month for just £1 / $1 / €1