Tour of Britain 'attracts 4m spectators'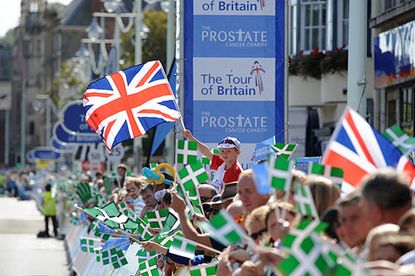 Over four million people watched this year's Tour of Britain, according to event organiser SweetSpot.
One million people turned out to watch the eight-stage race at the roadside, with a further three million tuning in to ITV4 to watch evening highlights programmes.
Some of the largest crowds seen at the 2009 race were at the two west country stages, Frome to Bideford and Hatherleigh to Yeovil. Spectators, including the pupils of 62 local schools, packed the route and finish areas of both stages.
An estimated 150,000 people turned out in central London to watch the final showcase criterium stage around Westminster.
"The 2009 race was a great success," said Hugh Roberts, Tour of Britain CEO.
"The crowd numbers, and the number of school children that attended the race were a big step forward for us, and this shows that cycling as a sport is growing exponentially in its national popularity. We at the Tour of Britain are extremely pleased to be a key part of this process."
The inaugural Prostate Cancer Charity ride, a mass-participation ride that followed the route of the Stoke-on-Trent stage, was also hailed a success. Around 1,300 cyclists took part in the charity fund-raiser. More mass participation events are planned for 2010.
The UCI 2.1-ranked 2009 Tour of Britain took place from September 12 to September 19, and comprised eight stages.
Related links
Tour of Britain 2009: CW's full coverage
Thank you for reading 20 articles this month* Join now for unlimited access
Enjoy your first month for just £1 / $1 / €1
*Read 5 free articles per month without a subscription
Join now for unlimited access
Try first month for just £1 / $1 / €1