Track cycling world championships: Friday's live coverage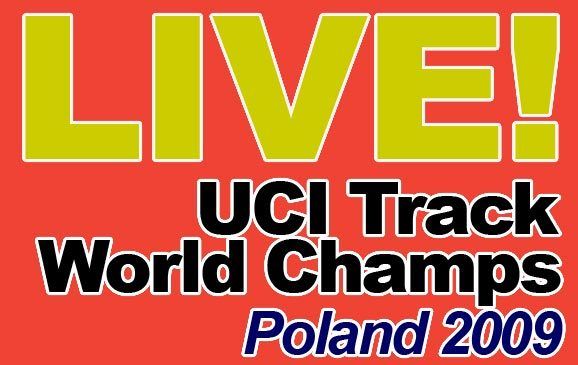 Press refresh to access the latest updates
All times are UK times
The Hub - Home for all CW's track worlds coverage
TODAY'S HIGHLIGHTS
* Stefan Nimke of Germany wins the kilo with a blistering time
* Victoria Pendleton cruises into the semi-finals of the sprint
* Silver for Lizzie Armitstead in the scratch race
* Denmark take team pursuit. GB miss a medal for first time in years
LIVE UPDATES
20.40 Gold for Denmark The Danish team win with 3-58.246, a fine time, with Australia also riding a 3-58.
20.35
The official results confirm that Armitstead gets the silver medal following that crash. What a gutsy ride by the young British rider.
Men's team pursuit
20.34 The British quartet had been tipped to go faster tonight and dip under the four minute mark but they couldn't quite manage it. Not bad for a team with an average age of 21.
20.33 New Zealand take the bronze medal, beating the Brits.
Women's scratch race
1 Yumari Gonzalez Valdiviesco (Cub)
2 Lizzie Armitstead (GB)
3 Belinda Goss (Aus)
20.22 You are allowed one lap out if you crash and Armitstead got back into the race and rejoined the bunch as they came round. So, the bunch covered one more lap than the riders who crashed. However, the jury is now deliberating over the result.
20.21 First rider over the line is Yumari Gonzalez of Cuba. Armitstead was second over the line. Confusion over whether she gets the silver medal. We think she does as she was permitted a lap out for her crash.
20.19 Big crash with 8 laps to go, up on the barriers. Armitstead went down, but got back up and is in the bunch. We're checking whether there's a 'lap out' rule. She's in the riding, although the commentator is saying she's at one lap.
20.09 Riders to watch include Tara Whitten (Canada), Maria Luisa Calle Williams (Colombia), Jarmila Machacova (Czech Republic), Olaberria (Spain), Giorgia Bronzini (Italy), Eleonora Van Dijk (Netherlands) and Evgeniya Romanyuta (Russia) and of course Armitstead.
Glad we've narrowed it down a bit there, to just eight of the 20-rider field.
20.07 They're underway in the women's scratch race - 40 laps of the track, which is 10km.
Women's sprint quarter-finals - latest scores
Victoria Pendleton beats Kaarle McCulloch 2-0
Simona Krupeckaite beats Yvonne Hijgenaar 2-0
Willy Kanis beats Lyubov Shulika 2-1
Olga Panarina beats Shuang Guo 2-1
20.02 The commentator here in the velodrome really is an idiot. He just spent two minutes hollering "Panarina, Panarina, Panarina." In fairness, she did win the decider.
19.59 A humdinger of a decider goes to Willy Kanis in fine style. The Dutch girl goes through to the semi-finals.
19.54 Still to come, the women's scratch race, which is next, and the team pursuit finals. Plus the two deciding races in the women's sprint.
19.47 Confirmation that Nimke's time was a new sea-level world record, and a little nugget of information that explains why everyone seemed to fade against his time.
Nimke rode a bigger gear than is conventional and started out slow but finished very fast. He was 12th fastest after lap one, sixth fastest after lap two and in the lead by three-quarter distance.
19.46 And Guo and Panarina are now level in the women's sprint match.
19.43 Willy Kanis forces a decider by beating Shulika.
19.41 That was so easy for Krupeckaite. 2-0, into the last four.
19.38 Fair play to McCulloch, she tried something different, by forcing Pendleton up the track and staying level on the inside so that the British rider couldn't use the banking to get any kind of jump. But Pendleton's leg speed is such that she just rolled over the top and was clear on the line.
19.36 Now it's back to the sprint quarter-finals. Pendleton and McCulloch are on the track and the Aussie needs to do something different this time if she is to stand a chance. Problem is, how do you beat Pendleton? It's something so few manage to do. In fact, only Willy Kanis has beaten her in a head-to-head in the past 14 months, and that led to a 2-1 defeat for the Dutch girl in the Copenhagen World Cup last month.
Men's kilometre time trial
Top times
1 Stefan Nimke (Ger) 1-00.666
2 Taylor Phinney (USA) 1-01.611
3 Mohd Rizal Tisin (Mas) 1-01.658
4 Michael D'Almeida (Fra) 1-02.034
5 Scott Sunderland (Aus) 1-02.144
6 Teun Mulder (Ned) 1-02.209
7 David Daniell (GB) 1-02.316
19.32 Mulder set off very fast and was inside Nimke after 250m. Still faster after 500m, but then was outside Nimke and quickly faded away. The pressure of trying to beat Nimke's time lured many riders into setting out too fast at a pace they could not sustain. That means a creditable seventh place for David Daniell of Great Britain. And Taylor Phinney medals in the kilo as well as the 4km pursuit.
19.29 The French rider Michael D'Almeida has done a bit better, but is only fourth. Last rider, now, the reigning champion Teun Mulder of the Netherlands.
19.26 Nothing special from Francois Pervis. Only 11th place for the Frenchman. That's not a great ride at all.
19.21 Nimke's time looks like it's going to win it, unless one of the final four riders can do something really special - Tisin, Pervis, D'Almeida, Mulder.
19.19 We're scrabbling through our record books but we think that Nimke's time has broken Sir Chris Hoy's sea-level world record, which was set in Athens in 2004.
19.17 Aussie Scott Sunderland (no, not that one, another one) has just bumped Daniell out of the medals.
19.14 Veldt only seventh best so far.
19.12 Can David Daniell's time withstand the pressure the last eight riders are going to apply? Next man up is Tim Veldt of the Netherlands.
19.08 Huge cheers for the Polish rider Kamil Kuczynski, the loudest the velodrome has been so far this week. He started well, too, but drifted out and is fourth at this stage, so Daniell is still in bronze medal position.
19.07 Daniell set off fast but faded a little on the last lap and a half and is currently third, with ten riders still to come.
19.05 David Daniell is on the track NOW.
19.01 There will not be a second gold medal for Phinney. 1-01.611 is good enough for second place at the moment though.
18.59 New best time That's raised the standard. Stefan Nimke has just done a 1-00.666, a very fine time indeed. Phinney is up next.
18.54 New best time The Chinese rider Miao Zhang has just gone into the lead. Taylor Phinney, the American who won the pursuit yesterday, will be off in a few minutes. Can he be the first rider ever to do the pursuit-kilo double?
18.52 Back to the kilo, then, 12 riders have ridden, with the German Michael Seidenbecher quickest, by the narrowest of margins, so far.
18.44 There's a bumper field in the men's sprint, which kicks off tomorrow - 44 riders. Ross Edgar, Matt Crampton and Jason Kenny are among them.
18.42 By the way, you can also follow us on Twitter. www.twitter.com/cyclingweekly
18.38 While the men's kilo is going on, a bit of news. In case you were unaware, Mark Cavendish will be back on the track with Pete Kennaugh in the Madison tomorrow. Anna Blyth will be Britain's rider in the women's Omnium event tomorrow.
Meanwhile, quite amusing to see the reaction to Britain's team pursuit performance earlier today. "Olympic champions crash out" was one headline, which rather ignores the fact that only Ed Clancy was in the Olympic medal-winning team. The other three are making their debut in a World Championship team pursuit.
18.15 Now it's time for the men's kilometre time trial, which will take up the next hour or so. Britain's rider is David Daniell, and he'll be the 18th of 28 riders to go. Taylor Phinney is the 16th off, then the big guns are at the end, with Francois Pervis, Michael D'Almeida and Teun Mulder the final three to ride.
18.06 Krupeckaite leads from the front, Hijgenaar has no answer. 1-0 to Lithuania.
18.00 The sprint quarter-finals are best-of-three. First up Pendleton leads out and stays in front to take the first race comfortably.
17.54 The coolest person we've seen this week is Lizzie Armitstead's Grandma. How do we know it's Lizzie Armitstead's Grandma? Well, she's wearing a yellow T-shirt with the slogan 'I'm Lizzie Armitstead's Grandma' on it. The BBC camera crew are going to try to pick her out in the crowd a bit later. One Polish Zloty for the first reader to email in having spotted her.
17.53 We're a little over 10 minutes away from the resumption here. To recap what happened this afternoon, the British men's team pursuit team were third in qualifying.
It's the first time since 2002 that GB has failed to reach the team pursuit gold medal final at the World Championships.
Having said that, the quartet had an average age of just 21 and were just under a second away from breaking the four-minute barrier.
Talk among the BC coaching staff is that they could go faster in the bronze medal final against New Zealand if they learn from this afternoon's ride, when they set out too fast and faded in the final three laps.
Also this evening we have David Daniell's bid for a medal in the kilo, Lizzie Armitstead's ride in the scratch and Pendleton is in action in the sprint quarter-final, against Aussie Kaarle McCulloch.
Women's sprint quarter-final line-up
Pendleton v McCulloch
Krupeckaite v Hijgenaar
Kanis v Shulika
Guo v Panarina
16.32 Move along now, nothing to see here for the next 90 minutes... That's the afternoon session done and dusted. This evening's action kicks off at 6pm (UK time), so drop by for an hour until the BBC coverage starts.
Tonight we have the women's sprint quarter-finals, the men's kilo, the women's scratch race and the men's team pursuit finals.
We're off to see who there is to talk to for a while. There's nothing much around the velodrome, other than the hotel opposite, which has a nice restaurant and an Irish theme pub, which is a bit surreal. Haven't been in, for fear that the temptation to find out what Polish Guinness is like takes over.
Women's sprint
Through to the quarter-finals Pendleton, Krupeckaite, Shulika, Guo, Panarina, Kanis, Hijgenaar, McCulloch.
16.28 And the final quarter-final place goes to Kaarle McCulloch of Australia. She defeated Elisa Frisoni and Miriam Welte.
16.27 In the first repechage, Yvonne Hijgenaar beats Clara Sanchez and Kristina Vogel to a place in the quarter-final.
16.15 Now there'll be a ten-minute break before the repechage.
16.13 The Dutch rider Willy Kanis has beaten the German Kristina Vogel.
16.10 Olga Panarina beats the Australian youngster Kaarle McCulloch.
16.07 China's Shuang Guo is through at the expense of Clara Sanchez of France.
16.04 And Lyubov Shulika of the Ukraine, the overall World Cup sprint champion, brushes aside Miriam Welte of Germany.
16.01 Simona Krupeckaite, who won the 500 metres in that new world record time, has just beaten Elisa Frisoni of Italy.
15.57 It's Pendleton v Hijgenaar in the 1/8 round. And that looked very, very comfortable indeed. She had the Dutch girl well beaten as they rounded the final bend. The British rider is through to the quarter-finals.
15.47 You join us back after our lunch break (chicken in tomato sauce with rice and vegetables, if you're interested). Victoria Pendleton topped qualifying with a 200-metre flying sprint time of 10.971 seconds. Jessica Varnish qualified in 20th place.
In the second round, Pendleton beat the Polish rider Renata Dabrowska, while Varnish bowed out to Olga Panarina.
There's now a ten-minute break before the next round. Pendleton will face Yvonne Hijgenaar of the Netherlands. The winner of each of the six races will go through to the quarter-finals, which will be held tonight. The losers will go into a repechage.
Men's team pursuit qualifying
Four best times so far
1 Denmark 3-59.892
2 Australia 4-00.581
3 Great Britain 4-00.818
3 New Zealand 4-01.186
14.23 Bellis, Burke and Kennaugh were making their World Championship debut in the team pursuit.
14.22 Just to clarify, GB were a second outside the time set by Denmark. Jonny Bellis sat up with just under a kilometre to go.
The average age of the GB quartet was just 21, so to be just 0.8 of a second away from breaking the four-minute barrier is an excellent result, but they were up against the full-strength Danish squad and a slightly more experienced Australia team.
14.21 The GB team were outside the Danes, and the Australians, and qualify for the bronze medal race in third place.
14.20 Pretend the last three minutes didn't happen.
14.16 The commentator once again gibbering on as the starting beeps count down.
14.15 The Danes finished with three men as Jens-Erik Madsen sat up with a couple of laps to go. So GB must get inside Spain's 4-04 to make the medal races, which they will surely do. They need to beat Australia's 4-00.581 to race for the gold.
14.14 New best time The Danes go under four minutes, but only just.
14.08 New best time The Aussies are just half a second away from breaking the four-minute barrier. Will Denmark or Britain manage to do it?
14.02 That's more like it. A 4-01 from the fancied Kiwi team. Still no one under the four-minute barrier, but it's far from ideal in here today. Just the Aussies, Danes and Brits to go now.
13.58 New best time Spaniards go to the top of the leaderboard with a not-too-shabby 4-04. It's chilly in here again today, and not conducive to fast times.
13.50 New best time Just to clarify the top four teams contest the medals. First v second for gold, third and fourth for bronze. Germany have just set the new best time.
13.44 Ukraine have just posted a decent time, to go second. Still to ride: Germany, Spain, New Zealand, Australia, Denmark and Great Britain.
13.38 As you join us, the qualifying is underway. Six teams have ridden so far. Ukraine, the eighth, are on the track now. What happened to the seventh, you ask? Well, they're Russia and they are down as a 'did not start'. Great Britain's quartet of Jonny Bellis, Steven Burke, Ed Clancy and Peter Kennaugh ride last.
13.37 Another kamikaze taxi driver, another day at the track worlds in Poland. Welcome.