Track cycling world championships: Saturday's coverage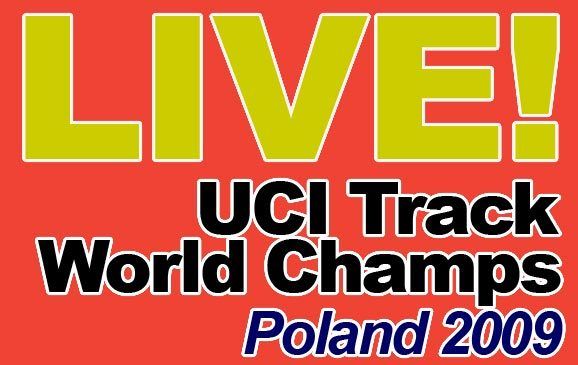 Press refresh to access the latest updates
All times are UK times
The Hub - Home for all CW's track worlds coverage
TODAY'S HIGHLIGHTS
* Denmark win the Madison
* Pendleton wins her fourth women's sprint world title
UPDATES
20.16 PENDLETON WINS PHOTO FINISH Pendleton is forced to work hard for that. Kanis led going round the final bend but Pendleton dug deep to win it.
20.15 WOMEN'S SPRINT DECIDER Pendleton v Kanis. Winner takes all.
19.49 Victoria Pendleton will meet Willy Kanis of the Netherlands in the deciding race of the women's sprint final a little later, after the 500m TT race which will settle the women's Omnium.
19.47 Willy Kanis has won race two of the women's sprint final to force a decider. It's tied 1-1 now.
A few moments ago, Simona Krupeckaite won the bronze medal, winning 2-0 against Olga Panarina.
19.32
Matt Crampton wins the sprint race for 5th to 8th. Kenny gets sixth, Bourgain seventh and Edgar eighth.
19.30 That was a great Madison race. You rarely get a dull one at this level. Credit to the Czechs for pinching that lap mid-race. The Danes very much followed the British game plan or scoring nicely, then getting the lap relatively late on. Kennaugh and Cavendish were riding exactly as they'd have wanted, and were presumably biding their time to gain the lap, when the crash happened.
Following the Madison can be like trying to juggle while riding a unicycle the wrong way up a travelator. Difficult, but not impossible.
Men's Madison
1 Denmark 22pts
2 Australia 2pts
3 Czech Republic 0pts
One lap down
4 Belgium 17pts
5 Germany 15pts
6 Great Britain 13pts
19.23 Gold for Michael Morkov and Alex Rasmussen. Silver for Australia. Bronze for the Czechs who took the lap in the middle of the race but didn't actually score a point. Correction: Great Britain are sixth. That crash for Peter Kennaugh derailed the British challenge.
19.21 Denmark wins the world title.
19.20 It's been a dramatic race, and Great Britain's duo were riding a very smart race - conserving energy, keeping in the points, keeping near the front. The crash totally derailed their chances and it's remarkable they're still in the mix at all. Five laps to go. Denmark have it in the bag. They're ridden very well indeed.
19.17 After the ninth of 10 sprints
1 Denmark 22pts
2 Australia 2pts
3 Czech Republic 0pts
One lap down
4 Belgium 14pts
5 Great Britain 11pts
19.14 Two sprints to go
1 Denmark 22pts
2 Czech Republic 0pts
One lap down
3 Belgium 14pts
4 GB 11pts
5 Germany 10pts
19.12 Denmark now gain a lap and are in the lead on 22pts. GB fourth.
19.07 Crash Drama in the Madison. The situation after 6 of 10 sprints, Czech Republic were the only team to have gained a lap. Denmark were the highest points scorers on 12, with GB pair Cavendish and Kennaugh third on 10 points.
Then, one of the Colombian riders caught the back of Mark Cavendish's wheel, and went down. Peter Kennaugh had nowhere to go and piled into the back.
Cavendish rode on by himself for a few laps as Kennaugh picked himself up and got back on his bike. His skinsuit is all scuffed down the back.
At sprint seven, the GB team, still composing itself after the crash, lost the third place to Belgium.
Women's sprint
Gold medal final
Victoria Pendleton (GB) leads Willy Kanis (Ned) 1-0
Bronze medal final
Simona Krupeckaite (Lit) leads Olga Panarina (Blr) 1-0
18.21 1-0 to Pendleton, but that was a close sprint. Now it's time for the men's Madison and the Isle of Man pair Cav and Ken to race against the rest of the world. No doubt the rest of the field will mark their every move.
Your CW correspondent is off to the stands to watch the race unfold.
If you're tuning into the Beeb tonight and are surprised to see that Gabby Logan is not presenting the coverage, she's unwell. See the story on our home page.
18.20 It's close again. Very close. Photo finish.
18.18 Pendleton bids for the fourth world sprint title of her career. She's up against Willy Kanis of Holland, the only rider to beat her in a head-to-head match sprint in the past year. Kanis beat Pendleton in race one of the semi-finals at the Copenhagen World Cup last month. Although Pendleton recovered to win 2-1, it'll have given Pendleton something to think about.
Men's sprint quarter-finals
Azizulhasni Awang (Mas) beats with Ross Edgar (GB) 2-1
Gregory Bauge (Fra) beats Jason Kenny (GB) 2-0
Kevin Sireau (Fra) beats Matt Crampton (GB) 2-0
Shane Perkins (Aus) beats Mickael Bourgain (Fra) 2-0
18.11 Awang opened the gap and held it to go through to the last four. So all three Brits will be in the 5-8 place race tonight. Edgar, like Kenny and Crampton before him, congratulates his opponent.
Awang's signature move is to cross the line with a wheely.
The semi-final line-up will be:
Awang v Bauge
Sireau v Perkins
18.10 Ross Edgar versus Azizulhasni Awang of Malaysia in the quarter-final decider. The winner goes through to tomorrow's semi-finals. Edgar is Britain's last standing man after Kenny and Crampton fell to the French without reply.
18.06 Josephine Tomic won the points race that is part of the Omnium. In case you're wondering how it works, the Omnium is a series of five different events. Your finishing positions in each event is added together and the rider with the lowest total wins. So, if you won all five events, you'd have five points, and if you were tenth in all five events you'd have 50 points.
Tomic and Josephine Tomic are tied on 19 points overall after four events, so it'll all be decided in the final event, the 500m time trial. Lesya Kalitovska is second overall on 20 points.
19.52 Media news Simon Brotherton to stand in for ill BBC presenter Gabby Logan tonight.
Men's sprint quarter-finals
Azizulhasni Awang (Mas) level with Ross Edgar (GB) 1-1
Gregory Bauge (Fra) beats Jason Kenny (GB) 2-0
Kevin Sireau (Fra) beats Matt Crampton (GB) 2-0
Shane Perkins (Aus) beats Mickael Bourgain (Fra) 2-0
19.47 Bourgain is a shadow of the rider he was a few years ago. Perkins wins that one comfortably.
19.45 Are the French on for a Brit-style domination? If so, Bourgain needs to beat Perkins and force a third race.
19.44 Sireau got that and knocks out Crampton 2-0, so Edgar is the only medal hope in the sprint now.
19.41 Bauge is much quicker than Kenny at the moment. In fact, Bauge is probably the best in the world at the moment, now Sir Chris is out of action. That's 2-0. Kenny goes into the 5-8 place final. The French horns are hooting.
17.39 A cagey start to the second Bauge v Kenny race. Olympic sprint silver medallist Kenny knows he has to win or he's into the 5-8 place final.
17.36 The sprinting is first class here tonight. Another very close race goes to Ross Edgar, who forces his match with Awang to a decider.
Women's sprint semi-finals
Victoria Pendleton (GB) beats Olga Panarina (Blr) 2-0
Willy Kanis (Ned) leads Simona Krupeckaite (Lit) 2-0
19.33 Last year Pendleton beat Krupeckaite in the final in Manchester. In 2007 Pendleton beat Shuang Guo and in 2005 she beat Abassova.
19.32 So, the women's sprint final will be between Pendleton and Kanis.
19.31 Kanis held on to knock out Krupeckaite, which is a bit of a shock, considering the Lithuanian broke the world 500m TT record earlier this week. Kanis is a very good match sprinter though.
17.30 In Bordeaux in 2006, Pendleton was beaten by Natallia Tsylinskaya.
17.28 Pendleton beats Panarina in a close race. That puts the Olympic champion through to the women's sprint gold/silver final for the fifth successive year. She won in 2005, 2007 and 2008 and was runner-up in 2006.
17.25 Back to the women's sprint semi-finals now. In the meantime, Taylor Phinney is aiming for the men's Omnium tomorrow. Who'd bet against him getting a second gold considering his strength in both sprint and endurance events? Not us.
Men's sprint quarter-finals
Azizulhasni Awang (Mas) leads Ross Edgar (GB) 1-0
Gregory Bauge (Fra) leads Jason Kenny (GB) 1-0
Kevin Sireau (Fra) leads Matt Crampton (GB) 1-0
Shane Perkins (Aus) leads Mickael Bourgain (Fra) 1-0
19.24 Another cracking race, with Perkins and Bourgain going shoulder to shoulder. Perkins holds on to win, so the French aren't having it all their own way.
17.20 Ben Swift was fifth in today's stage - not seventh. Pesky French and their provisional results. He is seventh overall and will wear the white jersey as best young rider tomorrow morning. A short, hilly stage should suit him down to the ground.
17.18 Can Matt Crampton put the first win on the board for Britain in this quarter-final?
17.17 Jason Kenny gave himself a lot to do there, allowing Gregory Bauge to open a big gap. Kenny was beaten before the home straight.
17.16 Great atmosphere in here tonight. It's not full, but it's the biggest crowd of the week. There's a lot of French in here with hooters and horns. Does that make them French horns?
17.11 What a sprint. Edgar opens it up with a lap to go and looks good, but Awang makes a real comeback. Jan Van Eijden, the GB sprint coach, was yelling encouragement.
The commentator first called it for Edgar, but then the photo finish gave it to Awang, who threw his bike forward, with the front wheel off the floor. Awang gets it, 1-0.
17.10 It's Ross Edgar of Britain against the Malaysian rider in race one. Can all three British riders make tomorrow's semi-finals? That would be very impressive considering the winter the French sprinters have had.
17.09 We're going to be alternating between men's and women's sprints competitions this evening.
Last joke, but as the riders get into their starting gates for the first quarter-final race, there's a man on the track holding Awang.
Women's sprint semi-finals
Victoria Pendleton (GB) leads Olga Panarina (Blr) 1-0
Willy Kanis (Ned) leads Simona Krupeckaite (Lit) 1-0
17.07 Kanis provides something of a shock there, beating Krupeckaite in the first race.
17.02 First race of the best-of-three semi-finals and it's Britain versus Belarus. It was close. Very, very, very close, but Pendleton gets the verdict.
16.48 We're about 12 minutes away from the restart here in Poland, and so we really ought to stop the childish chuckling about Ross Edgar going head to head with Awang later. We're sorry. We're really sorry.
16.46 Jonny Bellis will ride the men's Omnium tomorrow, and Lizzie Armitstead is down to ride the points race, shrugging off the grazes and bruises sustained in last night's scratch race.
16.40 More road news: Ben Swift, the British rider with the Katusha team, was fifth in today's first stage of Criterium International behind the winner, Jimmy Casper, and he will wear the white jersey as best young rider tomorrow. Bradley Wiggins was 76th, in a group that was 34 seconds back. That's not disastrous for any overall chances he may have.
16.21 While we're waiting for the track action to start up again, some news from the road.
Bubble-haired walking ego Filippo Pozzato took his eyes off the ladies for 30 seconds to beat Tom Boonen in the GP E3 in Belgium.
Jimmy Casper won the first stage of the Criterium International in Charleville-Mezieres, in north-eastern France. Still waiting for the full classification to see how Bradley Wiggins fared.
16.11 The line-up for the men's sprint quarter-finals is:
best of three races
Ross Edgar (GB) v Azizulhasni Awang (Mas)
Gregory Bauge (Fra) v Jason Kenny (GB)
Kevin Sireau (Fra) v Matt Crampton (GB)
Shane Perkins (Aus) v Mickael Bourgain (Fra)
The British and French dominate the sprint competition, with three riders each through to the quarter-finals. Tie of the round is surely Bauge v Kenny. That promises to be a real ding-dong battle, and could easily go to a decider.
15.26 That means all three British riders are in the quarter-finals. There's now a break for an hour and a half. Action resumes at 5pm UK time.
15.25 Britain 1 Germany 0 In the other repechage it was Ross Edgar up against two Germans - Max Levy and Stefan Nimke.
Edgar rode very smartly to get the better of the two Germans and make the last eight.
15.23 Now we're watching the 1/8 final repechage - a last chance for the riders knocked out earlier to get back in through the back door.
Gregory Bauge, the French rider, qualified fastest but got diddled by Awang in the 1/8 final.
But Bauge beat Michael D'Almeida and Lei Zhang comfortably to reach the quarter-finals.
15.12 Crampton gets it, that wasn't easy though, he was forced in to going for a long sprint.
15.10 There's some bloomin' great sprinting here in Poland today! Crampton up next.
Results: Women's Omnium, 2km individual pursuit
1. Vilija Sereikaite (Ltu) 2-20.682
2. Tara Whitten (Can) 2-23.950
3. Lesya Kalitovska (Ukr) 2-24.094
10. Anna Blyth (GBr) 2-27.918
14.55 Jason Kenny beats Edgar. Kenny goes through, Edgar will go in to the repechage. Good sprint that, they were shoulder to shoulder from 300m out.
14.50 All three British sprinters make it through their 1/16th finals races. Unfortunately Ross Edgar and Jason Kenny now meet in the 1/8 finals. Matt Crampton goes against Lei Zhang of China.
14.35 Anna Blyth clocks 2-27.918 minutes in the women's pursuit, part of the omnium. That's fifth fastest so far.
14.29 All the British sprinters are through to the first round of the sprints. Good ride by Jason Kenny he rides against Daniel Ellis (Aus).
Men's sprint qualifying
1. Grégory Bauge (Fra) 9.930
2. Jason Kenny (GBr) 10.002
3. Kévin Sireau (Fra) 10.010
6. Matt Crampton (GBr) 10.105
11. Ross Edgar (GBr) 10.202
12.54 Right everybody, that's lunch!
12.51 Armitstead update News from the British camp is that Lizzie Armitstead is okay after yesterday's crash. She has a little nerve damage in her right hand where she banged it, but a double layer of bar tape will sort that out in regards to tomorrow's points race.
Today she'll do a couple of short sessions on the rollers to keep her from seizing up, and will be back at the track tomorrow.
12.44 Ross Edgar (Great Britain) has just set the fastest time so far in the men's sprint qualification round. His time for the 200m was 10.202.
12.38 I am back from the fudge run empty-handed. The UCI has let us down again. Perhaps the fudge is in the same cupboard as the bio passport data?
12.36 Lionel's just gone to get some free UCI fudge to keep us going.
12.25 A good start for Anna Blyth in the Omnium, although the sprint is one of her strongest events.
The results of the 200m sprint time trial in the women's Omnium are as follows:
1 Yvonne Hijgenaar (Ned) 11.400
2 Anna Blyth (GB) 11.442
3 Elisa Frisoni (Ita) 11.522
4 Vilija Sereikaite (Lit) 11.800
5 Tara Whitten (Can) 11.882
6 Josephine Tomic (Aus)
12.04 The women's omnium - or Omyom, as the commentator in the veldodrome pronounces it - is underway with the first of five events, the flying 200m time trial.
The other events are the scratch, an individual pursuit, a points race and a 500m time trial.
This is the first time the women's Omnium has been included in the World Championships. Britain's rider is Anna Blyth.
12.00 Comment Picking over the bones of the team pursuit from yesterday, there is a school of thought that suggests Chris Newton should have been in the line-up, but he hasn't been a regular in the team pursuit picture for a long time. Even though Jonny Bellis sat up with just under a kilo to go, there's no guarantee Newton would have made the difference. Besides, at 36, Newton is not part of the team pursuit's future.
Because of the unbroken nine-year run of medals for Britain in the team pursuit, there is obvious disappointment at finishing fourth. But the Danes, delighted as they were with gold, hardly pulled up any trees. The Aussies failed to capitalise, and New Zealand must have been very disappointed, having talked their chances up beforehand, used their rubbery suits and Olympic equipment.
11.45 Good morning and welcome to Poland. The first famous face we've spotted at the velodrome was that of Brian Holm, one of the team directors at Columbia-High Road. He's here to check out Mark Cavendish in the Madison later today.
Meanwhile, it's also a big weekend on the road. Bradley Wiggins wears the number 51 for Garmin-Slipstream in Criterium International, the two-day stage race in France. There's a flattish road stage today followed by a hillier 98-kilometre stage tomorrow morning, with a short time trial in the afternoon.
Wiggins told CW yesterday he's not only hoping to do well in the time trial, but also go well enough in the hills to be in contention for the overall classification.
Also today is the GP E3 one-day race in Belgium, which features Roger Hammond and Jeremy Hunt for Britain.
There's been a fair bit of discussion here about Britain's men's team pursuit team, and their failure to win a medal at the World Championships for the first time since 1999 in Berlin. But people seem to be overlooking the age and inexperience of the team. Bellis, Burke and Kennaugh have never ridden a World Championship team pursuit before. If they are just a second or so away from breaking the four-minute barrier now, what will they be capable of in three years' time?