Track cycling world championships: Thursday's live coverage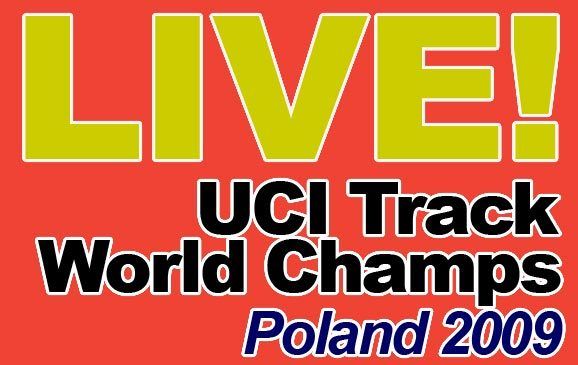 Press refresh to access the latest updates
All times are UK times
The Hub - Home for all CW's track worlds coverage
TODAY'S HIGHLIGHTS
* French rider Morgan Kneisky wins the scratch race
* Reade and Pendleton denied gold by flying Aussies in team sprint
* Taylor Phinney wins individual pursuit gold
* Great Britain get first gold of the week in women's team pursuit
* Edgar and Crampton reach Keirin final but miss out on medals
LIVE UPDATES
20.41 Right, that's all from us here in the velodrome. We're catching the shuttle bus back to the centre of Warsaw shortly. Thanks for joining us. See you again tomorrow.
20.38 The start lists for tomorrow are in. The GB quartet for the team pursuit is Bellis, Burke, Clancy, Kennaugh. Jess Varnish and Victoria Pendleton are in the sprint, Lizzie Armitstead will ride the scratch race, and David Daniell is in the kilometre. He'll be up against the USA's Taylor Phinney, who won the individual pursuit tonight and will attempt the double.
Medal table after two nights
1 Australia 2 gold 2 silver 1 bronze
2 France 2 gold 1 silver 0 bronze
3 Great Britain 1 gold 3 silver 2 bronze
4 Lithuania 1 gold 0 silver 2 bronze
5 New Zealand 1 gold 1 silver 0 bronze
6 Germany 1 gold 0 silver 1 bronze
7 USA 1 gold 0 silver 0 bronze
8= Denmark 0 gold 1 silver 0 bronze
8= Argentina 0 gold 1 silver 0 bronze
10= Austria 0 gold 0 silver 1 bronze
10= Belgium 0 gold 0 silver 1 bronze
10= Netherlands 0 gold 0 silver 1 bronze
20.26
The second night has come to an end. Britain grabbed their first gold in the women's team pursuit and the women's team sprinters won silver.
Men's Keirin
20.17 No medal for GB in the Keirin final. Max Levy won it from Francois Pervis of France and Teun Mulder. Ross Edgar was fourth, with Matt Crampton fifth.
20.09 Now for the last race of the night. The final of the men's Keirin is up. Ross Edgar and Matt Crampton are in it for Great Britain.
20.08 Taylor Phinney is in his rainbow jersey and he confirmed that his big goal is the individual pursuit in the 2012 Olympic Games. Bradley Wiggins could have competition on his hands. Phinney will be only 22 then. His mother is 1984 Olympic road race champion Connie Carpenter, and his dad is fomer Tour de France stage winner Davis Phinney.
19.56 The rest of the world has really raised its game in the women's team pursuit, and given the men's success in recent years it's probably no surprise the New Zealanders are leading the challenge to the British.
Women's team pursuit
1 Great Britain
2 New Zealand
3 Australia
19.54 Gold for Great Britain 3-22.720 for Armitstead, Houvenaghel and Rowsell and a first victory of the championships. The Kiwis really pushed them hard for it though.
19.54 The British team has pulled it out a bit over the closing six laps and are a second up with a lap to go.
19.53 It's going to be very, very close. 0.1 of a second between the teams with the Brits just ahead.
19.52 The Brits were 0.4 seconds up after 1,000m but the Kiwis are pulling it back in the middle third of the race. It's going to be close.
19.49 Now it's Armitstead, Rowsell and Houvenaghel for Britain against Lauren Ellis, Jaime Nielsen and Alison Shanks of New Zealand for the gold.
19.47 Australia beat Netherlands to the bronze medal in the women's team pursuit.
19.46 Your CW correspondent was due on BBC London radio a few minutes ago, but has been postponed because they've managed to get flambouyant, spikey-haired boxing promoter Don King on the line. Fair enough really. So CW will be on air a bit later.
19.39 A few people are speculating about why Great Britain are getting silver and bronze but are missing out on the golds here.
Well, if you look at the four-year cycle that follows one Olympics and culminates at the next as a circle, Beijing was the top of the circle, and right now, we're just passing through the very bottom of the circle.
After Beijing a lot of riders had some time off. Most of the GB squad competed only sporadically over the winter World Cup season, with some riders not in action until the last round in Copenhagen last month.
A more accurate comparison would be to look at how GB did in the first World Championships following the Athens Olympics in 2004. In Los Angeles in 2005, like now, the team was a mix of youth and experience. They came away with six medals in total (although four were gold - Pendleton in the sprint, Hayles and Cavendish in the Madison and the men's team pursuit and team sprint). This time GB already has five medals (three silver, two bronze), so although the wins are not there, the strength in depth is greater.
19.30 Phinney pulled away in the final kilometre or so, stretching the gap over a second as Bobridge struggled to back up his earlier ride. On the line it was Phinney in a time of 4-17.631, to win his first individual pursuit world title.
19.29 It's very close. Phinney was up by a whisker over the first kilometre, then Bobridge took over the lead and at one point they were split by just one thousandth of a second before Phinney began to pull away a little.
19.27 Two teenage stars on the track now. Phinney, who's 18, against Aussie Jack Bobridge, who's 19. One of the GB coaches, Matt Parker, tipped Bobridge for the win after watching the two riders in qualifying.
19.26 After the gold rush in Manchester and Beijing last year, it probably feels a bit strange for British fans, who are still waiting for the first gold medal of the championships. We're well into the second evening. Nothing can be taken for granted, but with the women's team pursuit team and Matt Crampton and Ross Edgar in their respective finals, there are good chances tonight.
19.24 Belgian rider Dominique Cornu grabs the bronze medal ahead of Diudia. Next up it's Phinney time. Wonder if Bradley Wiggins is watching? The BBC's coverage is in full flow, but there's no British rider to watch in this one.
Men's individual pursuit finals
19.20 It's Dominique Cornu of Belgium against Volodymyr Diudia, and if their qualifying times are anything to go by, it'll be close.
Women's team sprint finals
1 Australia (McCulloch, Meares) 33.149
2 Great Britain (Pendleton, Reade) 33.380
3 Lithuania (Gaivenyte, Krupeckaite) 33.495
19.16 The answer to that is, no. Australia were faster out of the blocks, faster over lap one and although the gap came in a bit on the second lap, the Aussies edge out the Brits.
19.15 Can this be Britain's first gold medal of these championships? Reade and Pendleton have won both editions of the world team sprint title, which was first held in Majorca in 2007. Can they complete the hat-trick?
19.13 Lithuania overhaul the French on the second lap to win the bronze medal.
19.10 Righty-ho, France v Lithuania for bronze in the team sprint. Then it's the old rivalry between Australia (Kaarle McCulloch, Anna Meares) versus Great Britain (Pendleton, Reade) in the gold match.
Men's Keirin second round
Through the 1-6 final Pervis, Crampton, Edgar, Levy, Borisov, Mulder
In the 7-12 final Awang, Perkins, Bergemann, Volikakis, Ng, Niblett
18.59 Max Levy of Germany, Sergey Borisov of Russia and Teun Mulder of the Netherlands also reach the Keirin final after the second heat.
18.51 Matt Crampton took the 'Sir Chris Hoy position', right behind the bike, with Edgar in third place, Bergemann sandwiched between them. As the bike peeled off they were all watching one another. Crampton led it out, Bergemann and Awang went outside him, then Pervis took it on. It was a belting sprint up to the bell. Pervis won it but Crampton was second and Edgar third, so they make it through to the final.
18.48 Heat one of two. Both Brits are in this one, and they need to finish in the first three to make it. The line-up is Matt Crampton, Ross Edgar, Carsten Bergemann (Germany), Azizulhasni Awang (Malaysia), Shane Perkins (Australia) and Francois Pervis (France).
Men's scratch race final results
1 Morgan Kniesky (Fra)
2 Angel Dario Colla (Arg)
3 Andreas Mueller (Aut)
4 Travis Meyer (Aus)
5 Kazuhiro Mori (Jpn)
6 Ivan Kovalev (Rus)
7 Mark Cavendish (GB) +1 lap
18.41 The French rider Morgan Kniesky gets it. Although the scoreboard doesn't seem to think so.
18.40 They can see the back of the bunch but the gap is too big and as the bunch accelerates for the final sprint, it's clear Cavendish and Godfrey are not going to make it across.
18.39 Cavendish and Godfrey are almost in the same straight but there are only six laps to go. What will they have left for the final sprint if they do make it? It's not going to be easy.
18.38 Cavendish and Godfrey keep chasing hard but the gap is still considerable and there are only 10 laps to go. The have to close the gap and still have enough to contest the sprint.
18.37 Now Cavendish and the Kiwi Hayden Godfrey attack from the first part of the bunch hoping to catch the front six, who are somewhere in among the bunch, although one lap up.
18.36 With 17 laps to go, those six riders have gained a lap. Cavendish is in a chase group but it's so chaotic on the track it's likely to be hard for even the riders to know who's in the lead, who's in the first part of the nunch and who's trailing.
18.35 Cavendish is very alert at the front of the chase group but there's not the same co-operation. It looks as if the six riders are going to gain a lap on the second portion of the bunch. And they do. 22 laps to go.
18.33 The six leaders are working very well together and are going well. The pace is pretty hot and the bunch is splintering a bit behind. 25 laps to go.
18.31 Halfway through this 60-lap race. Mark Cavendish was very active early on, but as it stands there are six riders on the attack, with about half a lap's lead. They are Angel Dario Colla (Arg), Travis Meyer (Aus), Andreas Mueller (Aut), Morgan Kneisky (Fra), Kazuhiro Mori (Jpn) and Ivan Kovalev (Rus).
18.23 There are 22 riders in the race. 60 laps of the track, which is 15km. First rider over the line wins, although of course the way to win is to try to gain a lap on the rest of the field.
18.22 The first final of the evening is the scratch race, and Mark Cavendish's first race on the track since the Madison at the Beijing Olympics last summer.
Big cheers for the reigning world Madison champion, and newly-crowned Milan-San Remo winner.
Women's team sprint qualifying
Best times
1 Australia 33.452sec
2 Great Britain 33.598
3 France 33.609
4 Lithuania 33.617
18.19 That was close, but Pendleton and Reade just about beat the French to make the gold medal final against Australia.
18.17 You join us back in Poland just in time for the British pair, Victoria Pendleton and Shanaze Reade, to ride in the fifth and final heat of team sprint qualifying. In the other straight are the French.
16.57 More news just in. Dave Brailsford is chatting to Gabby Logan in the track centre. Can we be the first to link Logan with the new Sky team?
16.55 Before we go, news just in that Manchester will host the opening round of next season's track World Cup, from Friday, October 30 to Sunday, November 1.
16.51 That's the end of the afternoon session. We'll be back at 6pm (UK time) for the evening races. Have a nice late afternoon.
The schedule for this evening's events is as follows, although could be subject to running late. Again, UK times are listed.
18.00-18.15 Women's team sprint qualifying (Pendleton & Reade)
18.15-18.45 Men's scratch race (Cavendish)
18.45-19.00 Men's Keirin second round (Crampton, Edgar)
19.10-19.20 Women's team sprint finals
19.20-19.35 Men's individual pursuit finals
19.45-20.00 Women's team pursuit finals (Armitstead, Houvenaghel, Rowsell)
20.10-20.30 Men's Keirin finals
16.50 We've just heard that Sir Chris Hoy's girlfriend is here in Poland, even though her other half is at home. Apparently she couldn't get a refund on her tickets and decided to come and watch the rest of the British team in action. Good on her. Hope she's enjoying it so far.
Men's Keirin first round repechage
Through to second round Crampton (GB), Ng (Mas), Volikakis (Greece), Edgar (GB)
16.49 So, two of the British riders make it through the next phase by winning their second chance races. Crampton and Edgar will be in action tonight. Kenny went out, because he was drawn in the same heat as Crampton and only one could go through.
16.48 An emphatic win for Ross Edgar in the final repechage. Took off the front and powered away from the other four. Impressive stuff, the best we've seen so far in the Keirin competition, which bodes well for round two later.
16.43 Now for the final heat, which features Ross Edgar. He's got to beat Ellis, Smith, Mazquiaran and Van Velthooven. Edgar, the silver medallist in the Olympic Keirin last summer has the biggest reputation of these five. Has he got the legs today?
16.41 Heat three goes to the Greek rider Christos Volikakis, last year's bronze medallist in Manchester.
16.36 Second heat of the repechage was won by Josiah Ng of Malaysia.
16.31 With a lap to go Sireau was looking good but round the last bend the two Brits really turned it on, with Crampton getting it from Kenny.
16.30 The two Brits took the first two positions behind the Derny, with Kenny first and Crampton second. Crampton let a bit of a gap go to allow Kenny to ride alone on the back of the Derny. Team tactics coming into play there.
16.29 Back to the Keirin, then, Five riders in heat one, with only one place in the second round up for grabs. That means one Brit is definitely going out because Matt Crampton and Jason Kenny are both in this heat. Also here are Schmidt, Narvaez and Sireau of France.
Women's team pursuit qualifying round
Best times
1 Great Britain 3-25.147
2 New Zealand 3-26.023
3 Australia 3-27.719
4 Netherlands 3-30.893
16.28 To put that ride in perspective, last year's gold medal-winning ride was a 3-22, which is a world record for the discipline. It looks like the rest of the world has raised its game significantly.
16.27 The trio were all still together at the finish and recorded 3.25.147, 0.876sec inside the Kiwis. So they'll face New Zealand in the gold race tonight.
16.25 At 2km GB are 1.285 seconds quicker than NZ and on course for the gold medal final.
16.23 Last year Houvenaghel and Rowsell were joined by Rebecca Romero to win the inaugural world title in Manchester.
At 1,000m they are ahead of New Zealand by over a second. Best time at 1km.
16.22 The final team, Great Britain, is about to start. Wendy Houvenaghel, silver medallist in the individual pursuit yesterday, Jo Rowsell, fourth, and Lizzie Armitstead are the three.
16.20 Bit of a disaster for the Germans there, after a good start. They were pushing the best times set by the Aussies and New Zealanders earlier on but faded badly to finish sixth.
16.16 The Germans are the second last team to go, with Charlotte and Cristina Becker together with Verena Joos. The commentator is the stadium continues to show himself up, talking over the beeps signalling the start for each team.
16.11 You join us back here in Pruszkow as the qualifying session draws towards a close. On the track now are Belarus, the 12th of 14 teams to ride. Great Britain will be last to start. The current best time has been set by New Zealand.
15.07
The women's team pursuit qualifying round is about to start. There's a big entry for this - 14 teams. Great Britain's trio of Wendy Houvenaghel, Joanna Rowsell and Lizzie Armitstead willl be confident of reaching the final. After all they had two riders in the top four of the individual pursuit competition.
CW is off to get some lunch, we hope. We'll be back in time to update the team pursuit results before the Keirin repechage races.
Men's Keirin first round
Qualified for second round so far: Carsten Bergemann (Ger), Teun Mulder (Ned), Max Levy (Ger), Shane Perkins (Aus), Azizulhasni Awang (Mas), Sergey Borisov (Rus), Francois Pervis (Fra), Jason Niblett (Aus)
Into the repechage round: Jason Kenny (GB), Matt Crampton (GB), Ross Edgar
15.04 So, all three Brits failed to make the second round at the first attempt and will have to go through the repechage round a little later this afternoon.
15.03 Ross Edgar was at the back as the Derny bike pulled off, but moved through the field nicely before slipping back again. In the end Pervis of France won by a couple of bike lengths. Niblett was second, with Edgar fifth.
15.00 Last of the four Keirin heats with Britain's Ross Edgar up against Jason Niblett (Aus), Barry Forde (Bar), Travis Smith (Can), Francois Pervis (Fra), Tomokazu Sato (Jpn) and Yondi Schmidt (Ned).
14.57 Crampton fifth in his heat, so will need to get through the repechage round. Awang won, Borisov second.
14.54 Matt Crampton (GB) is in heat three, with Jose Antonio Escuredo Raimondez (Spa), Kazunari Watanabe (Jpn), Azizulhasni Awang (Mas), Simon Van Velthooven (NZ), Sergey Borisov (Rus) and Christopher Sellier (Tri)
14.53 Maximilian Levy (Ger) won heat two, with Shane Perkins (Aus) in second place.
14.50 There's off. Derny spewing fumes into the air. It smells like someone's left a lawnmower running in a small greenhouse.
14.49 There's no British interest in heat two. Shane Perkins (Aus), Leonardo Alfredo Narvaez Romero (Col), Hodei Mazquiaran Uria (Spa), Max Levy (Ger), Christos Volikakis (Gre), Josiah Ng (Mas) and Kamil Kuczynski (Pol).
14.46 Jason Kenny was the first to make a move, going for a very long one high up the banking. Once in the lead, with two laps to go, he was committed and was overtaken on the final lap. Kenny was third behind Bergemann and Mulder.
14.41 Now we have some motorbike action. The Keirin. No jokes about how the fella on the motorbike is cheating please.
Jason Kenny of Great Britain is in heat one, against Daniel Ellis (Aus), Adam Ptacnik (Cze), Kevin Sireau (Fra), Carsten Bergemann (Ger), Teun Mulder (Ned) and Andrii (don't call me Alexandre) Vynokurov (Ukr).
They're off. First two go through to round two. The rest go in the repechage, or lucky losers race as we like to call it.
Men's individual pursuit qualification
Four best times
1 Taylor Phinney (USA) 4-15.160
2 Jack Bobridge (Aus) 4-17.419
3 Dominique Cornu (Bel) 4-19.197
4 Volodymyr Diudia (Ukr) 4-19.786
Gold medal final Taylor Phinney v Jack Bobridge
Bronze medal final Dominique Cornu v Volodymyr Diudia
14.40 The final heat of the individual pursuit qualifying round, Alexei Markov of Russia caught Ireland's David O'Loughlin. Markov didn't do a great ride either, finishing outside the top four in seventh.
14.34 A 56.435kph ride for a 4-15.160 for Phinney. Fast, but still outside Bradley Wiggins's 4-15.031 PB in Beijing.
14.32 At the 3,000m mark Phinney is the fastest.
14.31 Phinney has caught and passed the Russian, who is having a nightmare. Phinney isn't even the fastest so far. At the halfway mark he was third fastest but he's shifting now.
14.27 Escobar of Spain won't be riding for a medal later. Fifth best time for him - 4-23.6. Now for the penultimate heat, the one most people have been looking forward to. The teenage Taylor Phinney looks to repeat his 4-15 ride in Copenhagen. Is this the man to challenge Bradley Wiggins at London 2012? It would certainly seem so. His progress this winter has been startling. On the other side of the track is Russia's Valery Kaikov. He's the reigning World Cup champion. It's the Cold War on bikes.
14.26 In this afternoon's qualifying session we also have the first round of the men's Keirin and the qualifying round of the women's team pursuit so plenty for British fans to get excited about later.
14.22 Aussie Jack Bobridge has just posted a very impressive 4-17. Most people are wondering what Taylor Phinney of the USA can do in heat 10. Right now Vitaliy Shchedov and veteran Spaniard Sergi Escobar are on the track.
14.19 There are 23 riders in the heat. The best four times qualify for the medal rides this evening.
There was general amusement during heat six when the Polish rider Adrian Kurek was caught and passed by Ukraine's Volodymyr Diudia (who used to spell his name Dyudya).
Kurek then rode in the slipstream, then passed Diudia again, which is not allowed. He was disqualified.
14.17 The qualification round of the men's individual pursuit is in progress. There are no British riders in this event, the first time in many years British Cycling has declined to enter the discipline at the World Championships. As we explained yesterday, injury to Ed Clancy a few weeks ago, and a bout of sickness meant BC took the decision to concentrate on the team pursuit.
It does seem odd that not a single Brit could be put forward for it though.
14.12 Welcome to Poland. Once again your intrepid CW crew has arrived at the velodrome without picking up lunch on the way. Our colleagues from the BBC stopped off at a supermarket to buy sandwiches, but our taxi driver was such a kamikaze, we didn't feel safe asking him to make any sudden turns.
2009 UCI TRACK CYCLING WORLD CHAMPIONSHIPS
Follow Cycling Weekly on Twitter>>
RACE REPORTS
The CW Hub: Track World Championships index
Women's team pursuit: Britain clinch gold
women's team sprint: Reade and Pendleton score silver
Men's scratch race: Cavendish marked out of contention
Men's individual pursuit: Phinney wins gold
Men's team sprint: France beat Britain
Men's Points Race: Newton gets bronze
Women's individual pursuit: Houvenaghel beaten to silver
500m TT: World record for Krupeckaite, bronze for Pendleton
NEWS AND FEATURES
Track worlds day one: steady start for team GB
Why there's no Brit in the individual pursuit
No individual pursuit for Britain at track worlds
No room for complacency in British Cycling: Iain Dyer interviewCavendish in the frame for Scratch race world title bid
2009 Track Cycling World Championships preview
Crampton set to fill Sir Chris Hoy's team sprint spot
2009 World Track Champs GB squad named
Hoy to miss world track champs
Track World Championships: British medal winners
CW's Dummies' Guide to Track Racing
PHOTOS
GB RIDER PROFILES
Men
Jonathan Bellis
Steven Burke
Mark Cavendish
Ed Clancy
Matt Crampton
David Daniell
Ross Edgar
Jason Kenny
Chris Newton
Jamie Staff
Women
Lizzie Armitstead
Wendy Houvenaghel
Victoria Pendleton
Shanaze Reade
Joanna Rowsell
Jessica Varnish
RECENT RESULTS
International track results last season: 2007-2008
International track results this season: 2008-2009
2008 TRACK WORLD CHAMPIONSHIPS LINKS
Full results from the 2008 track worlds
Report: Sunday, day five>>
Report: Saturday, day four>>
Report: Friday, day three>>
Report: Thursday, day two>>
Report: Wednesday, day one>>
EXTERNAL LINKS
Track Cycling World Championships 2009 official website