Traffic free Oxford Street plans blocked and called 'unacceptable'
Plans to pedestrianise Oxford Street - restricting access for cars as well as cyclists - have come under fire again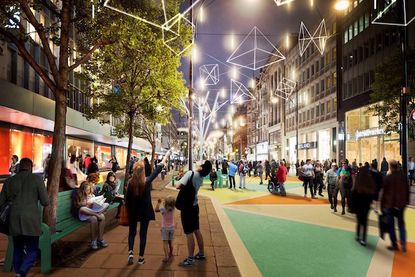 (Image credit: TfL)
Westminster council has branded London Mayor Sadiq Khan's plans to make Oxford Street traffic free "unacceptable."
Oxford Street's current cabinet member in Westminster, Daniel Astaire, made the comment in a full council meeting, adding that it was "clear that the overwhelming majority of Westminster's residents and businesses were opposed to the concept."
The Labour Mayor unveiled plans to pedestrianise the busy shopping destination, which has been called one of "Europe's most polluted streets", in November last year - with a hope for completion by December 2018.
Khan hoped to kick the scheme off with an 800-metre section near Marble Arch, from Oxford Circus to Orchard Street.
The plans (opens in new tab) have been criticised for banning cyclists from the road, as well.
Though they do include "some modest improvements to Wigmore Street, Harewood Place and Holles Street for cyclists, amongst other users", the only other statement regarding provision is that the developers are working on "proposals for a high quality east-west cycle route to the north of Oxford Street. This network would complement new facilities coming to the area."
In a piece for the Guardian (opens in new tab), Former London cycling commissioner Andrew Gilligan said that it would be near impossible to develop a parallel cycle route north of Oxford Street.
"Large numbers of cyclists will ignore the ban.. Oxford Street will become London's biggest unofficial example of the notorious failure that is 'shared space,'" he said.
Residents in the surrounding areas of Marylebone, Fitzrovia and Mayfair are concerned that the plans would result in traffic being diverted unfavourably elsewhere - claiming on the 'Better Oxford Street Campaign' website that "pedestrianising Oxford Street is not the answer."
Astaire, said in a full Council Meeting Wednesday April 18: (opens in new tab) "TfL and the Mayor are the main proponents of the changes to the street, but it belongs to the Council and the decision rests with us. I have informed them (much to some surprise) that detailed work on a scheme is to be stopped."
At a Marylebone Forum AGM, he added that though it may be possible for TfL and the Mayor to overrule the decision, it could "take the Mayor over four years to take over the road from the Council".
Astaire will step down from his role next week, leaving space for the election of a new representative. However, there's three candidates standing for the 'Campaign Against Pedestrianisation of Oxford Street' (CAPOS) party in the election next Thursday May 3.
There's one CAPOS representative standing in each of the surrounding wards: Bryanston and Dorset Square Ward, Marylebone High Street Ward, and West End Ward.
Conservative representatives have also voiced support of residents and businesses against the plans - candidate for Bryanston and Dorset Square Ward Eoghain Murphy tweeted: "Only the Conservatives will protect residents' interests against the Labour Mayor's plans. Don't waste your vote!"
Thank you for reading 5 articles this month* Join now for unlimited access
Enjoy your first month for just £1 / $1 / €1
*Read 5 free articles per month without a subscription
Join now for unlimited access
Try first month for just £1 / $1 / €1