Trott and Rowsell Shand trying to manage expectations ahead of Track World Championships
The women's team pursuit team are used to winning, but Joanna Rowsell Shand and Laura Trott are trying to temper the expectations of gold ahead of the UCI Track World Championships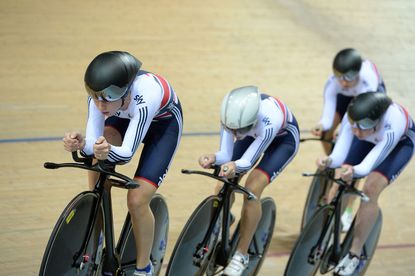 Despite being the most consistent performing squad in the whole Great Britain set-up in recent years, the women's team pursuit riders insist they are managing expectations ahead of this week's Track World Championships, as they aim for a sixth world title in eight years.
On Friday the squad made up of Joanna Rowsell Shand, Laura Trott, Elinor Barker, Ciara Horne and Emily Nelson will step into the London Velodrome having never been beaten there, with this the last big test before the Rio Olympics.
"What happened in Beijing I don't think anyone ever thought we were going to go and do the same again in London [in the Olympics in 2012], and so now I think everyone kind of assumes we're going to go to Rio and do the same thing," Trott said.
"I guess there's a reason why people think we're going to achieve all these gold medals and I guess it's a good thing and something we do strive to achieve.
"It's nice to set such a high target and strive to beat that. The expectation was always going to come because of what has happened beforehand."
>>> Podium or bust for Mark Cavendish at Track Worlds if he wants to win Rio gold
However, both Trott and Rowsell Shand were keen to play down their tag as the favourites next week, despite being in front of a home crowd.
"Now there are probably six teams that are pretty close together," said Rowsell Shand.
"I wouldn't say we're the ones to be shot at," said Trott. "Over the last two years we've seen other countries really develop and really come on."
While Katie Archibald is missing from the line-up having injured her knee in a motorbike accident in December, the team is not quite at what is likely to be its first-choice quartet come the Olympic Games. Yet, Trott insisted while the riders will miss Archibald, they have to "have a life outside of cycling".
"If you get so wrapped up in just being here all you would do is ride round in circles and sit on a sofa all day, I just don't think you can live a life like that," she said.
>>> GB women sprinters face Rio decider at London Track World Championships
In fact, with Academy rider Emily Nelson drafted into the squad, both Trott and Rowsell Shand believe the competition for places is testament to the team's lasting success.
"That's why our nation is as good as it is, because it's got such a good development team underneath us," Trott said. "There's people always trying to get into the squad so you don't want to take your foot off the gas otherwise that's your spot gone."
"There's always been more riders than there has been places in the squad and it's always been just part of the environment that you buy into that — you buy into that you might not get a place," said Rowsell Shand. "That can always be a difficult part when you're training that you know you might not get that ride."
Thank you for reading 10 articles this month* Join now for unlimited access
Enjoy your first month for just £1 / $1 / €1
*Read 5 free articles per month without a subscription
Join now for unlimited access
Try first month for just £1 / $1 / €1