Podium or bust for Mark Cavendish at Track Worlds if he wants to win Rio gold
Mark Cavendish must place in the omnium top three at Track World Championships if he wants to ride in Olympics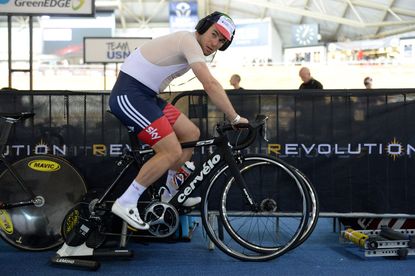 (Image credit: Andy Jones)
Mark Cavendish must place on the podium in the omnium at the Track World Championships next week if he wants to keep his dream of winning gold in the Rio Olympics alive, according to British Cycling technical director Shane Sutton.
Speaking in Manchester ahead of the Worlds in London next week, Sutton said Cavendish has to finish in the top three in the omnium otherwise his dream of competing in Rio will be over.
"He'll be expecting that himself otherwise he'll rule himself out," Sutton said. "If he can't go top three in the Worlds I would say that Cav would put his hand up and probably continue his dream via the Tour [de France] trying to get the [yellow] jersey, or win the stages and the Road Worlds."
Cavendish's desire to win an Olympic gold is no secret, having missed out on a medal in 2008 and 2012.
"I haven't won an Olympic medal yet, I'd quite like to do that this year," he said ahead of the Championships.
"I wouldn't be doing the Worlds if I couldn't get a result there, and then again if I couldn't get a result in the Worlds I wouldn't be doing the Olympics."
However, the 30-year-old has also stated big ambitions on the road this season. The Dimension Data rider wants to win the first yellow jersey at the Tour de France — another accolade missing from his palmarès — and win the World Championships road race in Qatar.
"Every single day since I came back from my injury last year has been towards making both my road and track commitments work this year," Cavendish said.
"I have got other ambitions this year but they're the three that make headlines, so they're the three that people write about. I'll try and win what I can this year."
Road sacrifices
Yet while Cavendish is confident he can balance his road and track ambitions, both Sutton and men's endurance coach Heiko Salzwedel admit something has to give if he is to win gold this summer — potentially his participation in the Tour de France.
If Cavendish performs as he needs to at the Worlds and is then available to ride in the Olympics, he will automatically qualify as man five in the team pursuit for Rio too. Both said this would require him to dedicate more time in Manchester to the track, and reduce his road commitments.
>>> Bradley Wiggins thinks Mark Cavendish may struggle combining Tour and Olympic ambitions
"If he is going to aim for the Olympics he is automatically our man five for the team pursuit, so we will have to work on this too," said Salzwedel. "Mark [will be] required to spend considerable time here in Manchester, and he needs to get his priority right.
"At the moment he has too many things on his mind which are possible but it's a very difficult task what he is aiming for. He wants to do everything."
>>> Six of the best Mark Cavendish videos on YouTube
He continued: "To complete a three week Tour de France then go straight to the Olympics, that might fit for a road race but not for a team pursuit and for an omnium. That's my personal opinion. Cav has to digest and Cav has to make his decision about this."
Sutton agreed: "That [the team pursuit] means a bigger commitment from him, because that's a generic training programme we run through the team pursuit, four guys four k, and he'll need to come in and be part of that on a regular basis."
>>> Inside the medal factory: A look at the British Cycling Academy
The Tour de France finishes on July 24 just 12 days before the Rio Olympics start. However, although Sutton admitted Cavendish would have to look at reducing his road ambitions, he said riding the Tour can still be a good build-up for him.
"I think the ideal preparation for him is a few weeks in the Tour."
Cavendish will be making his international competition debut inside the London Velodrome when the omnium begins on Friday, having only contested the road race at the 2012 Games. He placed fourth in the event in the Hong Kong round of the Track World Cup last month.
Thank you for reading 20 articles this month* Join now for unlimited access
Enjoy your first month for just £1 / $1 / €1
*Read 5 free articles per month without a subscription
Join now for unlimited access
Try first month for just £1 / $1 / €1