Inside the medal factory: A look at the British Cycling Academy
There's more to professional cycling than just riding a bike — as the teenagers who won places in the revamped British Cycling Academy are just finding out…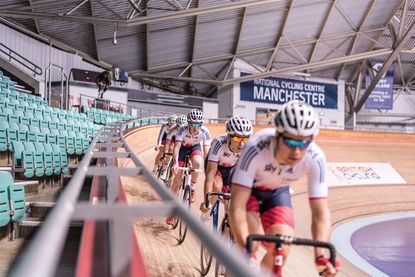 It's 9am on a Tuesday morning and 22 teenagers are sat in front of tables in a classroom in Manchester. They've already had an hour-long lesson that morning, and have an afternoon of training and classes planned until 8pm.
But rather than being at university or college, the students are all members of the British Cycling Academy, and are halfway through a two-week induction boot camp.
For 2016 the Academy has been revamped, with 63 riders of all disciplines — road, track, mountain and BMX — aged 15 to 21 joining.
What was formerly the Olympic Development Programme is now the Junior Academy, while the Olympic Academy, for 18-21-year-olds, is now renamed the Senior Academy.
Described as the "ultimate finishing school", it is the step below the Podium Programme made up of Britain's best, elite cyclists.
>>> Should you really train like a pro?
Rod Ellingworth established the Academy in 2004 to great success. It was characterised by its notoriously tough boot camp held in Manchester, and a training base in Tuscany, Italy where the riders lived, raced and trained from 2006 to 2010.
The emphasis was to adjust to the lifestyle of a professional cyclist, as well as physical training, and riders such as Mark Cavendish, Geraint Thomas, Ian Stannard, Ben Swift and Peter Kennaugh all passed through its doors.
>>> Ben Swift targeting track success at Rio 2016
Methods that worked well in the past are being reintroduced for 2016, with the 2020 Tokyo Olympics in mind.
Most notable is the return of an Italian training base (see below) where the riders on the men's endurance programme will spend seven months next year, while those on other programmes will also take advantage of it for shorter periods.
The women's endurance squad is also moving back to Manchester, from Newport where it has been based since the Commonwealth Games, to be closer to all the facilities and coaches.
Rekindling the Italian magic
It's been five years since British Cycling closed its training base in Italy, and considering the achievements the majority of riders who lived there have gone on to have, it's no surprise it's being reintroduced next year.
Described as a halfway house for riders en route to turning professional, the new base will be located in Montichiari, Northern Italy, and be home to the men's endurance programme for seven months.
>>> Icons of cycling: The Derny
Track and road racing is combined; the indoor 250m Montichiari Velodrome is nearby and the European Track Championships are on the schedule, while during the summer the riders take on a full European U23 road racing programme.
The base, however, won't be exclusive to the men's endurance squad; riders from other programmes will spend time there, with mountain bike trails and BMX facilities also not far away.
>>> Watch: Geraint Thomas disqualified from Longest Lap again, this time for taking selfies
"We'll have local knowledge, local staff on the ground, local equipment and we've got a great relationship now with the local velodrome," BC performance pathway manager Ian Yates explains.
Inspiration for the original Italian base came from a similar set-up in Australian Cycling, created by Brian Stephens, who joined BC this year as Olympic Programme Development coach.
>>> Cookson: Outdoor velodrome could solve 2022 Commonwealth problems
So why does Italy have so much to offer?
"The benefits are the level of road racing and the climate. It also forces the guys to be very independent. They grow up quickly living in a foreign environment, it prepares them for life later as professional cyclists."
>>> Icons of cycling: Leicester Velodrome
Matt Gibson is one of the riders preparing to move to the new Italian base. Though it's on the track where he's shown the most promise — he won two golds at the U23 European Track Championships this summer, and gold as part of the team pursuit at the recent European Track Championships — he's looking forward to gaining more road racing experience.
"It's nice to know that the winter is going to be more track focused and the summer will be more about the road, it's easier to think about the year that way and plan goals," he says.
For Gibson, the biggest challenge is being away from home. "It's not the fact that I'm in Italy, it's not being with the people that I care about," he says.
Yet as Stephens explains, getting used to living abroad will stand riders in good stead for future life on a professional team.
"It's definitely a big change for the kids living at home with their parents to sharing a house in Italy with the whole group, but when I worked with the Australian group it was exactly the same thing but we were moving further away from home as well! It's difficult but it's achievable, and it's successful."
A university experience
For riders on the senior programme, the Academy is the equivalent of a university experience. It's a full-time schedule that requires them to move into shared accommodation near the National Cycling Centre in Manchester — often it's the first time moving away from home, where they have to cook and clean for themselves, and take responsibility for their own health, time and wellbeing.
The idea of the two-week boot camp is to make riders think about all aspects of their life that can affect their performance.
Classes range from bike maintenance to health and hygiene, social media use, basic Italian language lessons, financial management, nutrition and anti-doping.
"What we've looked at is all the deal breakers that they need to know at this stage," says Ian Yates, British Cycling's performance pathway manager.
"We're trying to create [an environment where] it's as hard as it's going to be now, so they understand what is coming. It's [about] preparing them."
He continues: "It allows us to reinforce that commitment, that ownership, that responsibility that will run throughout their time on the cycling programme beyond the Academy that will take them right the way through [their careers]."
British track and road star Dani King tells us about her knocks and scrapes
When the Academy began, the camp was held over six weeks, while in recent years the classes have instead been staggered throughout the year. This year the coaches are doing things differently.
The first class of the day for the riders is an hour of bike maintenance at 8am, run by BC mechanic Mark Ingham, who holds two sessions over the two weeks.
It's the first time in at least four years a class like this has been held for new riders, and in fact it was Ingham who suggested it be brought back after a rider on the Podium programme came to him unable to change an inner tube.
Lesson one is on bike maintenance; how to change an inner tube, check tyres for cuts and wear, check brake blocks, cables, gears, how to put on handlebar tape correctly, how to adjust a headset.
It may sound rudimentary, but Ingham insists they start from square one. "If you show them too much they can try to do it themselves and make it [a problem] worse," he says.
Crash courses
Next up on the timetable is health and hygiene, focused on how to prevent infections and illnesses — particularly vital for a large group such as this training or racing every day, and living together — conducted by a local nurse.
For teenagers who may have previously relied on parents to do things for them, the class can be enlightening.
There's a mix of general tips such as why it's important to register with a local GP in case you get sick, how to keep your house clean, how regularly to change cleaning sponges, and how long you can keep meat for; as well as things particularly relevant to cyclists — to clean gym equipment after you use it, not to share towels and clothing, and why you shouldn't buy antibiotics unadvised abroad, in case they contain controlled substances.
Pro or not, follow these tips after every ride
There's gasps and flinches when pictures are projected onto the screen of oozing sores and skin infections; horror stories of things that can happen if athletes' hygiene is lax.
"The classes are really helpful, especially to someone like me who is a first year and is quite new to it all really. The hygiene session that we had this morning was a massive eye-opener," says 19-year-old Annasley Park, on the women's endurance programme, who has just moved into a house with four of the other female riders and is now planning to organise a cleaning rota between the housemates.
>>> Gabriel Evans: curiosity and loss of national title led to EPO use
One of the most valuable lessons for the riders is about anti-doping and the rules surrounding it, as it's something they are unlikely to have experienced before. The riders are taught about the dangers involved in doping, the nature of testing and the pitfalls of taking everyday medicine.
>>> Banned cyclist Hastings cites borrowed used syringe as reason for failed steroids test
"We can be subject to drugs testing at any time," says Park, "so it was just stressing the importance of making sure that everything is controlled, everything we think about is a controlled decision and that we do it well."
Nineteen-year-old track rider Matt Gibson, now in his second year at the Academy, agrees that the classes are insightful.
"You get to learn a lot more about things off the bike where you wouldn't normally. Maybe you learn it but you don't really think about it, but it clarifies in your mind what the right things to be doing are.
"The most important classes are the Italian lessons, they are key, nutrition ones are good — there's always new ideas coming up in nutrition that you haven't heard of. They're always the most interesting ones for me."
Get it right to keep your kit fresh
The Academy also encourages the riders to promote themselves and build their own brand, particularly using social media — things that can help them take their career forward after their racing days are over.
During the year, riders complete work in the community and are encouraged to make public appearances, are given tips on how to conduct interviews and deal with the press, while coaching courses are also available.
>>> Lizzie Armitstead considering retirement from cycling at the end of 2016
"We had social media — that was with Martyn Ashton, an absolute inspiration to everyone I think," Park says.
"He taught us how to promote ourselves in a positive way, and how to get more likes and shares on Facebook. How to network, so once we decide to either stop cycling and go into different areas within our sport we have the opportunity."
A day at Academy boot camp
8am-9am: bike maintenance
9am-11am: health and hygiene
11-2pm: break and riding session
2pm-5pm: track (men's endurance) / gym session (women's endurance)
6pm-7pm: nutrition OR
6pm-7pm: bike cleaning masterclass
7pm-10pm: track league racing
Encouraging progress
When the Academy first began in 2004 with just six riders it was predominantly to find the next generation of track cyclists — success for British riders on the road was at that point rare. That year not one Brit rode the Tour de France.
>>> Brits in the Tours: From Robinson to Froome
Most of the Academy's highest-profile graduates may now be known for their road careers — Cavendish, Thomas, Kennaugh and more recently Simon Yates — but all found success on the track first.
While the track sprint, BMX and mountain bike disciplines are all run as separate strands, the road and track endurance strands of the Academy are combined, with riders doing a bit of both.
However, finding the balance between track and road hasn't always been easy.
There are some that have criticised BC's programme for placing too much emphasis on the track, while others have suggested that in light of Britain's recent success on the road with former track riders, more should be done to encourage young riders to race on the boards.
>>> What does Mark Cavendish have to do to ride the Rio Olympics?
Chris Newton, an Olympic medallist on the track and now Academy coach explains: "We'll take road-orientated riders but they must see the benefit of track — it's very short-sighted if they don't see that.
"I'm not saying you have to be the best on the track but it gives you another tool in your armoury. When we're on the track we've got a squad of 10 riders and maybe four of them are really road- orientated, they assist, they help out, we're all in it together; they're getting the benefits from the track. When we're on the road some of the track-orientated guys are helping the girls — there's that real team ethos".
How much difference can it make?
Park, a road rider who won the Otley Grand Prix this year, is already discovering the benefits the track can offer. "Next year I'm hoping I'm going to have more of a sprint, more of a kick — track helps you with speed work, with reaction and all that. I want to learn that and bring it onto the road."
Ultimately, the aim of the Academy is to produce world-class, professional, British cyclists, whatever the discipline. As Yates explains: "I think that's what makes our Academy such a unique and probably unparalleled programme compared to anything else that's on offer for an 18-year-old.
"Yes they can ride their bike, yes they will have training and racing opportunities, but we can give them so much more; our job is to help them be successful in the future. If they're successful, we're successful."
Thank you for reading 20 articles this month* Join now for unlimited access
Enjoy your first month for just £1 / $1 / €1
*Read 5 free articles per month without a subscription
Join now for unlimited access
Try first month for just £1 / $1 / €1