Icons of cycling: Leicester Velodrome
We look back at a track that played a big part in British cycling history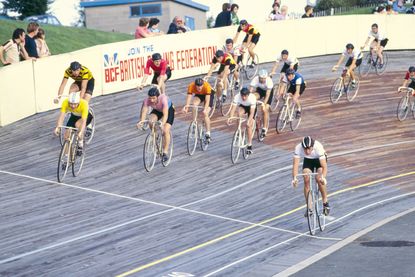 Leicester track was awkward, anachronistic and open to the vagaries of the weather. But it was loved by riders — many of whom started their track cycling careers racing here and went on to Olympic glory.
Built in 1968 to host the track events of the 1970 World Championships, the 3,100-seater venue was afterwards run as part of the Saffron Lane Sports Centre.
>>> Sir Bradley Wiggins named in GB squad for European Track Championships
Sadly the track has now gone. Left idle after closing in 1999, it was finally demolished in 2008.
Its bumpy 333.33-metre concrete surface was originally painted white, and when the floodlights were switched on the track would shine brightly.
>>> Mark Cavendish 'excited' at prospect of riding with Wiggins again on the track (video)
The investment was worth it as the British team enjoyed a successful World Championships, despite the fact the team had almost no funding. Hugh Porter won the professional pursuit title over 5,000 metres, Ian Hallam won a silver medal in the men's amateur pursuit, and the incredible Beryl Burton won a bronze in the women's pursuit.
>>> From Burton to Armitstead: Britain's road race world champions
Does a skinsuit really make that much difference?
Amateurs' annual highlight
The Worlds returned in 1982, by which time the track had a new, smoother, wooden surface. It was still a bit odd to ride, with steep bankings for its size and an abrupt transition from banking to straight. But by then almost every keen club racer in the country knew it, because of National Championship week.
Before 1973, national track titles were held at separate track events dotted around the country. Any open track event was free to tender for an event, a process which saw them spread out across the country, throughout the season. Then Benny Foster came along.
>>> New Herne Hill velodrome facilities get the go ahead
Foster was the man behind the 1970 Worlds and was a driving force behind British track cycling in those days. He believed that bringing all the titles together at one meeting would help give young potential internationals a feel for the bigger competitions. He got the sponsors, added a bit of razzmatazz, and riders and spectators flocked to the first National Championship week.
>>> Track cycling likely to be missing from 2022 Commonwealth Games as Durban wins bid
Back then, ambitious club racers weren't shy of taking on established riders, maybe because they were just like them — racers with jobs but who had a bit more talent or application. So many riders entered the distance events at Leicester they had to run heats to thin them out.
Competitor numbers dwindled when British track cycling switched its HQ to Manchester and took National Championship week with it. Now riders from the British squad with stacks of world and Olympic track titles dominate the Nationals, and today's club racers are a bit more reluctant to take them on.
Main image: Leicester Velodrome by Bernard Thompson for Cycling Weekly
Thank you for reading 10 articles this month* Join now for unlimited access
Enjoy your first month for just £1 / $1 / €1
*Read 5 free articles per month without a subscription
Join now for unlimited access
Try first month for just £1 / $1 / €1