New Herne Hill velodrome facilities get the go ahead
New pavilion could be ready next year at the historic Herne Hill velodrome after planning permission is granted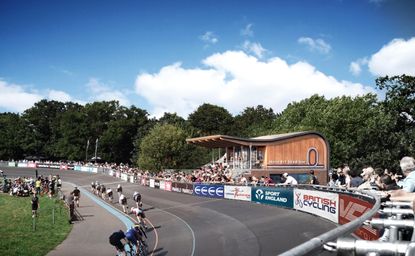 (Image credit: Hopkins Architects)
New facilities at the Herne Hill velodrome received the green light last night as planning permission was granted unanimously for the building of a pavilion at the historic south London venue.
The new building will feature changing rooms, offices and a multi-sports room and will sit alongside the home straight of the 450m track, which hosted cycling events at the 1948 Olympic Games.
>>> Alberto Contador rides the Herne Hill Velodrome
Hillary Peachey, chair of the Herne Hill Velodrome Trust, explained that she hoped work would commence on the £1.8m project by the end of this year and that the ribbon would be cut on the new buildings in time for the 125th anniversary celebrations at the track next summer.
"The funding is all in place from Sport England, the London Marathon Trust, Southwark Council and we're just waiting on a final grant application from the Mayor's Fund," she told Cycling Weekly.
"We'll definitely be doing some crowd-funding for the extra landscaping we want to do.
"The Friends of Herne Hill Velodrome membership has increased, and getting people signed up to that is really important to help make sure the velodrome remains sustainable for the next 125 years."
Herne Hill was where a young Sir Bradley Wiggins cut his teeth on the bike, and the growing popularity of cycling has seen visits to the velodrome almost treble in the past three years, from 13,000 per year in 2012 to 34,000 over the last 12 months.
The latest phase of development was completed in 2013 and saw a hard surface sports facility and junior track constructed in the centre of the banked track, with trackside lighting added around the perimeter of the velodrome. Minimising disruption to existing events and sessions will be a condition for the contractors on the next phase of building this winter.
"It's just an incredible increase, which is including schools, toddlers, drop in sessions, outreach programmes, the 'silver group' of over 40s," Peachey added.
"It's also shown the community that this is a resource for them too, and we want them to be part of this site."
Thank you for reading 10 articles this month* Join now for unlimited access
Enjoy your first month for just £1 / $1 / €1
*Read 5 free articles per month without a subscription
Join now for unlimited access
Try first month for just £1 / $1 / €1
Richard Abraham is an award-winning writer, based in New Zealand. He has reported from major sporting events including the Tour de France and Olympic Games, and is also a part-time travel guide who has delivered luxury cycle tours and events across Europe. In 2019 he was awarded Writer of the Year at the PPA Awards.