Lizzie Armitstead considering retirement from cycling at the end of 2016
Brit says she doesn't feel the need to repeat successes in her career after World Cup and World Championships wins this year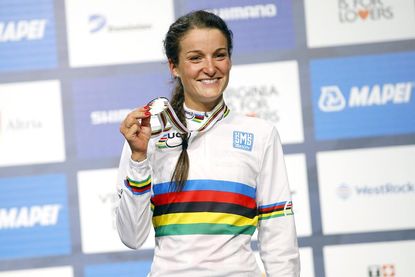 (Image credit: Watson)
Lizzie Armitstead has admitted that she is considering retirement at the end of 2016 even though it would mean bowing out from the very top of the sport.
The new world champion, who won the rainbow jersey in Richmond, USA, last Saturday, explained that she did not feel the need to repeat her victories in the World Championships and World Cups over the rest of her career.
"As far as I'm concerned, as soon as you reach your goal then that's the box ticked for me, I don't feel the need to repeat titles or repeat victories, as soon as I get the one then I'm happy," she said.
Having coming second to Marianne Vos in London 2012, next year's Olympic road race in Rio de Janeiro and the Tour of Flanders remain the two biggest goals on Armitstead's radar.
"So after Rio I don't know what I'll do, that's really just a massive question mark," she said.
Watch: Five minute warm-up before you ride
"I'm very goal orientated. I think this year, having won the World Cup the previous year, people kept asking me if I was going to win it this year, but to me if you've won something once that's enough.
"Obviously every World Championships I do I will try and win it, but to me this [rainbow jersey] is a massive tick in my career."
When asked if retirement was a possibility, Armitstead said: "It's possible, it really depends on how the season goes. It depends on all sorts."
Armitstead, who turns 27 in December and is engaged to Sky rider Philip Deignan, added that retirement wouldn't leave her feeling that she left the sport too early.
"I want a family, so that's important to me, and you have to make time for that, quite a lot of time. And then a career, I need to get a proper job, so if you've got any ideas, please sent them to me!"
For a full report and reaction from Lizzie Armitstead's win in the World Championships road race, see the October 1 edition of Cycling Weekly magazine.
Thank you for reading 20 articles this month* Join now for unlimited access
Enjoy your first month for just £1 / $1 / €1
*Read 5 free articles per month without a subscription
Join now for unlimited access
Try first month for just £1 / $1 / €1