'Former dopers have no place in the sport of cycling' says UCI boss
New UCI president David Lappartient says that anyone with a history of doping has no place in professional cycling – which draws a reaction from Lance Armstrong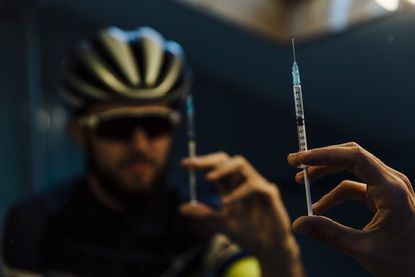 UCI president David Lappartient has drawn criticism after saying that former drug cheats have no place working in cycling.
The Frenchman won the presidency over incumbent Brian Cookson in September. His comments followed questions about Bjarne Riis beginning a new team and Alexandre Vinokourov's Astana team.
"Former dopers should have nothing to do in cycling. To say otherwise is hypocritical," Lappartient told Luxemburger Wort. "All cyclists must stand for one goal: cycling must be credible, otherwise everything is lost.
"These riders doped in their era and are not welcome in the current cycling environment. They inflicted immense damage on sport and have to live with the consequences."
>>> New UCI president David Lappartient to clamp down on motor doping
If Riis, who managed CSC/Saxo Bank and Tinkoff, came back to cycling "it would not be good for the sport," added Lappartient.
Lance Armstrong, who won seven straight editions of the Tour de France before having the titles stripped in a lifetime doping ban, blasted the new president's idea.
He Tweeted: "URGENT - cycling is going to need a shitload of people ASAP to manage teams, coach riders, drive in the caravan, manage/organize events, commentate on TV, and even work @UCI_cycling! Send resumes to @DLappartient."
Dane Michael Rasmussen, ejected from the 2007 Tour de France while in the lead for missing anti-doping controls, later admitted to cheating during his career. His book Yellow Fever led to 2012 Giro d'Italia winner Ryder Hesjedal's doping confession. He now travels to the Tour as a journalist.
"You start to fear that Lappartient is going to give what Cookson delivered for four years, hot air," Rasmussen told Danish newspaper Ekstra Bladet.
"If he really believes that, he could have started by cleaning up his own French ranks when he was national federation president. He could have begun with [FDJ team manager] Marc Madiot, who has acknowledged that he had doped.
"What about [Alberto] Contador and his development team? Or [Alejandro] Valverde and his development team in Murcia?
"It is the same in cycling as in society, when people have served their time, they have the right to enter into society on an equal footing"
The UCI introduced rules in 2011 that to a certain degree blocked teams from hiring staff who had served doping bans in their careers, but due to various countries' laws on workers' rights it becomes hard to implement. It is limited to those violations within the last five years and which brought a ban of two years or more.
Thank you for reading 20 articles this month* Join now for unlimited access
Enjoy your first month for just £1 / $1 / €1
*Read 5 free articles per month without a subscription
Join now for unlimited access
Try first month for just £1 / $1 / €1