Should the UCI relax its bike rules?
Simon Smythe reflects on the regulatory inertia that some say is stifling innovation in bike design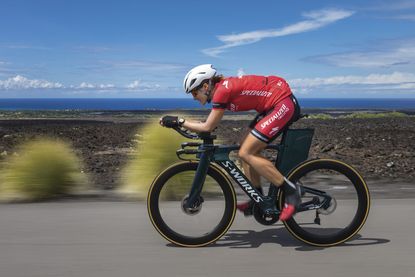 The UCI has been busily modernising bike racing, announcing changes for 2019 that include the introduction
of a new ranking system, increasing the number of riders on a WorldTour team, renaming the Pro Conti and Conti divisions, axing the World Championship team time trial to be replaced by a mixed event and reducing the number of wild-card invitations to Grand Tours.
But its bike rules are the same as they have been for the best part of 20 years.
>>> Should you change to winter tyres?
The permissible weight for a bike is still 6.8kg, despite huge advances in carbon-fibre technology in that time, and bikes must still conform to a template whereby, as the UCI describes in Article 1.3.020, "the frame of the bicycle shall be of a traditional pattern, i.e. built around a main triangle".
The triangular shape is defined from a design using 8cm-wide boxes for each tube, and dates back to the UCI's 1996 Lugano Charter, implemented in 2000, which "has the objective of preserving the culture and image of the bicycle as an historical fact".
Among other things, the Charter banned 'girder' frames, monocoques such as the iconic Lotus, and bicycles with "extravagant shapes that do not represent bicycles as understood by the UCI".
To reinforce this, the 3:1 aspect ratio rule forbids elements of the bike from exceeding these proportions; extensions of tubes beyond their 8cm boxes are banned, fairings are banned and so are integrated bottles that improve aerodynamic performance.
Worth a Tri
But with the launch of the new triathlon-specific Shiv, which has enormous storage boxes that also act as fairings, Specialized has turned its back on the UCI and focused all its R&D on triathlon.
Robert Egger, Specialized's creative director, expressed his opinion of the UCI in no uncertain terms with the launch of the 'fUCI' bike in 2016 (no prizes for guessing what the 'f' stands for), which was a concept bike designed to be everything the UCI does not permit with its enormous rear wheel, curved, split tubes, fairings and even an electric motor to get it up to speed.
We contacted the UCI for comment but an out-of-office message indicated that our question would not be answered before we went to press.
So how much faster is the new Shiv Tri than the UCI-compliant version? It turns out there is no comparison data, although the divergence in performance is likely to have advanced considerably.
"We have actually had a completely separate product development programme for the Shiv Tri for the last three generations of this bike dating back to 2011, where the first generation Shiv Tri set the course record at Ironman Kona," said Specialized's William Watt.
However, unless the UCI changes tack, the WorldTour pros could end up stuck in a backwater riding outdated equipment while everybody else enjoys lighter, more aerodynamic and more modern bikes.
Tony Wybrott, composites engineer who worked on the original Lotus bike, which was banned by the UCI, now broadly supports the UCI rules as a way of limiting the cost of bike: "There should be some rules that allow Joe Public to ride something to close to what the pros ride. Then maybe leave the cutting-edge higher budget to those sexy triathletes."
My view
William Watt, PR specialist road, Specialized UK
The UCI obviously only caters for a very small population of riders; they are the ruling body, and whether they are regressively prescriptive and restrictive on design or not, we would not wish to politicise their important role in professional cycling.
For those riders who need to be fully compliant with the UCI regulations we have the Shiv TT. There are many other riders who want to be able to ride fast on a road bike, and aerodynamic drag is the biggest force acting against them in achieving this goal.
Different disciplines demand different functionality in design integrated with aerodynamics. Long-course triathlon, for example, demands integration of hydration and nutrition storage.
The evolution in the fit of the bike, and the adjustability to achieve this for each rider, is also critical to optimise aerodynamic performance and biomechanical efficiency.
The new Shiv Tri is inherently unbridled by UCI regulation, and our goal was to develop the fastest and most complete bike for long-course triathlon, specifically Kona Ironman.
Our view
The new Shiv is the clearest indication yet that the big brands are not prepared to wait for the UCI to relax its rules and are willing to pour all their latest tech into a bike that completely tears up the UCI rulebook.
Thank you for reading 10 articles this month* Join now for unlimited access
Enjoy your first month for just £1 / $1 / €1
*Read 5 free articles per month without a subscription
Join now for unlimited access
Try first month for just £1 / $1 / €1
Simon Smythe is a hugely experienced cycling tech writer, who has been writing for Cycling Weekly since 2003. Until recently he was our senior tech writer. In his cycling career Simon has mostly focused on time trialling with a national medal, a few open wins and his club's 30-mile record in his palmares. These days he spends most of his time testing road bikes, or on a tandem doing the school run with his younger son.