Should you change to winter tyres?
Changing to puncture-resistant tyres for the winter used to be standard practice but better rubber means it's no longer a necessity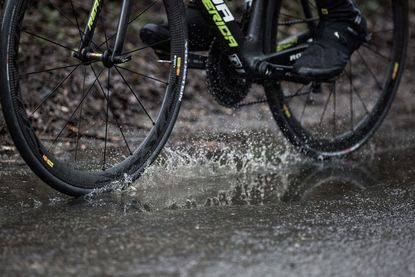 As the seasons change, so too does our approach to riding. First thing to be changed for most are the tyres.
After all, no one likes sitting in a ditch fixing a puncture in the freezing rain. But with new tyre technology, is it strictly necessary to change to the now traditional 'winter' training tyre or can you stick to 'normal' tyres all year?
What makes a good winter tyre?
A good winter or training tyre has to succeed in a number of different roles. Firstly, and most importantly, it has to be tough enough to get you through your ride without puncturing.
The inevitable rain and other adverse weather conditions bring multiple hazards which the tyre has to be capable of withstanding. Most use thicker casings made up of more layers (or plys) that create a physical barrier preventing sharp objects from cutting or penetrating the tyre.
>>> Pro rider tips for winter cycling
Additional materials such as Kevlar can also be used to increase puncture resistance. Manufacturers might also adopt a tyre casing with a lower TPI (thread per inch) creating a stiffer structure that's more resistant to damage.
Continental's UK brand manager Shelley Childs describes what goes into their winter tyres: "Our GP4Season is effectively a GP4000S II with additional puncture protection underneath the tread.
"The tread itself is thicker for higher mileage and extra protection. It also has a Duraskin external 'sheath' around the entire casing to better protect against scuffs and cuts."
Wet-weather grip is also a very important consideration. While some brands offer specific rubber compounds that enhance grip in adverse weather, most prefer to utilise their better performing standard compounds.
>>> Winter road bike tyres: a buyer's guide
Dave Taylor from Schwalbe UK explains: "Schwalbe don't offer exclusively wet grip-specific tyres anymore, as compound development has come a long way. 'Everyday' compounds are perfectly capable of performing well in wet and dry conditions."
Finally, and oft heard on the club run, there's the perceived training benefit of using a heavier tyre. More rotational weight results in increased training loads, leading, hopefully, to fitness benefits when changing back to lighter set-ups in better weather is the thinking.
Not everyone swears by the use of a training tyre though. The thicker, stiffer casing and multiple layers can have a detrimental impact on performance and the way a bike handles.
The difference in performance at the higher end is minimal but for more the popular, cheaper tyres there will always be a trade-off. Some budget tyres still use compounds that give poor grip when it comes to wet roads.
Get your bike ready for winter
All-weather options
Also, no pneumatic tyre can truly be puncture-proof (that's why some riders have resorted to solid tyres). If your winter tyre does succumb, the stiffer carcass can make removing and refitting a hugely painful and tedious process. Not what you need in the depths of an icy rain storm.
For a lot of riders, using their 'normal' tyre choice year round allows a level of familiarisation with its characteristics.
Most manufacturers build a certain level of protection into their entire tyre range so, for those that opt out of going out in the really wintry weather, puncture protection is normally perfectly adequate.
Unless repeatedly suffering from multiple punctures, it might just be worth sticking to what you know.
Our take
Nobody wants to be caught out in the rain or cold with a problem caused by poor tyre choice. So why would you not want to fit a tyre with the best protection if it means completing a ride without the dreaded hiss?
Compared to tyre technology of the past, however, modern race tyres utilise levels of puncture protection and performance benefits that can see them being viable, year-round alternatives to winter choices.
Expert view: Should you change to winter tyres?
Yes: Bruce Dalton, Kinesis UK Elite rider
I favour a nice wide 30mm wide Schwalbe S-One. These get put on at the end of August and stay on until May! They are tubeless and super tacky which allow me to get on with my riding uninterrupted. Bigger is more grippy which results in less crashes; it feels faster and more comfy.
No: Chuck Buckley, Madison-Genesis team mechanic
Almost every member of the Madison-Genesis team chooses to use the same tyres year round. Our tyre of choice is Continental's Grand Prix GT. It is used for racing as well as training in the UK so reliability and performance is crucial. It's a great tyre for all-round conditions and durable to boot.
This story was originally published in October 2016
Thank you for reading 20 articles this month* Join now for unlimited access
Enjoy your first month for just £1 / $1 / €1
*Read 5 free articles per month without a subscription
Join now for unlimited access
Try first month for just £1 / $1 / €1