UKIP disowns candidate's plans to force cyclists onto pavements
UKIP general election candidate Lynton Yates' promotional leaflet says road congestion can be eased by forcing cyclists to ride on the pavement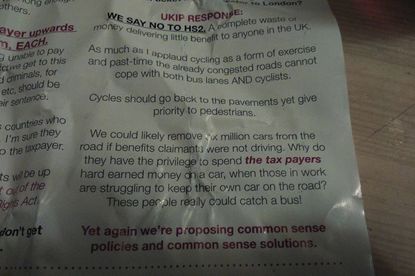 A UKIP general election candidate has told voters in his Charnwood, Leicestershire, that he plans to reduce road congestion by forcing cyclists to ride on the pavement.
Lynton Yates, who has sat as a councillor in the county since 1989, made the controversial claim in a promotional flyer, but was subjected to ridicule when it went viral on Twitter.
The leaflet reads: "As much as I applaud cycling as a form of exercise and past-time the already congested roads cannot cope with both bus lanes AND cyclists.
"Cycles should go back to the pavements yet give priority to pedestrians."
Forcing cyclists off the road is not Mr Yates' only outlandish plan when it comes to reducing traffic, with the 64-year-old also suggesting benefit claimants should not be allowed to own cars.
"We could likely remove six million cars from the road if benefit claimants were not driving," his leaflet goes on to say.
"Why do they have the privilege to spend the taxpayers' hard-earned money on a car, when those in work are struggling to keep their own car on the road?
"These people could really catch a bus!
"Yet again we're proposing common sense policies and common sense solutions."
>>> Make cycling a central issue in the next general election, say pro-bike MPs
A UKIP spokesman told MailOnline that Mr Yates' views were not shared by the rest of the party but insisted his election candidacy remained.
"There's no doubt he's been a bit of an idiot but it's of a different value to racism or things of that sort," the spokesman said.
"We can't chuck somebody out even for abject racism in 24 hours. We have to go through due process.
"There will be discussions made and decisions taken as with anything but he is still a member of the party'.
Thank you for reading 20 articles this month* Join now for unlimited access
Enjoy your first month for just £1 / $1 / €1
*Read 5 free articles per month without a subscription
Join now for unlimited access
Try first month for just £1 / $1 / €1