US state considers new law to allow cyclists to ride through red lights to improve safety
Colorado could become third US state to introduce the rules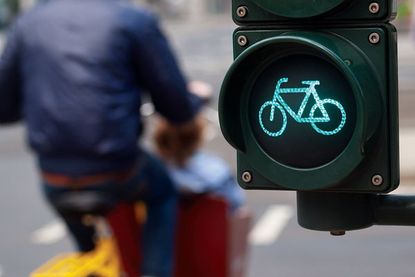 The US state of Colorado is considering introducing a new law that would try to improve cyclists' safety by allowing them to ride through red lights and stop signs.
The Bicycle Operation Approaching Intersection bill would allow cyclists to travel through stop signs "at a reasonable speed" (which the bill recommends as being 15mph) and proceed across junction "when it is safe to do so". Cyclists will have to come to a halt at red lights, but can then proceed through when the light is still red if it is safe to do so.
>>> Family of cyclist killed in circuit race crash to take legal action after verdict of accidental death
The bill has been introduced into the Colorado legislature by Democratic senator Andy Kerr, a keen cyclist who hopes that his bill will not only help to keep cyclists safer, but also improve traffic flow.
"The most dangerous time is when you're stopped at an intersection and a vehicle might or might not see you," Kerr told The Denver Channel.
"The key here is safety and making sure cyclists and motorists can get through an intersection as safely as possible. If there's no one there, let's keep the traffic moving, and the key is everyone gets to where they're going safely."
Kerr has previously attempted to introduce similar legislation in 2017, but found the bill voted out by Republicans. However his latest bill has cross-party support, being co-sponsored by Republican representative Yeulin Willett.
>>> American state sets out plans to ban cyclists from riding on rural roads
The idea of letting cyclists treat stop signs as give way signs and red traffic lights as stop sign was first introduced in the state of Idaho in 1982, and was then taken up in Delaware last year.
A similar rule has also been introduced in Paris, where cyclists are able to treat some stop signs as give way signs at certain T-junctions and right-hand turns in the French capital.
Thank you for reading 20 articles this month* Join now for unlimited access
Enjoy your first month for just £1 / $1 / €1
*Read 5 free articles per month without a subscription
Join now for unlimited access
Try first month for just £1 / $1 / €1