Van driver's dashboard camera captures his fist fight with irate cyclist (video)
A van driver and a cyclist get involved in some fisticuffs in the middle of the road, all captured on the driver's dashboard camera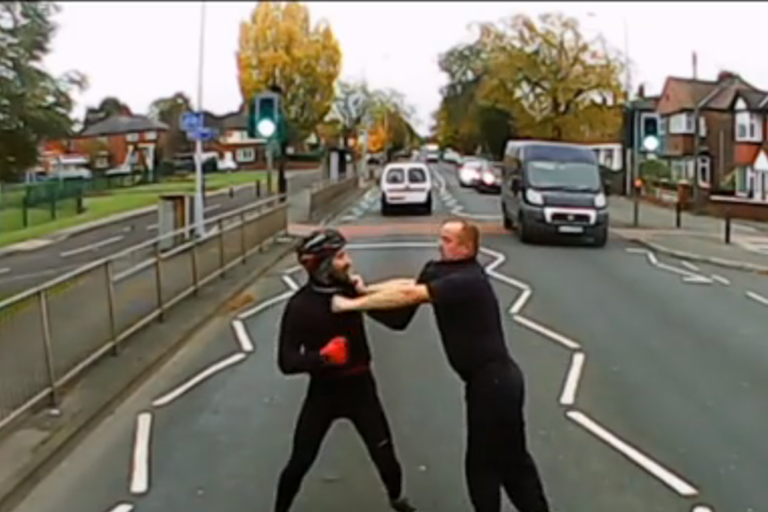 Those of you unfortunate enough to have watched Tyson Fury beating Wladimir Klitschko at the weekend will know that boxing isn't what it used to be - and the pair in this video did nothing to enhance its reputation.
As the van driver pulled away from a set of traffic lights he had a few choice words for a cyclist, who was out of shot, who apparently tried to overtake the vehicle.
At the next set of lights the cyclist stopped in front of the van, appearing to strike the bonnet with his fist, prompting the driver to exit his vehicle to continue the discussion.
>>> Van driver narrowly avoids cyclist, hits stationary car (video)
A scuffle broke out, caught on the driver's dashboard camera, which involved the driver grabbing the rider by the collar and the rider swinging wild punches.
The Rumble in the Jungle it was not, but the physical pair seemed to be separated when a car driver intervened and another cyclist sped the wrong way down the road to help out - or so it seemed.
While the fighting stopped, the bickering continued, with the driver then grabbing hold of the rider's saddle as he tried to ride off, resulting in more pushes and punches.
>>> Motorist takes a tumble while trying to attack cyclist (video)
Then, as the rider made his way across the road to sort himself out, the intervening cyclist ran after him and threw him to the ground once more in a strange assault - stopping the rider from getting away.
For sparring enthusiasts, the action was a bit tame, with both the driver and cyclist equally to blame for the fight breaking out. But 80s music fans will enjoy the soundtrack from the driver's radio, with George Michael and Arethra Franklin's 'I Knew You Were Waiting (For Me)' getting some air time.