VC LONDRES TRAINING SESSIONS AT HERNE HILL ATTRACT RECORD NUMBERS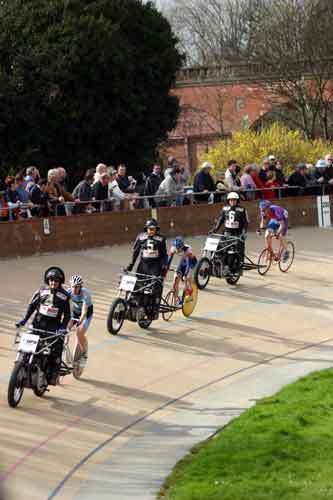 VC Londres pay the £9000 annual rent at Herne Hill track not British Cycling, as originally reported in our earlier story concerning the serious deterioration of this famous venue, which hosted the cycling events in the 1948 London Olympic Games.
Despite the issues with the landlord, The Dulwich Estate, the banked track remains a going concern, with riders of all ages flocking there for training and tuition under the auspices of VC Londres,
The club was founded in 1964 with the specific aim of attracting youngsters into the sport. Now they have British Cycling Go Ride status and are proud of the support provided by their many volunteers. VCL started running Herne Hill track on behalf of BC in 2005 and they have been widely praised for the work they do there.
Last season on one evening alone there was a record 75 youngsters at the track, says Peter Cattermole, chair of Herne Hill Management Committee.
There was a surge of interest following British cyclists record-breaking medal winning spree at the 2008 Olympics. "Saturday mornings pre-Beijing Olympics we?d get 130 riders," said Cattermole. "Post-Olympics we were getting 170 and having to turn people away. People of all ages. "We raise the money to pay the rent from fees paid for these sessions," he added.
Cattermole took issue with South East Region chairman John Hawkridge?s comments, that his [Hawkridge?s] advice to have a 'Plan B' and find an alternative venue, had been received with 'all the enthusiasm of a cup of Arsenic!' Cattermole said; "having a Plan B has not been ruled out. This suggestion has yet to be put to the management committee."
The aim of Plan B would be to put pressure on the landlord to resolve the issues, either to allow a developer to build a health club on land near the track, as is The Dulwich Estate?s wish, or to accept British Cycling?s offer to buy a long lease and redevelop it as a cycling specific venue.
However, Cattermole feels this is a delicate matter. When all is said and done, he points out, the land belongs to The Dulwich Estate not to the cycling community. They could chose not to renew the lease and put the padlocks on the gate, as happened nearly four years ago.
Which would be a huge loss to the sport, especially with the huge increase in numbers of people wanting to ride at Herne Hill.
VC Londres struck a deal with local cycle shop Edwards of Camberwell, to supply 95 new track bikes. These have been added to the stable of 70 older track bikes. There are also 30 mtb bikes ? because cross-country events are also run in the track environs.
Bikes are for hire each session, or longer. For a £35 annual hire fee the rider can make the bike their own for a year, customised with their own pedals and saddle.
The track opens for training first week in March. The club website (www.vcl.org.uk) invites people to come along for their Saturday morning sessions.
The Saturday sessions begin at 9am with a 90-minute induction course, when coaches teaching newcomers how to ride the track. The low fee of £3 includes use a track bike. The main two and half-hour track session begins at 10.30 and the fee is £6. This also includes bike hire. Under 18s pay £2.
RELATED LINKS
Landlord shamed as Herne Hill Olympic track falls to bits.
EXTERNAL LINKS
www.vcl.org.uk
Thank you for reading 10 articles this month* Join now for unlimited access
Enjoy your first month for just £1 / $1 / €1
*Read 5 free articles per month without a subscription
Join now for unlimited access
Try first month for just £1 / $1 / €1
Keith Bingham joined the Cycling Weekly team in the summer of 1971, and retired in 2011. During his time, he covered numerous Tours de France, Milk Races and everything in-between. He was well known for his long-running 'Bikewatch' column, and played a pivotal role in fighting for the future of once at-threat cycling venues such as Hog Hill and Herne Hill Velodrome.