Victoria Pendleton returns to the saddle...as a jockey
Together with bookmakers Betfair, Victoria Pendleton is challenging herself to become a licensed jockey and ride at the Cheltenham Festival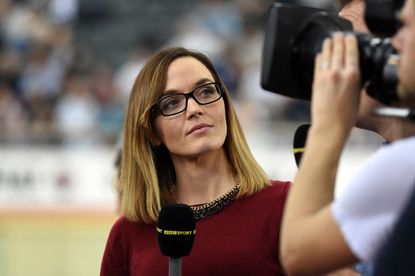 Olympic gold medallist Victoria Pendleton is swapping one saddle for another as she aims to move into the world of horse racing.
The 34-year-old plans to race at the Cheltenham Festival next March in the Foxhunter Chase and is reportedly already working with leading trainer Paul Nicholls.
Pendleton retired from cycling after claiming gold in the keirin at London 2012 and now, funded by bookmakers Betfair, she hopes to move through the jockey ranks to a Category A amateur licence.
"I've been looking for a new and exciting challenge, and when they approached me about the opportunity to become a licensed amateur jockey, it captured my imagination," she said.
"I'm motivated by the scale of the challenge and the opportunity to combine my love of horses with learning a new skill under the guidance of racing experts put together for me.
>>> Victoria Pendleton champions women-only Surrey sportive
"My team and I have identified the ambitious target of riding competitively in the Foxhunter Chase at the Cheltenham Festival next year.
"But the initial focus will be on getting me to a level whereby I am granted an amateur jockey licence, which is a significant challenge in itself given that I had never even sat on a horse until a week ago."
Thank you for reading 20 articles this month* Join now for unlimited access
Enjoy your first month for just £1 / $1 / €1
*Read 5 free articles per month without a subscription
Join now for unlimited access
Try first month for just £1 / $1 / €1