WANTED: old pros, elite and first cats for Newport Nocturne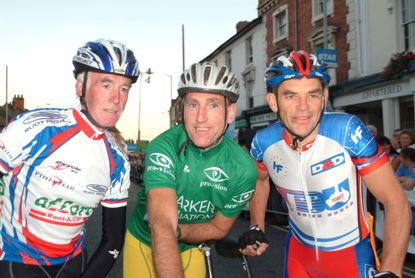 Former pros and elite and first cat riders are wanted for Britain's original nocturne in Newport, Shropshire, on Saturday night, September 4.
A few years ago a 14,000 crowd saw Sean Kelly outsprint Sid Barras in a thrilling and unique Past Masters Race on the exciting town centre circuit with its tricky turn around the church tower.
Unlike the summer nocturnes elsewhere in the country, when there's still enough light to read a newspaper, Newport's streets in September go properly dark which adds to the excitement and brings people out of the pubs.
Flootlights on the finishing straight make for a surreal occasion. Dropped riders will need a steely reserve if they are to turn down invitations to stop for a sausage from the many BBQs held in gardens on the back of the mile circuit.
Promoter, Nick Jeggo said "We've been putting on Pro races in Newport since 1970, so there are plenty of fans here who remember the Stars of yesteryear. The racing is always exciting and a fitting precursor to the main race later in the evening."
The Past Masters is open to riders who have held a pro licence. Entry is free, and the entire prize fund will be donated to the Dave Rayner Fund, supporting young talented riders racing abroad.
Contact Nick on 07967 452688 or at info@bikerace.co.uk
Thank you for reading 20 articles this month* Join now for unlimited access
Enjoy your first month for just £1 / $1 / €1
*Read 5 free articles per month without a subscription
Join now for unlimited access
Try first month for just £1 / $1 / €1