Was your first cycling event as good (or bad) as one of these?
Readers recount their experiences in their first major cycling event. How did you get on in yours?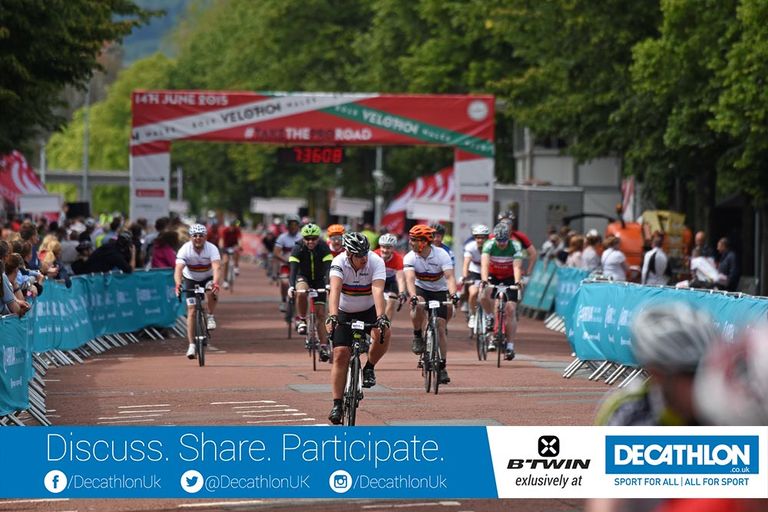 (Image credit: Andy Jones)
We recently asked Cycling Weekly readers what their first cycling event was and how they got on: recounting the good, bad and ugly of their experience. Here are a selection of answers, brought to you in association with BTwin.
What was your first cycling event, and how did you get on? Tell us in the comment box below.
Cardiff Velothon, and I decided to ride the 140km on a singlespeed bike. To be honest, I was going well until the last 10km when I crashed. I appeared in the South Wales Evening Post and Wales Online, all because it was filmed. It was a crazy crash. I managed to finish the event too.
Shane Pearson
Cannock Chase mtb race in the early 90s. I came 51st, and 20 years later I finally won a race, a senior cyclo-cross event. Never give up.
Andrew Tamplin
Castle Lane, Bolsover hill-climb as a 16-year-old in 1961 on my Viking Medallist. I arrived and my mate said, "Let's have a practice," so we climbed. I came back down and the starter said, "You're up now, Glyn." I passed out at the top after the last 100 yards at 25 per cent.
Glyn Ward
Did the Hellfire Corner sportive in November. Cold, windy, very cold, very windy. Did I mention the wind? Anyway, it was great fun but pretty lonely in deepest Kent. One for the hardmen and ladies.
Gareth Williams
London to Brighton on a mountain bike overnight in 2012 for Macmillan Cancer Support. My first training session saw me lying on the pavement after one mile.
Nicola Wenlock
A schoolboy criterium at Combermere Barracks, Windsor, in 1967. It rained and I fell off right in front of my Chiltern RC club-mates, who swore at me, then put me back on to finish fifth. Blood was all over my Tresso bar tape but I felt heroic and didn't fall off again until my very first track race.
Philip Taylor
Spring, 1973. I was 12 and had entered the St Neots CC 10-mile time trial. I had no racing kit, just my football shirt, a pair of cut-down shorts and trainers on a singlespeed bike my dad had built with parts that he borrowed from his club-mates. I did it in 34 minutes.
Neil Jackman
Colchester Rovers evening 10 TT back in June 2011 on a yellow Viking bike with old-style gear levers. I was last but didn't care — I had the bug! Over the next few years I improved massively and won my first ever trophy. My life has benefited so much from that first event: I'm fitter, healthier, faster and happy.
Kelly Phillips
Cycletta Cheshire 2014. I loved it and my husband cycled to Old Trafford and back to Tatton Park while I did the 80km sportive, which was my longest ride at that time.
Susan Blackman
I'll let you know in a few weeks…
Rod Leach
>>> Embarrassing cycling problems, and how to prevent them
London St Christophers CCC Open 25 mile time trial, Sept 1986 . I was 16, been a club cyclist a couple of months; did my club's time trial on the F10/25 (A10 Hoddesdon by-pass plus the old road up to Puckeridge), on a cheap gas pipe Raleigh Stratos with steel rims, and 1 1/4" tyres. Didn't come last but a woeful 1 hour 21 minutes time, and rode home absolutely on my knees! It did not put me off from trying again.
John McClelland
Our town held the Masters Games here in Australia. Had never really been off-road on a bike, but had a great time doing the mountain bike course. I came third (female). The 55km road race was about 20km further than I had ever ridden on a bike. I was fifth last and got gold - because no one else was entered in my age group. Masters Games are fabulous for anyone wanting to 'compete' in a multi-sport social event all in one place.
Lisa W
My first event was a biathlon in Bolton about 25 years ago. I trained for it with a friend who used a bath towel shoved down her tracksuit bottoms as she didn't have any padded shorts - I remember hurtling down a main road when said bath towel, rolled into a tube, flew out of the back of her pants and landed inches from my front wheel. We didn't need to practice the transition as our running trainers were also our cycling shoes - in the days of leather pedal straps. It was run-bike-run; ran out of steam 15 miles into the 20 mile cycle and staggered the last 5km run home. Said friend's bum and saddle never saw eye to eye and it was left to me to prove that you don't need hi-tech equipment, but it certainly helps.
Angie Skene