Watch: Dog joins bike race; has the time of its life as it races ahead of peloton
Canine speeds ahead of group in Italian gran fondo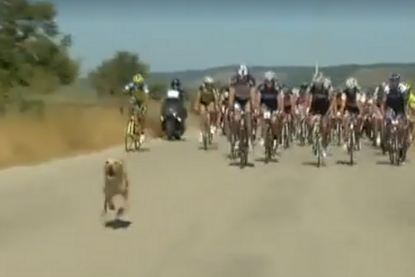 https://www.facebook.com/bikeprocycling/videos/1812974362301309/
Unlikely as it seems, dogs have a proud history in pro cycling, and now we have another entry into the canine hall of fame.
While most times a dog gets involved in a bike race it strolls out into the path of the peloton and causes a massive crash, this mutt is more ambitious, outpacing the group for a considerable amount of time.
Starting off at the side of the road, the dog then defies police motorbikes to make its way into the middle of the road, picking up the pace to stay ahead of the pack.
>>> Watch: Cyclist 'attacked' by emu (video)
Meanwhile the riders behind, who we think are competing in an Italian gran fondo, seem unsure what to do, with a couple of them attempting to come sneak around the side of the dog, who tries a typical sprinter's manoeuvre, shutting the door and trying to run them off the road.
Unfortunately by this time the dog is beginning to tire, eventually subsumed into the peloton, before presumably having a long walk home to its owner.
Thank you for reading 20 articles this month* Join now for unlimited access
Enjoy your first month for just £1 / $1 / €1
*Read 5 free articles per month without a subscription
Join now for unlimited access
Try first month for just £1 / $1 / €1