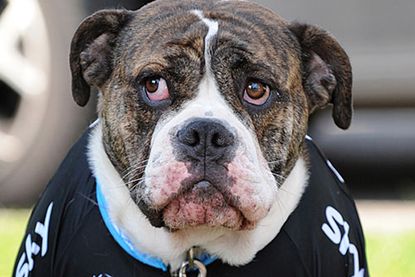 Get The Leadout Newsletter
The latest race content, interviews, features, reviews and expert buying guides, direct to your inbox!
Thank you for signing up to The Pick. You will receive a verification email shortly.
There was a problem. Please refresh the page and try again.
Dogs may be man's best friend, but they don't always mix that well with bike riders.
Our four-legged friends didn't evolve with a fear of or respect for things with two wheels, which is why they'll happily trot up to you, tail wagging, without a thought or care as to what might happen if they got their shiny nose caught in your spokes or hit by your pedal.
There is a wealth of content online highlighting the dangers of mixing four legs with two wheels, but also the rare example of harmony, displayed so perfectly by Amber (no. 4). Here's Cycling Weekly's run down of the top ten encounters between dogs and cyclists.
10. A labrador on Tour
What do you get when you cross a Labrador, a £2,000 Lightweight wheel and a bike rider? Marcus Burghardt found out in the 2007 Tour de France. French dog owners are world famous for letting their dogs off the lead as soon as a peloton of riders approaches them, we think they're now an organised group. A theme that is common here is the guilty look on a dogs face after an incident. Unlike the owner, who literally couldn't care less.
9. A bidon and Border Terrier
CTT (the governing body of time trialling in the UK) rules clearly state that no person can assist a rider while they are racing. Here's how one ingenious rider got around the 1925 ruling. They simply get their Border Terrier driven round the course, handing out bottles from the back of a moped. A rule amendment has been put to national council in time for the next AGM
8. Molly the Team Sky fan-dog
Ben Swift's dogs shot to fame in 2010 when they took themselves to Lincoln to support their owner sporting dog specific Adidas Sky jerseys. Rumour has it Rapha is designing a range of dog accessories for their riders' pets. Cue a mob of angry readers complaining about the price.
7. Norman: not a child in a dog costume
Just to prove not all dogs hate cyclists, here's Norman, the cycling dog. This shaggy beast is obviously aerodynamically minded as it attempts to get a low frontal area by hanging his paws over his handlebars. It's a little known fact that Norman later went on to invent the now banned Spinaci bars that Cinelli made in the 90's.
6. A little dog goes a long way
This is a story too amazing not to be true. A tiny little stray dog joined a 1,700km bike ride across China after it had been given some food by one of the riders. How a dog with three-inch legs managed to run that far we will never know, thank God the cyclists were so slow! (BBC video clip may be geo-restricted).
Stray dog runs 1,700km on www.bbc.co.uk>>
5. The greatest movie ever made
American Flyers isn't just the greatest cycling movie ever made, it's the greatest movie ever made. Fact. Using Eddy the dog to enhance their sprint training was a stroke of genius and is a method now used by the Garmin team at their training camps in Colorado. Team boss Jonathan Vaughters has had to buy some extra ferocious dogs to chase Tyler Farrar this off season.
4. Short cut Amber
This is the video that will make your day, Amber the dog following her owner down a mountain bike trail. But don't let her beauty deceive you, while the rider nails the berms, Amber is breaking every rule in the book, taking short cuts when no one is watching. Or so she thinks.
3. When dogs attack (cyclists)
Here's a video that shows the relationships between mountain bikers and dogs isn't always a happy one. Listen to the panicked scream of this poor chap as a gang of bored dogs surround him, barking and growling. It's enough to give you nightmares. We're not sure why he backed in to the grass, it's not as if dogs are scared of the stuff.
2. Casar comes crashing down
Yet more evidence of the sinister L'Association des Chiens Francais Contre les Cyclists movement as a dog brings Sandy Casar crashing to the ground, again in the 2007 Tour de France. After picking himself up and winning the stage, Casar said; "Of all the crashes that can happen in the peloton, you never think it'll be caused by a dog. I was off my bike in an instant. I don't know what became of the dog; he didn't say sorry."
1. Is that a dog or a bear?
We here at Cycling Weekly take a lot of pride in our work. We diligently check facts and sources and make every effort to make each story one worth reading. So imagine our delight when the most popular post on our Facebook page in 2012 - the year of a Brit winning the Tour and the London Olympics - was that of Philippe Gilbert angrily confronting a dog-owning family as the enormous dog cowers behind them looking very, very guilty. Yeah, thanks a bunch everyone.
Take a chill pill, Phil. It's only a dog.
Do you know of a good dogs in cycling video or picture we've missed out? Let us know below
Thank you for reading 20 articles this month* Join now for unlimited access
Enjoy your first month for just £1 / $1 / €1
*Read 5 free articles per month without a subscription
Join now for unlimited access
Try first month for just £1 / $1 / €1
Get The Leadout Newsletter
The latest race content, interviews, features, reviews and expert buying guides, direct to your inbox!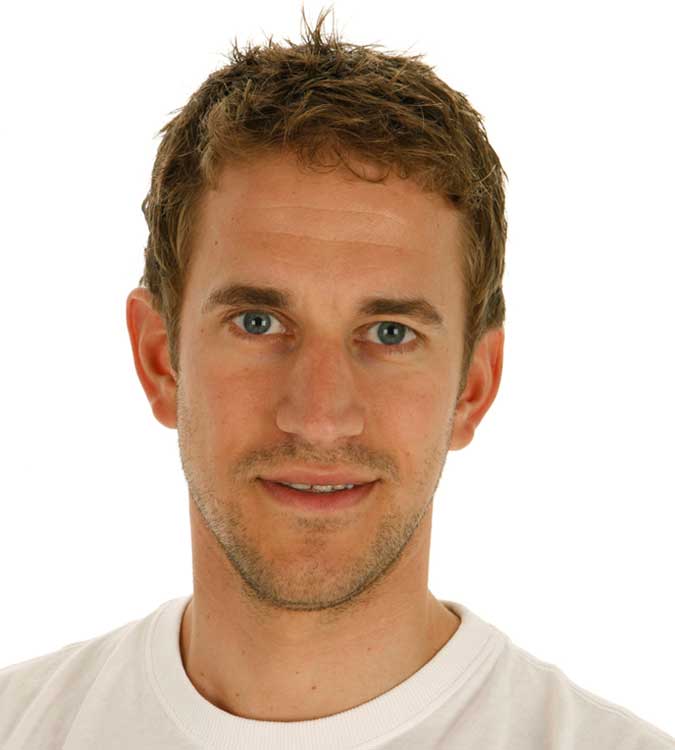 Editor of Cycling Weekly magazine, Simon has been working at the title since 2001. He fell in love with cycling 1989 when watching the Tour de France on Channel 4, started racing in 1995 and in 2000 he spent one season racing in Belgium. During his time at CW (and Cycle Sport magazine) he has written product reviews, fitness features, pro interviews, race coverage and news. He has covered the Tour de France more times than he can remember along with two Olympic Games and many other international and UK domestic races. He became the 130-year-old magazine's 13th editor in 2015.