Get back on the road faster with Weldtite's new modular CO2 inflator range
Weldtite has launched a new range of carriers for its Jetvalve CO2 inflator and cartridges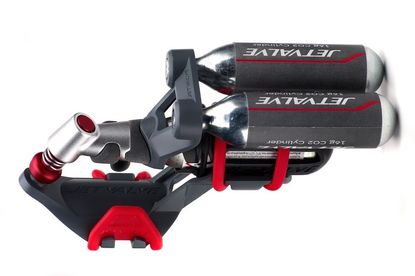 Weldtite is a popular choice for puncture repair and bike maintenance products and has launched a new version of its Jetvalve CO2 inflator, which works with screw-on cartridges, presses onto the valve and has a button to control the flow of CO2. The inflator works with presta and schrader valves.
It has also expanded the range to include a number of mounts to carry the inflator and spare cartridges. Called the Smart Mount system this caters for a number of different carriage options.
A CO2 inflator will get you back on the road a lot more quickly than a pump if you get a flat while out riding – a particular advantage in a race or when the conditions are cold or wet. But carrying cartridges and the inflator in your pockets is not ideal as they are quite heavy and bulky. There is also the conundrum of how many you need. Carry just one and you may be in trouble if you get multiple punctures on a ride or don't get the tube properly sealed first time, while carrying a pump too just in case rather defeats the objective.
>>> Buyer's guide to minipumps
Weldtite's Smart Mount system caters for the most risk-averse of cyclists. For the bold, there's a mount for the Jetvalve inflator which fixes to the bike with a rubber bungee. The mount in its own, without an inflator or cylinder, costs £6.49.
If you're a bit more risk averse, there are a couple of mounts which hold the inflator head with an attached but unpierced cartridge and two spare cartridges. One mounts to your bottle cage bolts while the other has a rubber strap to mount to your seat post. These are both priced at £18.99.
And for those of a nervous disposition, there's a bottle cage bolt mount for four cartridges available (without the cartridges) for £4.99.
If you want a belt and braces option, there's also a repair pod designed to be carried in a saddle pack which holds the inflator head, two CO2 cartridges, two tyre levers and a glueless patch kit, all held together with rubber straps, so that it doesn't rattle around or get lost. This pod comes in at £22.99.
Thank you for reading 20 articles this month* Join now for unlimited access
Enjoy your first month for just £1 / $1 / €1
*Read 5 free articles per month without a subscription
Join now for unlimited access
Try first month for just £1 / $1 / €1