What do YOU think is the most hideous cycling fashion crime?
We asked readers to nominate the most offensive cycling fashion faux pas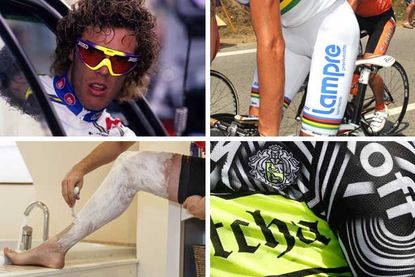 Get The Leadout Newsletter
The latest race content, interviews, features, reviews and expert buying guides, direct to your inbox!
Thank you for signing up to The Pick. You will receive a verification email shortly.
There was a problem. Please refresh the page and try again.
What you wear when cycling is an extraordinarly emotive subject. For some, it doesn't matter what you wear as long as you're out riding and enjoying yourself - and it's hard to argue against that.
For others, though, wearing and using the 'right' kit is key. And anything that deviates from that just isn't on...
We recently asked Cycling Weekly readers to tell us what they thought was a cycling abomination, a blight on the face of biking, and here's a selection of their answers.
What do you think is the most hideous cycling fashion crime? Let us know in the comment section below.
>>> The 25 worst pro cycling kits of all time
Wearing your bib-short shoulder straps over your cycling top.
Steve Hellaby
Peaked mountain bike helmet, short-sleeved jersey that's two sizes too big, pockets full of 'things'. Tracksuit bottoms being worn underneath a plain black pair of cycling shorts, black mountain bike shoes being used with toe clips and straps. Not a good look.
Kurt Green
That Tinkoff training kit spotted earlier this year.
Dewi Evans
The biggest crime is the pompous few who think it really matters if when you are out on your bike someone cares what you wear.
Duncan Johnston Jr
Chewbacca-length hair on the legs.
Christopher Welch
Expecting all women to want to wear 'girly' coloured anything. Sorry, but some girls prefer primary colours that do not have flowers or other girly stuff on them. So yeah some gals, like myself, buy men's jerseys (and actually men's bibs as well). Besides the fact they also fit better, they look better.
Gretta Long
Knee-high compression socks look ridiculous on a bike. Great with sandals though, honest.
Gary Skinner
Super Mario's skinsuit when he retired at the Giro d'Italia. I still have flashbacks, I can never unsee it.
Phil Rush
Me… still kidding myself I fit well into a Large.
Owen Clark
A friend who insists on wearing red from head to toe and has everything on his bike red! He looks like Deadpool. It's a no from me.
Philip Sims
Got to be glasses inside helmet straps or anything else triathletes do.
Jamie Lloyd
White bib shorts, they should simply be banned.
Andy Young
Mountain bike shoes on a road bike.
Paul Davy
Tri-suits when not in a triathlon, aerosuits when not racing. Why people think they need to is beyond me.
Martin Hughes
Team kit/finisher's jersey/leader's jersey/KOM etc. Unless you're on the team, or earned it, it's not for you!
Laura Boggis
How about people who complain about others wearing pro kit or champion's jersey but will buy the same bike as a Tour winner without having won a Tour.
Barra O'Brien
Watch: Top five men's WorldTour team kits 2016
Does one not wear cycle clips to keep one's tweed touring trousers from fouling the chain anymore?
Ian Cooper
People who pay stupid prices for kit when the bog-standard stuff does the same job.
Jason Sherratt
We wear figure-hugging Lycra with luminous jerseys, massive sunglasses and a hat with holes in. I think we all live in glasshouses.
Sean Cormack
Thank you for reading 20 articles this month* Join now for unlimited access
Enjoy your first month for just £1 / $1 / €1
*Read 5 free articles per month without a subscription
Join now for unlimited access
Try first month for just £1 / $1 / €1