WHY IT WAS THE GREATEST TRACK WORLDS EVER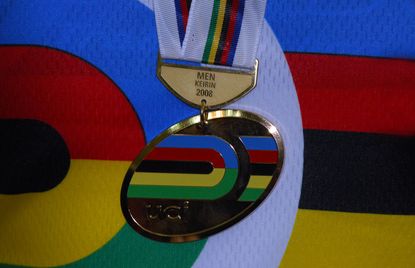 Swipe to scroll horizontally
Why the 2008 track World Championships was the best performance by a British cycling team of all-time. And no, it wasn't just the nine gold medals...
See Thursday?s special souvenir issue of Cycling Weekly for more coverage, reaction, analysis and great photography
9 THE TV AND MEDIA COVERAGEcolour>
Credit to the BBC. The live coverage on BBC2 and BBC1 was fantastic. And on the red button, armchair fans could watch every minute of the final sessions each day.

Before the event kicked off, Dave Brailsford expressed surprise at the size of the area reserved for the media in the track centre, only to be told by promoter and organiser Alan Rushton that there?d been a record application for press passes. All the national papers sent their top correspondents and cycling found itself on the front and back pages over the weekend.
8 THE YOUNGSTERScolour>
Generation London is looking pretty good. Jessica Varnish, David Daniell and Jason Kenny all did well in their sprint events. Anna Blyth?s progress continues. Matt Crampton came within a whisker of a medal in the kilo. Shanaze Reade won gold in the team sprint and Jo Rowsell did the same in the team pursuit squad. Lizzie Armitstead and Steven Burke raced hard in their events ? they were definitely not making up the numbers.
And they?re all 21 or under.
That?s not even counting the more experienced Mark Cavendish and Geraint Thomas, who are 22 and 21.
7 ROYAL SEAL OF APPROVALcolour>
You know you?re onto something special when the royals want to seen associated with you. British Cycling got the royal seal of approval when Prince Edward arrived on Friday.

The thought of him asking Chris Hoy ??and what do you do?? was priceless. But if the rumours that Hoy?s dad asked the Prince if he could get him a couple of tickets for Beijing are true, good on him.
6 PETER KEEN ? HIS VISION REALISEDcolour>
Peter Keen, the architect of the entire plan, must have allowed himself a wry smile as gold medal after gold medal rolled in.
Now the performance director at UK Sport, Keen set the wheels in motion with the World Class Performance Plan in the late 1990s. With a £3m annual budget he made some difficult decisions and faced a lot of flak. ?You?re ignoring road racing and focusing on the track,? they said.
Now the budget for elite athletes is around £5m ? but British Cycling has proved it?s not a question of throwing money at a sport. British swimming gets around £2m more.
Now Brailsford is looking at how to transform the fortunes on the road. Work is already underway.
5 WOMEN?S TEAM PURSUIT colour>
Can there be a greater testimony to the work the coaches and riders do behind the scenes? Apparently they had less than 600 hours of training to prepare for the event but they looked like seasoned veterans with barely a duff change.

Amazing they set a world?s best time considering they had never raced in public before. The strength of Rebecca Romero and Wendy Houvenaghel was well known but Rowsell was a revelation.
4 THE CROWDcolour>
Noisy, passionate and knowledgeable but not above giving warm and appreciative applause to the non-British medal winners. The atmosphere was red hot all week. And not just because they?d left the heating on to encourage fast times.
3 AUSSIES SALUTE WORLD RECORD BREAKERScolour>
One of the most sporting moments of the week was when the Australian team lined up to give the British team pursuiters a guard of honour and congratulated them on breaking the world record they?d held since Athens.

The Aussies may love to win ? and Graeme Brown loved to stoke up the rivalry before the Sydney World Cup - but that was a great gesture that spoke volumes about them.
2 WIGGINS AND CAVENDISH TAKE A LAPcolour>
By Saturday afternoon British domination was at its peak and the last thing the Madison field wanted was another home gold medal.
Chances were Wiggins and Cavendish would be marked out of contention and in the first half of the race they were suffocated every time they tried to move. However, the rest had little answer to the turn of speed they showed on the sprint laps.
They racked up a good points total despite the close attention but they needed a lap.
Step in Bradley Wiggins for an awesome attack that seemed to last an age. Switzerland?s Franco Marvulli tried to chase but they cracked him.
1 HOY BEATS BOS IN THE SPRINTcolour>
If there was one split-second that summed up the championships it was when Chris Hoy beat the master, Theo Bos, in the deciding race of their sprint quarter-final. Hoy was caught cold in the first race. Beating Bos is a rare enough occurence, but coming from 1-0 behind to win through showed Hoy?s name was already on the rainbow jersey. The roar as the commentator confirmed the result was probably the loudest of the week. In Hoy and Pendleton, does Britain have the two best all-round sprinters in the world? Almost certainly.
Swipe to scroll horizontally
1 ROB HAYLES? HEALTH CHECK RESULT
It cast a shadow over the velodrome on Wednesday as the questions and knee-jerk reactions came flooding forward. See The Tuesday Comment ?Why I believe Rob Hayles? on cyclingweekly.co.uk tomorrow and read Hayles? own words and a scientific explanation of anomalous blood test results from British Cycling doctor Roger Palfreeman in Thursday?s magazine.
2 NATALLIA TSYLINSKAYA?S CRASH
The women?s sprint competition was building nicely towards a clash between Pendleton and the Belarus rider until she crashed in an early round race against Willy Kanis. Fortunately there were not too many bad crashes during the week but Tsylinskaya?s was a shocking reminder that when it goes wrong on the boards it can be nasty. She broke her collarbone and bruised her neck but was out of hospital the following day. We?ll have to wait until Beijing to see if she can match Pendleton.
1 THE FOOD AT THE VELODROME
We?re not talking about the VIP nosh, which smelled lovely as the aromas wafted over to the press area. Nor are we talking about the stands that served food to the public.
We?re talking about the cafeteria. We accept the press are pretty low down the list of priorities when it comes to catering and that some would argue we should just be given a great big trough of pig feed to get our faces into.
But by any standards it was shocking. And with the only other option within walking distance an ASDA supermarket things were getting desperate as the week went on.
With hundreds of media accredited it was a pretty poor show.
2008 TRACK WORLD CHAMPIONSHIPS: DAILY REPORTS
Sunday, day five>>
Saturday, day four>>
Friday, day three>>
Thursday, day two>>
Wednesday, day one>>
RELATED LINKS
Women's Keirin: Reed denies Pendleton the perfect finish
Who are Brit's golden nine?
Hoy wins the Keirin
Eighth gold for Britain in the Madison
Gold for Pendleton in the sprint
Chris Hoy wins sprint gold
Pursuit women take fifth British gold medal
Jo Rowsell's gold: the toast of Sutton Cycling Club
Belarussian wins men's points race
Britain going for more gold on Friday
Comment: How many more gold for GB?
Hat-trick of golds for Britain
Britain break team pursuit world record
GB into women's team pursuit final
Gold for Romero in individual pursuit
Reade and Pendleton cruise into team sprint final
Track World Champs: results
Romero breaks British pursuit record
It's Britain vs Denmark in team pursuit final
Britain aiming for team pursuit world record
Britain take silver in team sprint
Crowd step in as French anthem stalls
Hayles denies cheating after failing blood test
Wiggins: "I'm pleased I got the job done"
Wiggins wins pursuit gold
Brailsford defends Hayles after failed blood test
Hayles fails pre-race blood test at Track Worlds
Cycling Weekly's 2008 Track World Championships preview
PHOTO GALLERIES
CW's online gallery section>>
Day three in pictures
Day two in pictures
Day one in pictures
Thank you for reading 10 articles this month* Join now for unlimited access
Enjoy your first month for just £1 / $1 / €1
*Read 5 free articles per month without a subscription
Join now for unlimited access
Try first month for just £1 / $1 / €1
Sports journalist Lionel Birnie has written professionally for Sunday Times, Procycling and of course Cycling Weekly. He is also an author, publisher, and co-founder of The Cycling Podcast. His first experience covering the Tour de France came in 1999, and he has presented The Cycling Podcast with Richard Moore and Daniel Friebe since 2013. He founded Peloton Publishing in 2010 and has ghostwritten and published the autobiography of Sean Kelly, as well as a number of other sports icons.