Why right now is Britain's Golden Age of Cycling
Cycling is in the best shape it's ever been in Britain, and here's why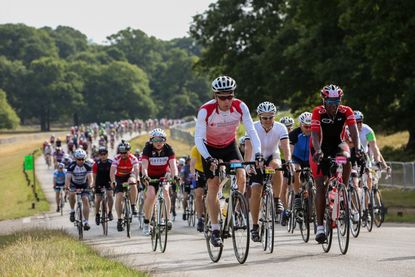 Anyone venturing out into the lanes of Britain on any given weekend - and increasingly during the week, too - cannot failed to have noticed the number of people on bikes.
Turn on the television and you are confronted by cycling: a choice of race coverage on Freeview, satellite and cable; shows dedicated to cycling; and cycling regularly features on the news.
Cycling has moved up the political agenda. Although the end results are still only slowly emerging, the very fact that the needs of Britain's cyclists are being debated at the very top level is almost unprecedented in recent history.
One hundred thousand cyclists were estimated to have taken part in all of the RideLondon events in the capital last weekend, an event fully endorsed by the Mayor of London and one that enjoyed closed roads.
>>> 13 things your friends don't understand about cycling
British-based bike manufacturers are flourishing, and there are now more cycle shows than ever for them to air their wares. Individuals and small British companies are making innovations in the cycling world, and quickly establishing themselves.
Bike shops and online retailers are thriving, cycling is the preferred mode of commuting for more and more people, major companies are installing facilities for cyclists, supermarkets sell cycling kit, cycling is the new golf, cycling is the new football, cycling is everywhere. It's used in television adverts, it's a way of exploring the countryside, it's fun, it's healthy, it brings people together - or allows you to get away from them, if that's what you prefer.
Cycling is a great leveller. It's become a common topic of conversation no matter what you do for a living, or which part of town you are from.
And I've purposefully left mentioning the success of Britain's racing cyclists to last - because, although it is a very visible part of cycling, it only really concerns a minority. Chris Froome has just won his second Tour de France, and the third along with Sir Bradley Wiggins for Team Sky. Britain's first serious top-level team is blazing a trail that other squads from the more traditional cycling nations of France, the Netherlands, Italy and Germany must now follow.
>>> 8 key moments that won the Tour de France for Chris Froome
Lizzie Armitstead is currently leading the Women's World Cup, after winning the same last year. Britain is the top cycling nation at the Olympic and Paralympic Games, and Britain has recent champions in mountain biking, cyclo-cross, track and BMX to add to those on the road.
There's no sign that Britain's Golden Age of Cycling will be abating any time soon. As one cycling star fades, another one emerges. Witness 22-year-old Bury man Adam Yates's victory in the prestigious Classic de Sán Sebastián on Saturday, or 22-year-old Welshwoman Manon Carpenter's mountain bike downhill world title.
Cycle events, too, are growing. The Tour of Britain is now firmly established as a premier week-long stage race attracting a host of top names from around the world. The Tour de France and Giro d'Italia have both started on British shores in the past few years. The televised city-centre Tour Series attracts crowds of spectators and brings money into local businesses.
Cyclo-sportives are attended by thousands of riders every weekend, up and down the country. Britain now has more indoor velodromes than ever before, and even some of the old, crumbling outdoor ones have been given a new lease of life.
>>> 31 things you always wanted to know about cycling, but were afraid to ask
The nation's governing body for cycling, British Cycling, is in good shape. Not only does it do a very good job of finding, nurturing and producing international racing cyclists, but increasingly the organisation is using its gravitas to put pressure on the government to view cycling more seriously, and improve the infrastructure for cycling across the country. Cycling clubs are enjoying a renaissance, with old and new clubs attracting more and more members.
It's true that when the motor car was in its infancy, there were many cyclists on the roads - but for quite a number of people, using a bicycle was their only choice for transport. Now, it's one of a number of choices - and more and more people are choosing it. And that's far better.
Chances are if you are reading this, then you are part of Britain's Golden Age of Cycling, and you're fully aware of all of this already.
In a few decades time you can look back and be rightly proud that you were part of the revolution.
Video: Five minute warm-up before you ride
Thank you for reading 20 articles this month* Join now for unlimited access
Enjoy your first month for just £1 / $1 / €1
*Read 5 free articles per month without a subscription
Join now for unlimited access
Try first month for just £1 / $1 / €1