Wiggins faces 'disqualification' after winning Kent Valley RT '10'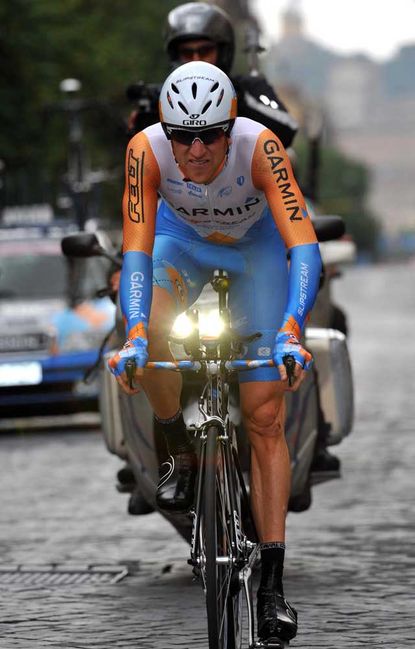 Double Olympic gold medallist Bradley Wiggins (Garmin-Slipstream) came within two seconds of his own competition record in the Kent Valley RT "10" on Saturday, but now faces disqualification for allegedly using an illegal Zipp front wheel.


Wiggins (pictured in the 2009 Giro d'Italia) - a contender for the Tour de France stage one time trial in Monaco - clocked 18 minutes dead on the L1015 Levens course in Cumbria, after being slowed by traffic at a roundabout.
He reportedly said he had been confident of clocking 17-30. He holds comp record in 17-58.
The Olympic star's bike attracted a lot of attention, particularly the Zipp 1080 front wheel which someone judged to be outside Cycling Time Trial rules.
Keith Lawton, CTT assistant secretary, competitions and records, told CW.
"The matter is for North District to investigate."
He said that it is for safety reasons that CTT rules call for 45 per cent of the wheel area to be open. It is considered that in side wind conditions, the bike could be become unstable.
"People say, well they use them in UCI time trials, and triathletes use them in various events, but UCI time trials aren't on open roads. If you've got a big heavy rider, we wouldn't have a problem with it, but our regulations have to cater for riders from age 12 upwards."
Second fastest rider on Saturday was up and coming junior star Jack Green (Westmead Team 88) who clocked 20-41. Jason Bateman (Pendle Forrest CC) was third fastest in 20-45.
Bradley Wiggins poses for Cycling Weekly with his time trial bike when we caught up with him in Girona before the Giro d'Italia. Here his bike has a Zipp 1080 rear wheel and an 808 front wheel. He rode a 1080 front wheel in the Kent Valley ten at the weekend which could end up with him being DQ'd.
RELATED LINKS
Garmin-Slipstream kitted out for Giro opener
Thank you for reading 10 articles this month* Join now for unlimited access
Enjoy your first month for just £1 / $1 / €1
*Read 5 free articles per month without a subscription
Join now for unlimited access
Try first month for just £1 / $1 / €1
Keith Bingham joined the Cycling Weekly team in the summer of 1971, and retired in 2011. During his time, he covered numerous Tours de France, Milk Races and everything in-between. He was well known for his long-running 'Bikewatch' column, and played a pivotal role in fighting for the future of once at-threat cycling venues such as Hog Hill and Herne Hill Velodrome.