Wiggins team reject allegations of 'preferential treatment' for Hour Record attempt
Sir Bradley Wiggins' Hour Record run had been questioned by a member of the support team behind Alex Dowsett's previous record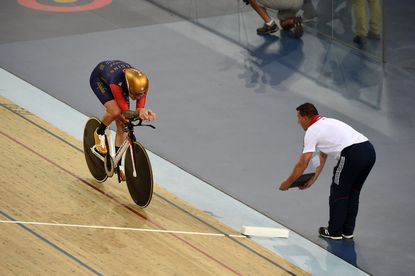 (Image credit: Andy Jones)
Sir Bradley Wiggins's Hour Record team has rejected accusations that the bike he used to break the record was not within equipment regulations, and that he received preferential treatment from British Cycling.
Barely a day after Wiggins had posted 54.526km at the Lee Valley VeloPark, Steve Collins, one of the support team behind previous record-holder Alex Dowsett, criticised the lengths to which the 2012 Tour de France champion had gone to improve his prospects.
"Bradley's bike wasn't in production," Collins told BBC Essex. "You can't get 3D-printed handlebars moulded to your own arms to make it easier for your own attempt."
But a source close to the team told the Guardian that everything had been cleared appropriately.
"We had to do full documentation for the UCI detailing every component," said the source. "Every bit of the bike and kit was approved by the UCI down to the shoes, helmet and skinsuit. The bike is fully approved by the UCI."
>>>The tech behind Bradley Wiggins's Hour Record success
In a statement, the UCI added: "Bradley Wiggins's bike and equipment were thoroughly assessed by UCI officials before and after the UCI Hour Record attempt and were judged to be fully compliant with UCI regulations."
Collins also queried the level of central support provided to Wiggins compared to his own rider, but Heiko Salzwedel, an endurance coach with British Cycling, said that he would have helped Dowsett as well had he been asked to do so.
"Brad isn't involved with Team Sky any more, he doesn't have the resources of a team like Dowsett's Movistar," he said.
"In his eyes this was a performance that helped him build to the [Rio 2016] Olympic Games so it was natural to help him."
Thank you for reading 20 articles this month* Join now for unlimited access
Enjoy your first month for just £1 / $1 / €1
*Read 5 free articles per month without a subscription
Join now for unlimited access
Try first month for just £1 / $1 / €1