Wiggo mania strikes again
Sir Bradley Wiggins once again capivated the attention of the nation on Sunday, as he set a new UCI Hour Record in London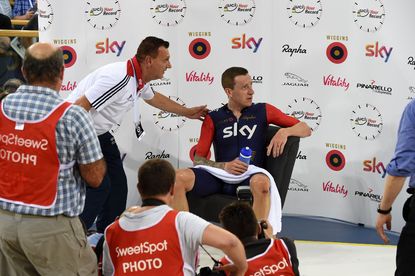 (Image credit: Andy Jones)
Never has the Hour Record enjoyed so much attention. It was impossible to escape coverage of Bradley Wiggins's attempt all weekend with everybody living inside the M25 either boasting they had tickets for the Lee Valley Velodrome or they knew of somebody else lucky enough to be going. This year even The Derby was surpassed as the big event.
But let's be honest. Sunday wasn't about the Hour; it was all about Bradley, the latest instalment of Wiggo mania. We know him as a bike rider but to the rest of the nation he's something else; Britain's cycling knight.
>>> Sir Bradley Wiggins smashes Hour Record with 54.526km
Who, outside of the cycling community, even knew an Hour record existed until a couple of months ago? Tickets were snapped up to watch Wiggo, it didn't matter particularly what he was doing, but the fact that it was going to last a whole hour made it even more appealing.
Yet despite the hype and marketing meltdown, Wiggins still manages to be a humble bike rider. Who else would mention Eastway in their victory speech? He even got a cheer when he mentioned he was standing in exactly the same spot where he first started racing all those years ago at the East London circuit.
It was a perfect ending to a perfect career.
Robert Garbutt is editor of Cycling Weekly magazine
Video: Bradley Wiggins helps launch Academy of Sport
Thank you for reading 10 articles this month* Join now for unlimited access
Enjoy your first month for just £1 / $1 / €1
*Read 5 free articles per month without a subscription
Join now for unlimited access
Try first month for just £1 / $1 / €1