Wilkinson aims to defend Cicle Classic title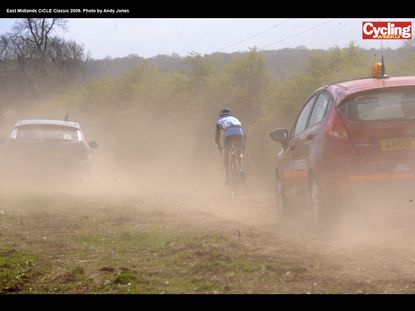 Ian Wilkinson hopes to defend his title at the East Midlands Cicle Classic on Sunday.
Wilkinson's Endura Racing team rode the Tro Bro Leon in France last weekend as preparation for England's Hell of the Midlands.
The Tro Bro Leon is a 200-kilometre race in Brittany that features 40 kilometres of farm tracks and off-road sections.
Sunday's East Midlands Cicle Classic is the sixth edition of the race and it is the longest - at 105 miles - yet.
With warm, dry weather forecast for the race, the riders will disappear in clouds of dust as they hit the 11 gravel sectors as the race zig-zags between Oakham and Melton Mowbray.
Cycling Weekly caught up with Wilkinson, who was in typically mischievous mood. Eventually we managed to get a serious word out of him. Here's what he said.
Cycling Weekly: With two days to go to the East Midlands Cicle Classic, whereabouts are you?
Ian Wilkinson We're stuck in Fance. We're struggling to get back at the moment. We're not sure if we're going to make it. I think we might need a speed boat to get home.
CW: You're winding us up, aren't you.
IW: Oh, you saw right through it. Just having a little joke. We're on our way down to the East Midlands now, just going past Grantham. We'll go out for a little schmooze round the course this afternoon and do another ride on the course tomorrow.
CW: How was the Tro Bro Leon? It's quite similar, isn't it?

IW: It was an awesome race. There was a real mix of terrain. Farm tracks and little roads. It was a bit more severe than the Cicle Classic in places.
CW: Did you have any special equipment to cope with the conditions?

IW: Oh yes, we put some suspension forks on and we had these suspension seat posts.
CW: You're winding us up again, aren't you...

IW: We've been training on these cobbled rollers that Tacx have brought out... They work really well.
CW: Now I know you're joking. You can't kid a kidder. That was Cycling Weekly's April Fool's Day story.
IW: That was absolute genius that. Seriously, we'll put some beefier tyres on for the Cicle Classic but that's about it.
CW: The weather is looking good. What sort of effect does all that dust have?

IW: Yeah, it looks like it'll be a big dust bowl again. It's important to keep hydrated. I love the sun, I'm a big fan of it, so hopefully there's plenty more where this is coming from.
CW: What's the tactics for the race? Presumably you want to keep out of trouble and save energy on the big roads but be in the right place when you hit the gravel sectors?

IW: You've got 40 miles on bigger roads and it's pretty standard racing but when you get to the sectors it's a right old bun fight for that first corner. You try to limit your losses on the first few sectors and stay up near the front and hopefully when it comes to the crunch you're still there and you can get stuck in.
CW: What's the key to riding on the gravel? People say there's a technique for the cobbles, what do you need to do on the loose stuff?

IW: It's a bit like riding on ice really. When you come into the corner you have to slow right down. You can't go into a corner on the gravel like you would on an ordinary bit of road. You can't lean the bike over otherwise you'll be down. It kills your speed.
CW: Is wheel-spin a problem?

IW: Of course it is, yeah. You can feel your back wheel going. It's like having a 4x4 on ice. Four times nothing is nothing so you're losing a lot of power because there's no grip. You're accelerating away but not getting anywhere. The key is knowing where the really bad bits are, where the gravel is deep or the holes are bad. Approach it with caution, ease up a bit and be a bit clever about where you put the pressure on.
CW: Did you have a puncture last year? Is it game over if you flat?

IW: A puncture can be the difference between winning and losing. Rapha had a couple last year. Russ [Downing] had one at a bad time. I was lucky, I didn't have one. The problem is that the team cars are so far back you can't wait for them They may as well not be in the race, they're that far back. So you have to hope you've got someone on the course with a wheel or you can carry on with a flat tyre for a bit. It's impossible to cover any angle. To be honest, if the weather's nice and I puncture I might just head to Owston for a barbecued burger and a drink. Let's hope it doesn't come to that.
CW: You're obviously up for trying to win again, but who will you be watching?

IW: We've got five riders who could win it. The whole team had the experience of the Tro Bro Leon last week and everyone was riding well.
I've got number seven marked [Michael Berling, the Dane who was second last year], he's always strong. There's a lad called [Malcolm] Elliott who used to ride with Joop Zoetemelk and he's always strong here. [Martyn] Irvine, the Irish lad who did well last year [fifth], he could be strong. And Matt Stephens. Look at the results every year and he's always in the top 10. He's made for this race.
THE RACE
Sunday, April 25
Oakham - Melton Mowbray
168km / 105 miles
Start Market Square, Oakham, 11am
Finish Sherrard Street, Melton Mowbray, approx 3.10pm
The organiser: Colin Clews

"The course is looking very good, it's very dry and very dusty. We're expecting a very dry race once again this year. It's been a bit of a game this year with the teams. The Slovak team has pulled out with injuries and illness. We're hoping the Czechs and Danes can make it and there are three Belgian teams driving over. Raleigh is now in the race too because they couldn't get to the Tour of Mexico. There's a lot of hype in the local community about the race".
THE ROUGH STUFF
Sector 11 64km Stygate (500m) *
Sector 10 71km Newbold (1,300m) *
Sector 9 80km Owston Manor (800m) ***
Sector 8 84km Stygate (500m) *
Sector 7 103km Owston Manor (800m) ***
Sector 6 117km Somerberg (1,800m) ****
Sector 5 120km Newbold (1,380m) *
Sector 4 130km Newbold (1,380m) *
Sector 3 140km Somerberg (1,800m) ****
Sector 2 146km Stygate (500m) *
Sector 1 165km Sawgate Lane (700m) ***
FORMER WINNERS
2009 Ian Wilkinson (Halfords Bikehut)
2008 Ciaran Power (Pezula)
2007 Malcolm Elliott (Pinarello RT)
2006 Robin Sharman (Recycling.co.uk
2005 Scott Gamble (BC East Midlands Division)
LAST YEAR
1 Ian Wilkinson (GB) Halfords Bikehut in 3-57-22
2 Michael Berling (Den) Glud & Marstrand same time
3 Yanto Barker (GB) Colnago at 54sec
Cycling Weekly's 2009 race report: Ian Wilkinson wins
WHO'S RIDING?
Start list on the East Midlands Cicle Classic official site
CW'S SUPER TEAM CHALLENGE
Cycling Weekly's brilliant competition to crown the best British team of the season is off and running.
Points are awarded to the first five riders in the races which count. The Premier Calendar's first two races, the Tour of the Reservoir and Tour Doon-Hame were the opening events in the series. Sigma Sport got off to a flyer when Simon Richardson won in the north east. Rapha Condor Sharp hit back as Chris Newton won two stages and the overall classification in Scotland. But it's Endura Racing who are the early pace-setters, after they packed the top five in Doon-Hame.
There are more points on offer for the East Midlands Cicle Classic because it's one of Britain's international races, so the winner's team gets 16 points.
Current standings
After the Tour of the Reservoir and Tour Doon-Hame
1. Endura Racing 34pts
2. Rapha Condor Sharp 22pts
3. Sigma Sport-Specialized 14pts
4. Team Sprocket 12pts
5. Motorpoint-Marshalls Pasta 8pts
6. Willier-Big Maggy's-Prendas 6pts
Thank you for reading 20 articles this month* Join now for unlimited access
Enjoy your first month for just £1 / $1 / €1
*Read 5 free articles per month without a subscription
Join now for unlimited access
Try first month for just £1 / $1 / €1