Lib Dems adopt Get Britain Cycling recommendations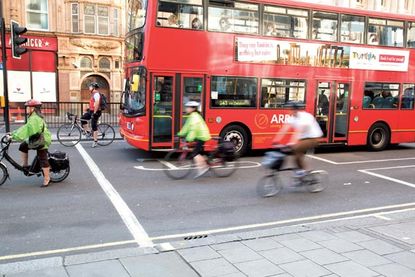 The Get Britain Cycling recommendations were officially adopted as Lib Dem policy at the weekend, including £10 per head cycling spending and 10% of journeys by bike by 2025, rising to 25% by 2050.
The Lib Dems are the first major party to adopt these recommendations, which also include research into tougher penalties for dangerous and careless drivers and strict liability, and a requirement for local authorities to provide cyclists in planning.
At the party's conference in Glasgow the motion, proposed by the All Party Parliamentary Cycling Group chair Julian Huppert, was also supported by Cycling Minister Norman Baker.
Sustrans Policy Advisor, Matt Hamsley, said: "During the cycling debate in the House of Commons, Dr Julian Huppert called on all parties to adopt the recommendations of the 'Get Britain Cycling' report - the Liberal Democrats have showed leadership by acting so swiftly on this issue.
"Cycling Minister Norman Baker urged the conference to support the recommendations and should now put pressure on his coalition colleagues to do the same.
"Further investment in cycling and strong political leadership in this area is essential if we are to address the growing inactivity crisis facing the UK and help more people lead healthy, active lives."
CTC's Chris Peck added: "It is really good that Julian Huppert has pulled the party towards the important part of it, which is a round of money, because that is the hardest for parties to stand behind. [Labour Shadow Secretary of State for Transport] Maria Eagle showed some pretty good leadership by putting forward her 8 point plan, but the weakest part of that was the [lack of pledged] money."
He added the hard part in the short term it is to transfer Get Britain Cycling into coalition policy and into the Lib Dem manifesto for 2015.
Related links
Government responds to Get Britain Cycling report
What is Get Britain Cycling?
Thank you for reading 10 articles this month* Join now for unlimited access
Enjoy your first month for just £1 / $1 / €1
*Read 5 free articles per month without a subscription
Join now for unlimited access
Try first month for just £1 / $1 / €1