We'll be updating you with all the news from the race for the maglia rosa in Italy today plus whatever else is happening in the world of cycling.
If you have comments or concerns, get hold of me, Vern Pitt, at my Twitter.
Today's stage is lumpy is you fancy a reminder, our complete route breakdown is here.
Key updates
11-38 - Mark Cavendish doesn't mind the rain
12-11 - Riders union head defends sick riders quitting
12-25 - Break of 26 forms, later grows to 30
Refresh
What's on the Giro menu today?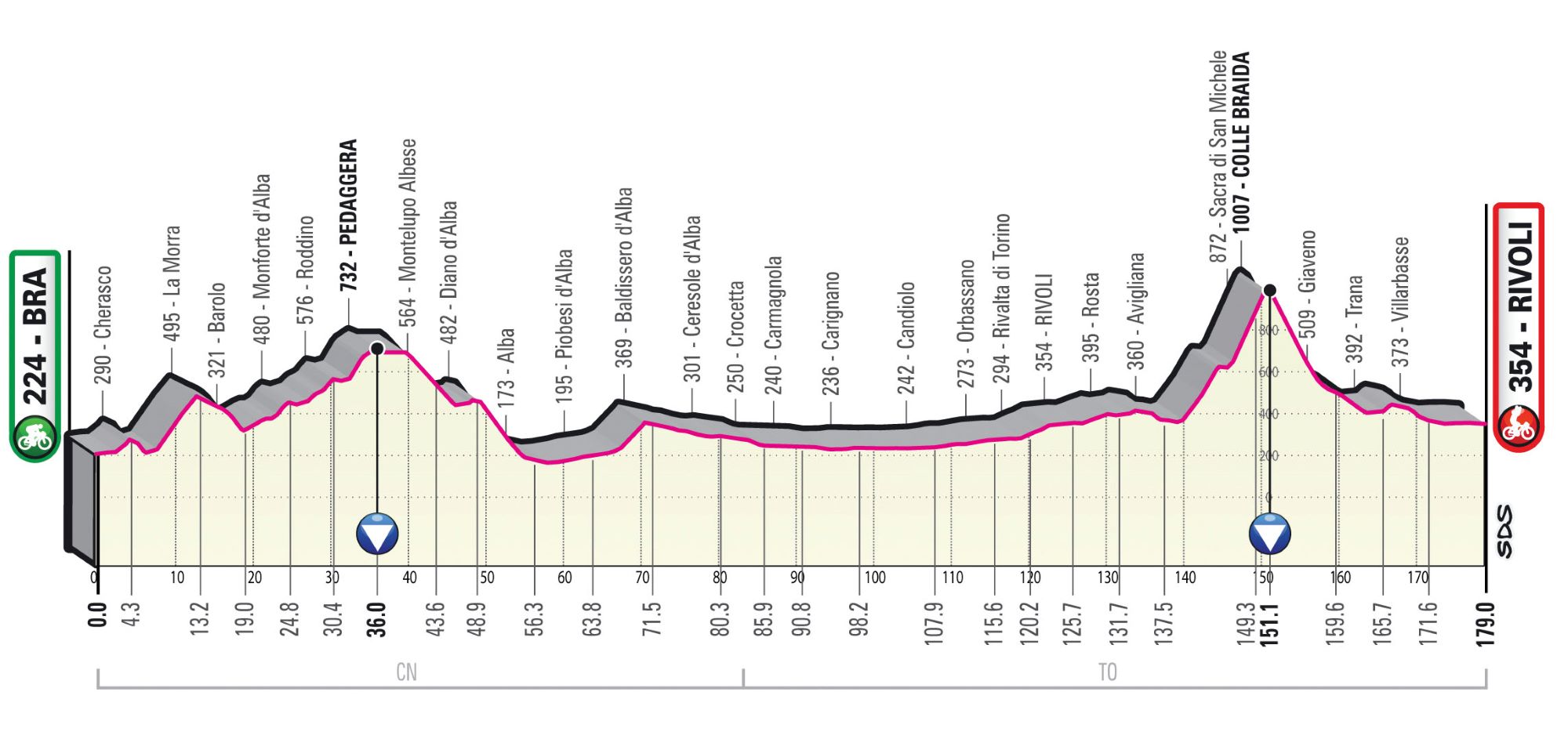 If I had to put money on it I'd say today might well be a day for the breakaway. That's based on two things.
The climb just over 20km from the finish may be enough to dislodge some of the sprinters.
But also the peloton has been weakened significantly by illness and crashes so even for those fast-men that fancy their chances of making it over that climb may find their team's ability to chase down a break, especially if it is large, may be diminished from last week.
That applies most keenly to Alpecin-Deceuninck who have lost three riders already but it's not clear is UAE, Astana and Trek (two of which are also down one man) will be able to pick up the slack.
Naughty Roglič
One detail of yesterday you may have missed is that GC challenger Primož Roglič was finned 200 CHF (£180) for "unseemly or inappropriate behaviour".
The race jury doesn't specify what exactly he did but in my experience that fine is often for taking a pee break at an inappropriate moment, such as when there are fans around. It cant' always be avoided unfortunately.
We're keeping track of all the fines that are handed out at this Giro here.
Cycling UK top women list opens for nominations
Nominations have opened for Cycling UK's top 100 women in cycling list.
The campaigning organisation does this each year. It's always a diverse list from community organisers to top level professionals in the cycling industry.
If you know someone who you think should be on the list you can nominate them here.
'I'm from the Isle of Man, we're used to it', says Mark Cavendish of the Giro weather
"That doesn't mean we like it though," he told the TV cameras with a smile before the start of today's stage. "But it's part of road cycling – we get on with it and hope for better weather."
The Astana Qazaqstan rider finished third in Tortona yesterday – his best finish so far thus race.
He reckoned there were "a couple" more stages left which were obvious sprinting chances – fewer than there might have been 10 years go due to the modern style of racing, he said. We'll assume he's talking about the comparative lack of predictability – great for fans, perhaps not so great for the sprinters and their teams.
"First we've got to get through some mountains," he pointed out.
181km to go: The peloton is underway and there are the first few attempt to get away from the bunch. Nothing has properly stuck yet but stage winner Ben Healy (EF Education-EasyPost) is pushing the pace.
"I'm not here to make friends": CPA president Adam Hansen defends riders leaving the Giro ill and, the race altering stages for rider safefy
New Professional Cyclists' Association president Adam Hansen has defended the right of riders to leave the Giro d'Italia when ill, and the potential alterations to stages on safety grounds.
The Australian former pro was responding on Twitter to an opinion piece in Spanish language website High Cycling, which suggested pro cycling is built on superhuman feats and should remember it is not immortal.
A number of riders, including race leader Remco Evenepoel, have quit the race so far, with covid.
In a post that he had originally posted in the comments under the High Cycling story, Hansen said: "I'm not here to make friends with organisers, UCI, teams, or even fans."
"You, as a fan, might read that a rider goes home cause of crash a few days before or a flu," Hansen wrote. "But I know if a rider goes home because of a flu, he would have raced with that flu for days and been struggling and suffering which you can not see on TV for those days before deciding to stop."
He added: "I know the illnesses going through the teams, and the riders' health is my priority. Rain, not a problem. Add 4 degrees, add a descent where you can not pedal, and body temp gets colder over time. And a stage where it's all uphill from the start, which creates peloton stretched long and many different groups where cars can not service their own riders, giving riders proper clothing is the difference."
High Cycling writer Jorge Matesanz in turn defended his stance, saying: "I think there must be a solution that does not damage anyone of the four main legs of the table: riders/teams, organisers, sponsors and fans."

171km to go: A group of around 15 riders has gone clear. Some others are trying to bridge across. In fact there are splits all over the place. Bauke Mollema is among those in the front group.
164km to go: Ineos Grenadiers tapping out a steady rhythm on the front of the peloton, Ben Swift leading the way. There are 20-plus riders up the road but certainly no signs of panic here.
160km to go: So it's 26 riders to be exact, with a wide variety of abilities and a lot of strength in depth. They include Mads Pedersen (Trek-Segafredo), who won stage six; fellow sprinter Michael Matthews (Jayco-AlUla); Alberto Bettiol (EF Education-EasyPost) and Pedersen's team-mate Toms Skujinš, who's been very lively in this Giro so far.
158km to go: They currently have a gap of 1min 25, which seems to be rising fast.
154km to go: Sprint classification leader Jonathan Milan (Bahrain Victorious) is attempting to bridge across to the break, on the wheel of Stefano Oldani (Alpecin-Deceuninck). He's obviously acutely aware that Mads Pedersen (Trek-Segafredo) is in the break - Pedersen is second in the sprint classification.
153km to go: Eolo-Kometa, clearly unhappy at having missed the break (and there aren't many teams who have), are massing on the front of the peloton in an attempt to bring it back. They've got their work cut out.
151km to go: Jonathan Milan has called off his chase. It was always going to be a tough call. That said, the peloton is bearing down on him now and have managed to bring the break back to a minute, so he might end up getting his wish.
148km to go: Kaden Groves (Alpecin-Deceuninck) has become the Giro's latest abandon. The Aussie had apparently been suffering with a cold for a number of days and struggled from the off today.
147km to go: Let's just clarify those time gaps. So it's the chasers who are now at 53sec behind the big break as they come over the first KoM, the Pedaggera. There's four of them: Stefano Oldani, Lorenzo Fortunato, Luca Covili and Davide Gabburo.
The peloton is somewhat further back, at 2.23.
146km to go: That KoM sprint over the Pedaggera, by the way, was won by Nico Denz (Bora-Hansgrohe). Amanuel Ghebreigzabhier (Trek-Segafredo) was second and Vadim Pronskiy (Astana Qazaqstan) third.
140km to go: The chasers are now within 34sec of the main break - getting closer. The peloton on the other hand are going out the other way, at 2.38.
The weather's looking pretty lacklustre in what is the far north-west of Italy today. In fact, according to the weather forecast, at a current 15deg C it's cooler than Cycling Weekly's home base in southern UK. It is, at least, dry, which the riders will undoubtedly be grateful for, after their experiences so far in this year's Giro.
133km to go: Geraint Thomas looking comfy in pink at the back of a line of Ineos Grenadiers team-mates who are currently marshalling the front of the peloton. Quite a marked difference between his cadence and rival Primoz Roglič (Jumbo-Visma) just behind, with Thomas beating out what looks like a languid 85ish rpm, Rogla closer to 100.
124km to go: Those chasing riders – Oldani et al – have made it into the main break, which is now 30 riders strong. The peloton is 3min back in what you might call the Goldilocks zone for this point in the race – not too close, not too far.
123km to go: Laurenz Rex, wearing the red numbers of most combative rider, nearly scored a bulls-eye with his bidon, attempting to throw it into a train driver's cab as it trundled alongside the race. Does he earn extra points for that?
109km to go: It seems a safe bet that the peloton, led by Ineos with Jumbo in close attendance, is happy to let the break contest the stage today.
Rain at the finish
The conditions at the finish are hosing it down. Given all the crashes yesterday, including the one that took out Tao Geoghegan Hart with a broken hip, it might make the peloton take the descent to the finish more gingerly.
But it only takes one who wants to really race it to tip the balance the other way.
104km to go: Mads Pedersen (Trek-Segafredo) takes the intermediate sprint points in his quest for the ciclamino jersey. Michael Matthews (Jayco-Alula) comes second and a team-mate of jersey holder Jonathan Milan (who isn't in the break) at Bahrain Victorious, Jasha Sütterlin takes third.
They get 12, 8 and 6 points respectively.
What's the standings in the points classification?
After that intermediate sprint here is where they all stand. Pedersen closes the gap to Milan to 24 points.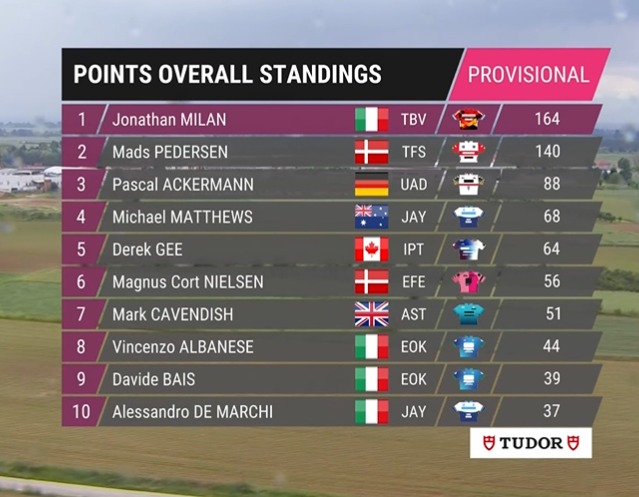 98km to go: Alberto Bettiol (EF) stops to zip his jacket up. I am pleased to see that I have something in common with the pros, a lack of ability to zip up a jacket on the move.
89km to go: This is happening earlier than I had expected. Co-operation in the large breakaway group is breaking down and a group of five guys has gone off the front.
88km to go: The riders in the front group are: Nico Denz (Bora-Hansgrohe), Tom Skujins (Trek-Segafredo), Sebastian Berwick (Israel - Premier Tech), Samuele Battistella (Astana Qazaqstan) and Alessandro Tonelli (Green Project-Bardiani).
They have 30 seconds already.
86km to go: Alberto Bettiol has missed the split and is trying to marshal a chase but with limited success.
By limited I mean pretty much zero.
85km to go: I'm not sure I mentioned but it has been raining on the riders for a while now, adding to the misery.
The gap from the front to the peloton is up to 3-38.
85km to go: CRASH! Seemed like a DSM rider went down and bunch of others followed in his wake.
83km to go: Former pink jersey holder at this race Andreas Leknessund (DSM) is pictured making his way through the convoy of team cars back to the bunch, it may well have been him who came down.
82km to go: The front group has lost Astana rider Batistella making it a group of four.
The rest of the break seems highly uninterested in chasing. They're 1-03 back now.
74km to go: Race leader Geraint Thomas goes back to his team car for some gels. Not afraid to do his own dirty work it seems.
64km to go: Bettiol is trying his luck again, having failed to force a chase group clear he is now going it alone trying to bridge up to the leaders.
Jack Haig (Bahrain Victorious) has been involved in a crash but is carrying on and isn't, apparently, seriously hurt.
62km to go: Bettiol has been brought to heal but another group of four including Stefano Oldani (Alpecin-Deceuninck) is trying to go clear. Oldani frustrated with the lack of co-operation from the others and they've now been brought back.
57km to go: The gap from the front to the peloton is now 8-22.
It's around 10km to the intermediate sprint and then shortly after that the riders will tackle the day's only major climb the cat 2 ascent of Colle Briada.
About 40km to go: It seems two riders one from AG2R Citroen and another from Astana may actually succeeded where so many other have failed and have gotten away from the big breakaway group. Predictably Bettiol is trying to get across to them.
Bauke Mollema puts in an acceleration too.
Sorry, it's more like just under 50km to go (I think), but the graphics from the host broadcaster have abandoned us so it's not terribly clear.
48km to go: The composition of the chase group is Bettiol, Alex Baudin (AG2R Citroen) and Christian Scaroni (Astana Qazaqstan). They're 3-13 back from the front according to the graphics, which have now returned.
45km to go: The leaders roll through the intermediate sprint to absolutely no consequence.
The chasers are not making a whole lot of headway, the gap is 2-57. We'll see if they can reel them in on the climb, which is coming up soon.
Lorene Wiebes wins opening stage of Vuelta Burgos
The Giro isn't the only race happening right now.
Proceedings went to the form book in Spain where Loren Wiebes (SD Worx wrapped up yet another sprint win.
Elisa Balsamo (Trek Segafredo) was second while Chloe Dygert (Canyon-SRAM) rounded out the podium in third.
36km to go: The riders are onto the final climb now, the second category Colle Barada.
It's around 10km in length and features some testing slopes of 12% in its second half.
34km to go: The chase group is still, ever so slowly making inroads. Their gap to the front is 2-20 but given the sizable descent to come it may be getting too late.
32km to go: Tom Skujins presses the pace on as the gradient stiffen and Tonelli is losing contact with the front group, which is now down to three. Berwick also appears to be in difficulty as a gap of a couple of bike lengths opens in front of him.
31km to go: What's happening with the peloton further down the climb? Not much. Ineos Grenadiers rider Pavel Sivakov is setting tempo for pink jersey wearer Geraint Thomas
31km to go: Berwick has made it back to the front and pushes the pace himself now, though Skujins soon takes over.
24km to go: The three leaders crest the climb together. Luckily it looks fairly dry on the descent. The peloton with the GC favourites is still on the climb.
22km to go: Just to recap, the leaders are Tom Skujins (Trek-Segafredo), Nico Denx (Bora Hansgrohe) and Sebastian Berwick (Israel - Premier Tech). Seems pretty likely they'll contest the win.
14km to go: Toms Skujiņš has looked the strongest of the three riders in the front group, which seems certain to contest the win, but will he be able to make it count in the final?
None of those at the front of the race have won a Grand Tour stage before.
13km to go: The maglia rosa group is on the descent now being led, once again, by Ineos.
12km to go: Berwick struggles on the final little kicker and is dropped as Denz pushes the pace on. He may still be able to bridge the gap.
9km to go: Berwick makes it back onto the two at the front.
7km to go: Berwick is, rather predictably, declining to work with the other two - a message he made clear with some, ahem, choice language.
5km to go: There's a lot of these three looking at each other but they have a margin of 3-14 over the closest set of chasers so they have a fair bit to play with.
4km to go: Geraint Thomas is enjoying a calm easy ride into the finish. He'll hope to save some energy for the big day in the mountains tomorrow.
Up front, Denz and Skujins share the pace making responsibilities.
1km to go: The leaders go under the red kite together. Denz looks the most sprightly but after a day like today it could be anyone's and it's not entirely flat.
Berwick opens it up Skujins challenges but no-one can come round the German.
Nico Denz wins stage 12 of the Giro d'Italia in Rivoli.
He looks like he can barely believe it.
Thank you for reading 10 articles this month* Join now for unlimited access
Enjoy your first month for just £1 / $1 / €1
*Read 5 free articles per month without a subscription
Join now for unlimited access
Try first month for just £1 / $1 / €1