Here are all the riders and staff fined at the Giro d'Italia 2023 up to stage 16
Riders and their directeur sportifs can be fined for anything from littering to reckless behaviour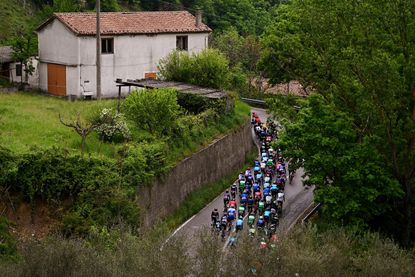 (Image credit: Getty Images)
The 170 plus riders of the Giro d'Italia have a lot to contend with. There's the brutal course, the relentless weather, and also illness and injury to worry about. On top of all that, there are a whole host of UCI rules that they are monitored on, and possibly fined points and Swiss Francs by the governing body's commissaires.
There were no fines on stage one of this year's race, which is pretty self explanatory, given it was an individual time trial.
However, over the next couple of days the UCI's bank balance started to become inflated with various fines.
The most common infractions, so far, are disposing of bottles outside of litter zones, something that cycling's governing body has got hot on in the last few years, and "unseemly or inappropriate behaviour", a polite way of saying going to the toilet near cameras or fans.
On stage four, Jayco AlUla were warned for "failing to respect the order or timing of the team presentation", but not further action was taken. At last year's Tour de France, all of Jumbo-Visma and UAE Team Emirates were fined for not attending the team presentation, which it turned out was due to the boiling hot temperatures.
On a crash-marred stage five, Alberto Dainese (DSM) was adjudged to have deviated from his line - in effect causing the crash that brought down Mark Cavendish (Astana-Qazaqstan) among others.
Cavendish did not appear to hold the Italian responsible , however, explaining later that it's "part of sprinting".
Stage six saw multiple fines for throwing bottles at the wrong moment, as well as one rider, Kristian Sbaragli (Alpecin-Deceuninck) being penalised for "intimidation and improper conduct" in the sprint.
Meanwhile, stage seven saw Ben Swift (Ineos Grenadiers) and his DS fined for performing a "sticky bottle" which was too long for the jury's liking.
Marco Frigo (Israel-Premier Tech) and his DS were fined for feeding inside the final 20km of stage eight, which meant Frigo was given a 20 second penalty on GC.
Stage nine's time trial resulted in DSes from EF Education-EasyPost and Intermarché-Circus-Wanty being fined for being too close to riders during the race.
On stage ten, Bahrain-Victorious were warned "failing to respect the order or timing of the team presentation", but not further action was taken, while Fernando Gaviria (Movistar) got a heavy penalty for pushing off from a car.
A rider was brought down in a crash caused by a mechanic from Jayco AlUla late on in the stage, so David McPartland, the team's DS, has been fined.
Stage 11 saw Primož Roglič (Jumbo-Visma) fined for going to the toilet in the wrong place, while a couple of riders were penalised for sticky bottles.
Littering caused four different DSes to be fined on stage 12, as Pavel Sivakov (Ineos Grenadiers) was warned over his "non-compliant" position on the descent.
A shortened stage 13 saw just one fine, as Vadim Pronskiy (Astana-Qazaqstan) was heavily penalised for "pushing off" against a car.
After that, on stage 14, the jury warned riders to not take off helmets during the race: "Any manoeuvre involving taking off the helmet must be done foot down."
Einer Rubio (Movistar) was penalised for "intimidation and improper conduct or behaviour that endangers others" at the first mountain classification sprint on stage 15.
On stage 16, Lorenzo Fortunato (EOLO-Kometa) was fined for "pushing off" against a car.
Read on for all the fines that have been doled out to date in the Giro below.
Don't forget to read our guide on how to watch the Giro d'Italia 2023 if you want to keep up with the action, and keep up with the latest standings too.
How do Giro d'Italia fines work?
Any breaches that are spotted can be punished by the race commissaires who can dish out fines to the respective rider and teams, and in the most severe cases even disqualify riders.
Typically, fines are given out for drafting a vehicle, inappropriate or dangerous riding such as in a sprint, unauthorised fuelling in the final 20km or for littering in an undesignated area.
For the avoidance of doubt, "unseemly or inappropriate behaviour" usually means taking a leak near a camera or fans.
Fines are not limited to riders, though. Entire teams can be punished, and the most common person to be fined is often a team's sports director for various infractions, especially
All fines are in Swiss francs, as this is where the UCI is based, in Aigle. In a move that might also prove crucial come the end of the season, riders and teams are often fined UCI points for their misdemeanours too; this could affect a team's standing in the WorldTour points table.
Giro d'Italia fines stage-by-stage
Stage one
Nothing to report.
Stage two
Geraint Thomas (Ineos Grenadiers) - unseemly or inappropriate behaviour, 200CHF
Bart Leysen (directeur sportif, Alpecin-Deceuninck) - unidentified rider disposing of a bottle outside of litter zones, 500CHF
Matteo Tosatto (directeur sportif, Ineos Grenadiers) - unidentified rider disposing of a bottle outside of litter zones, 500CHF
Gregory Rast (directeur sportif, Trek-Segafredo) - unidentified rider disposing of objects in a careless or dangerous manner, 500CHF
Stage three
Jefferson Cepeda (EF Education-EasyPost) - rider disposing of a bottle outside of litter zones, 500CHF and 25 UCI points
Thymen Arensman (Ineos Grenadiers) - unseemly or inappropriate behaviour, 200CHF
Laurens De Plus (Ineos Grenadiers) - unseemly or inappropriate behaviour, 200CHF
Stage four
Enrico Gasparotto (directeur sportif, Bora-Hansgrohe) - unidentified rider disposing of a musette outside of litter zones, 500CHF
Jayco AlUla - failing to respect the order or timing of the team presentation, warning
Stage five
Alberto Dainese (DSM) - deviation from the chosen line that obstructs or endangers another rider in the final sprint, 500CHF, 13 penalty points in the points classification and relegation to the last place in the rider's group (34th place)
Matteo Tosatto (directeur sportif, Ineos Grenadiers) - unidentified rider disposing of a musette outside of litter zones, 500CHF
Stage six
Matthew Riccitello (Israel-Premier Tech) - putting on or taking off clothing contrary to the regulations, 200CHF
Oscar Guerrero Celaya (directeur sportif, Israel-Premier Tech) - same incident, 500CHF
Kristen Sbaragli (Alpecin-Deceuninck) - intimidation and improper conduct (blow with the helmet, elbow, shoulder in the final sprint), 200CHF and 10 UCI points
Niccolo Bonifazio (Intermarché-Circus-Wanty) - rider disposing of a bottle outside of litter zones, 500CHF and 25 UCI points
Veljko Stojnič (Corratec-Selle Italia) - rider disposing of a bottle outside of litter zones, 500CHF and 25 UCI points
Fabio Baldato (directeur sportif, UAE Team Emirates) - unidentified rider disposing of a bottle outside of litter zones, 500CHF
Addy Engels and Arthur van Dongen (directeurs sportif, Jumbo-Visma) - breach of regulations or guidelines concerning vehicle movements during the race (team car 1 and 2 present at the same time in convoy one)
Stage seven
Ben Swift (Ineos Grenadiers) - irregular feeding ("sticky bottle" for a short distance), 200CHF
Matteo Tosatto (directeur sportif, Ineos Grenadiers) - same offence, 200CHF
Stage eight
Marco Frigo (Israel-Premier Tech) - non-authorised feeding (in the last 20 km of the stage), 200CHF and 20" on GC
Oscar Guerrero (directeur sportif, Israel-Premier Tech) - same offence, 1,000CHF
Stage nine
Matti Breschel (directeur sportif, EF Education-EasyPost) - team failing to respect regulation distances and gaps during a time trial, 200CHF
Valerio Piva (directeur sportif, Intermarché-Circus-Wanty) - team failing to respect regulation distances and gaps during a time trial, 200CHF
Stage 10
Bahrain-Victorious - failing to respect the order or timing of the team presentation, warning
Fernando Gaviria (Movistar) - pushing off against car, 200CHF, 10 penalty points in the points classification, 4 penalty points in the mountains classification and 10" penalty in the general classification
Pablo Lastras (directeur sportif, Movistar) - failing to respect the instructions of the commissaires, 500CHF
David McPartland (directeur sportif, Jayco AlUla) - ehaviour that endangers others (mechanic in the middle of the road causing the crash of a rider), 2,000CHF
Stage 11
Primož Roglič (Jumbo-Visma) - Unseemly or inappropriate behaviour [this is often taking a pee stop in the wrong location], 200 CHF
Jonathan Milan (Bahrain Victorious) - Intimidation and improper conduct (blow with the shoulder and hand), 500 CHF plus 20 points off UCI classifications
Kaden Groves (Alpecin-Deceuninck) - Irregular feeding ("sticky bottle" for a short distance), 200 CHF
Koen Bouwman (Jumbo-Visma) - Irregular feeding ("sticky bottle" for a short distance), 200 CHF
Bart Leysen (directeur sportif, Alpecin-Deceuninck) - Irregular feeding ("sticky bottle" for a short distance), 200 CHF
Arthur van Dongen (directeur sportif, Jumbo-Visma) - Irregular feeding ("sticky bottle" for a short distance), 200 CHF
Stage 12
Pavel Sivakov (Ineos Grenadiers) - using a non-compliant position on a descent, warning
Maxime Bouet (Arkéa-Samsic) - irregular feeding ("sticky bottle" for a short distance), 200 CHF
Yvon Caer (directeur sportif, ) - irregular feeding ("sticky bottle" for a short distance), 200 CHF
Bart Leysen (directeur sportif, Alpecin-Deceuninck) - unidentified rider disposing of a bottle or musette outside of litter zones, 500CHF
Stefano Zanatta (directeur sportif, EOLO-Kometa) - unidentified rider disposing of a bottle or musette outside of litter zones, 500CHF
Matteo Toasatto (directeur sportif, Ineos Grenadiers) - unidentified rider disposing of a bottle or musette outside of litter zones, 500CHF
Arthur Van Dongen (directeur sportif, Jumbo-Visma) - unidentified rider disposing of a bottle or musette outside of litter zones, 500CHF
Dan Hoole (Trek-Segafredo) - unseemly or inappropriate behaviour , 200 CHF
Stage 13
Vadim Pronskiy (Astana-Qazaqstan) - pushing off against car, 200CHF, 3 penalty points in the points classification, 10 penalty points in the mountains classification and 10" penalty in the general classification
Stage 14
Niccolò Bonifazio (Intermarché-Circus-Wanty) - intimidation and improper conduct or behaviour that is indecent and that endangers others (directed at a rider), 2000CHF, 100 UCI points
Roberto Reverberi (directeur sportif, Green Project-Bardiani CSF-Faizanè) - unidentified rider disposing of a bottle or musette outside of litter zones, 500CHF
Max Sciandri (directeur sportif, Movistar) - unidentified rider disposing of a bottle or musette outside of litter zones, 500CHF
All riders are reminded that taking off the helmet during the race is forbidden. Any maneuver involving taking off the helmet must be done foot down, reminder and final warning
Stage 15
Einer Rubio (Movistar) - intimidation and improper conduct or behaviour that endangers others, 200CHF and 10 UCI points
Stage 16
Lorenzo Fortunato (EOLO-Kometa) - pushing off against car, 200CHF, 3 penalty points in the points classification, 10 penalty points in the mountains classification and 10" penalty in the general classification
Sam Bewley (directeur sportif, Israel-Premier Tech) - failing to respect the instructions of the commissaires, 500CHF
Marius Mayrhofer (DSM) - rider disposing of waste outside of litter zones in a dangerous manner, 500CHF and 25 UCI points
Matteo Toasatto (directeur sportif, Ineos Grenadiers) - unidentified rider disposing of a bottle or musette outside of litter zones, 500CHF
Thank you for reading 20 articles this month* Join now for unlimited access
Enjoy your first month for just £1 / $1 / €1
*Read 5 free articles per month without a subscription
Join now for unlimited access
Try first month for just £1 / $1 / €1