Refresh
Hello and welcome to live coverage of stage 11 of the 2021 Tour de France.
Today we have not one, but two ascents of the legendary Mont Ventoux on the cards - it should be a thrilling day of racing!
Here's the profile for today's 198.9km stage: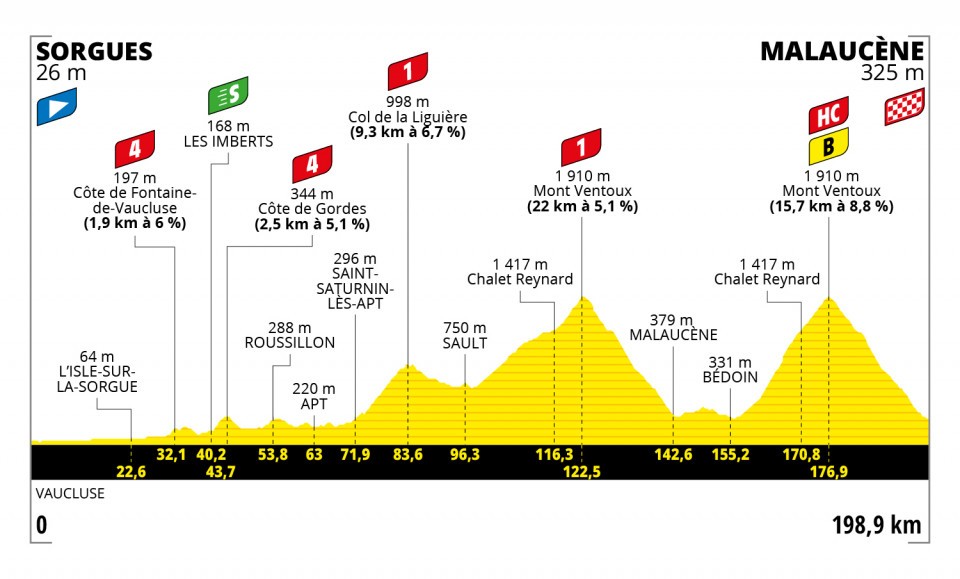 Mont Ventoux hasn't featured in the Tour since 2016 when the stage had to be cut short to a finish midway up at Chalet Reynard thanks to the wind.
Thomas De Gendt won on that occasion from the breakaway, but the stage will of course be best remembered for Chris Froome running after his bike was broken in a crash with a race motorbike on the climb.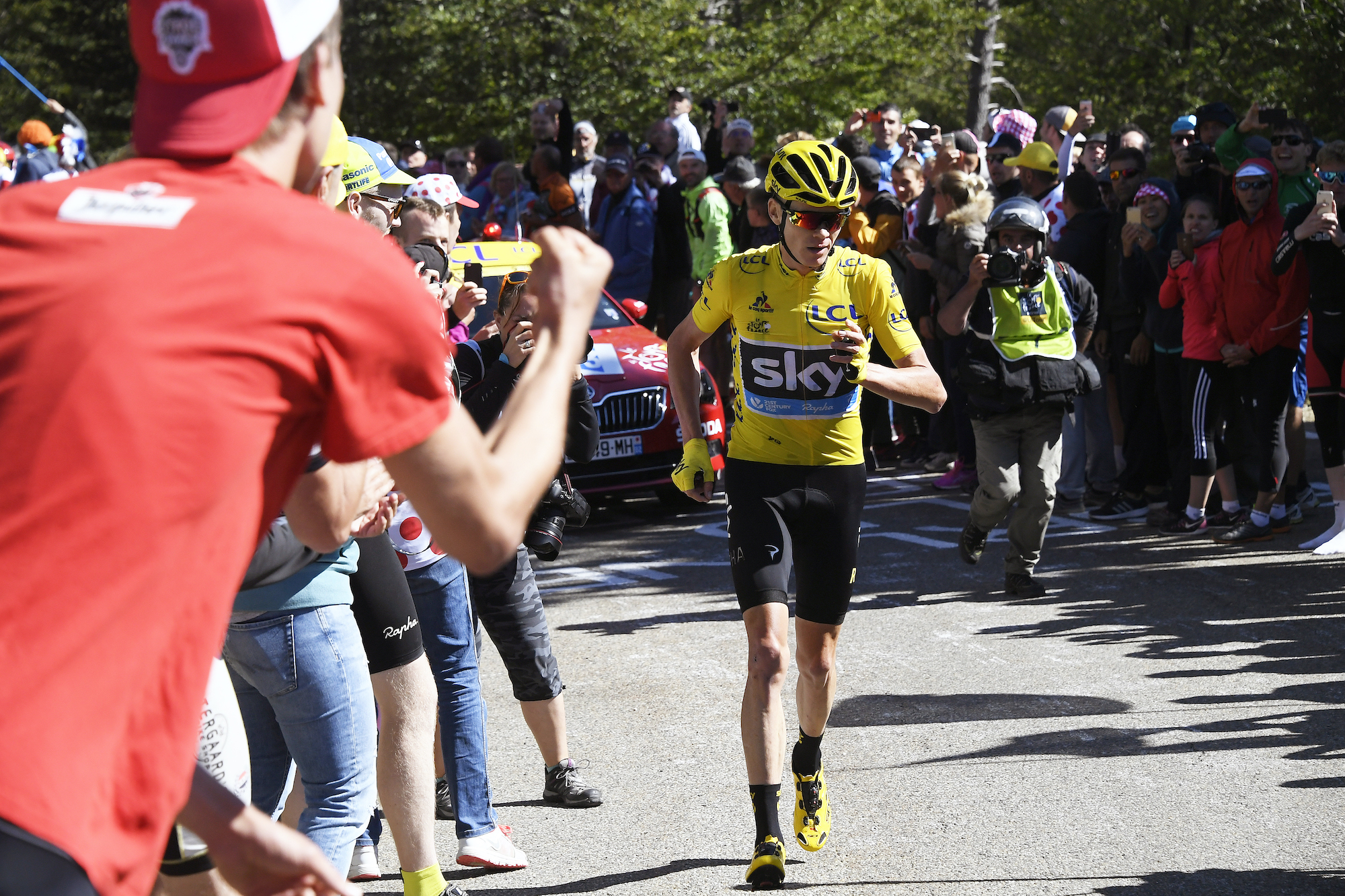 We take on the classic ascent from Bédoin today on the second time up, but the first ascent will be from the town of Sault.
It's longer at 22km in total versus 15.7km on the classic side, but the first 16km are relatively easy in comparison. Both side share the same 6km or so from Chalet Reynard to the summit, the section with the moon-esque baron landscape with a view to the weather station at the top.
It's also not a summit finish either this time, giving a breakaway rider the opportunity to follow in the footsteps of Eros Poli in 1994 and take the stage win after crossing Mont Ventoux
Make sure you get involved on our Twitter poll. Who do you think is going to take the stage today?
Who are you picking for the 'Queen Stage' of the Tour de France today? #TDF2021July 7, 2021
See more
We have started in the virtual start, quite a long one with around 8km before we get racing.
All the jerseys lined up behind the commissaire car along with Matej Mohorič. The Slovenian champion will likely be going for today due to the huge descents off Ventoux suiting the rider down to the ground.
His team-mate, Spanish rider Pello Bilbao will also be looking at possibly getting into the break and showing off his impressive descending skills.
Sergio Henao with a mechanical with 2km left in the neutral start to go. Henao has been nowhere near his Paris-Nice winning form since leaving Ineos. Now at Qhubeka-NextHash.
Time for kilometre zero. We are racing! And no attacks from the flag drop.
First move goes with TotalEnergies leading the attacks with Julian Alaphilippe, Michael Matthews, Nils Politt, Mohorič, Thomas De Gendt, Philippe Gilbert, Xandro Meurisse, Chris Juul-Jensen and multiple others attempting to get up the road.
So far, no gaps. 195km to go.
Alaphilippe looks really up for today. Mark Cavendish right up there too as he tries to potentially get more green jersey points.
Peter Sagan tried a move there but he's not allowed to get away. So many riders on the front trying to get into the break.
Simon Geschke is the next man to go on the more. He's solo at the moment with a few riders trying to chase. 190km to go.
Anthony Turgis kicks out of the peloton with a few other riders who bridge up to Geschke and its all back together again with a big tailwind helping the riders at the moment.
Jonas Rickaert is the next man to kick for Alpecin-Fenix. 188km to go.
Rickaert being chased down by Davide Ballerini as the peloton sits up for the moment interestingly.
Wout van Aert and Jokob Fuglsang getting involved in the counter attacks in the breakaway.
Pierre-Luc Périchon and Marco Haller are the next duo to get a gap on the bunch. 185km to go.
Kluge, Juul-Jensen, Vakoč, Cosnefroy, Van Aert, Bernard and about seven others as Vincenzo Nibali pings across the gap.
Rickaert and Ballerini still lead though with that chase group dragged back. 183km to go.
Alex Aranburu with a back wheel change. Disappointing for the Basque rider.
Michael Woods and Dan Martin both lurking towards the front for Israel Start up nation.
Neilson Powless joining Warren Barguil, Cyril Gautier, Gilbert and two others but it drags out a long line of riders connecting it back to the peloton.
Austrian champion, Patrick Konrad has looked interested. Jonas Vingegaard, the white jersey, is looking to possibly slip into a break too as everyone is brought back together. 177km to go.
Jasper Philipsen trying to get up the road to try and get some green jersey points but he's not allowed much space. Gilbert, Haller, Alaphilippe, Dillier and Cavendish all involved in this move but nothing going yet.
Ruben Guerreiro now sets off for the first time in the Tour as far as I remember. This is going to go on for a long time as more and more riders try and kick on. 175km to go.
Julian Alaphilippe and Nairo Quintana on the move now! Julien Bernard trying to bridge the gap.
This is a dangerous move but I don't think it's going to stick. 173km to go.
Tony Martin has gone into a ditch and off the bike again. He looks in a very bad way too with blood all down his side. Looking very unsteady as he sits down on the side of the road.
I hate to speculate, but I imagine that might be it from Martin as he looked in a bad way.
Alaphilippe and Quintana have pulled out 20 seconds on the peloton with no-one able to bridge just yet, but the first climb is coming up.
Meanwhile, Tony Martin has taken his helmet off and has had his bike taken away. He has now gone onto a stretcher and abandons the Tour de France. He and his team have had a shocker of a race this year.
As the peloton hit the first climb, Van Aert goes again. Asgreen, Izagirre, Mollema, Nibali, Konrad, Fraile, Gautier, Cosnefroy, Guerreiro, Woods and a huge amount of others.
Cosnesfroy kicks clear of the bunch as Alaphilippe has dropped Quintana already with 200 metres left on the first climb. 166km to go.
Cosnefroy and Quintana joined by Van Aert, Asgreen, Henao and Konrad but the peloton is back onto them again. Alaphilippe has 11 seconds with 165km to go. He took the one point at the top of the climb.
Next counter attack, Yates, Teuns, Devenyns, Konrad, Henao and then the rest of the peloton again.
Splits appearing all over the bunch though as Alaphilippe only has 10 seconds now. Teuns goes again with Devenyns, Woods, Powless and Konrad all going again but Pogačar isn't happy about the break and closes it himself. 163km to go.
We're almost at the intermediate sprint but no sprinters, at the moment, are anywhere near the front.
5km until the intermediate sprint and Colbrelli does suddenly appear on the front of the bunch to try and get more points. 160km/100 miles to go.
Anthony Perez and Neilson Powless are the next to go on a move.
Mark Cavendish is not in the front group but they have just joined up again I think, can he get to the front? Alaphilippe will likely take the 20 points.
Dan Martin joines Perez, Powless along with Élie Gesbert and Jakob Fuglsang. Mohorič leading a counter move behind.
Alaphilippe takes maximum points in the intermediate sprint. He sits up for the next group that have 20 seconds on the peloton.
Philipsen took some points there as does Sagan, Colbrelli and Matthews but they took minimal points.
Alaphilipppe caught by Fuglsang, Martin, Perez, Powless, Gesbert group. 157km to go.
Powless dropped by the break as Woods, Poels and Barguil are chasing. Geraint Thomas is dropped with Cavendish at the back of the peloton.
Michael Mørkøv has joined Cavendish who has been dropped with Jasper Philipsen.
Dan Martin and Julian Alaphilippe have gone clear as a duo with 154km as the pace continues to be rapid.
The grupetto has been formed with Sagan, Colbrelli and Thomas. Cavendish already behind the grupetto is not a good sign.
Alaphilippe goes over the next climb in first. He and Martin have been joined by Perez.
Attaque de Pierre Rolland!! He has joined Perez, Alaphilippe and Martin at the front of the race.
Oh wow Clément Russo is a long long way behind everyone else as he only now crosses the intermediate sprint line. Looks like he's going to struggle to make it to the finish in time today.
Cavendish has been guided onto the back of the grupetto by Mørkøv and Declercq. The peloton is still riding at a good pace but the group of sprinters look to be making their way back.
UAE Team Emirates finally have an element of control as it looks like the breakaway has now been formed. Cavendish and co make it back to the peloton.
So we have a four man break up the road but Julien Bernard counters with a few more riders as the pace kicks off yet again.
For a moment I though we were finally sitting up but more riders come out of the peloton in ones and twos. UAE getting a man up in the break now too interestingly. 147km to go.
We have Sbaragli and Meurisse of Alpecin-Fenix joining Bernard as well as Politt. I think Bjerg is the rider from UAE chasing with maybe five more riders dotted in no-mans-land too,
Clément Russo joins Tony Martin on the abandon list for today unfortunately.
Sbaragli, Meurisse, Laengen, Mollema, Politt, Pacher Durbridge and Bernard are the first chasing group behind the Alaphilippe leading group.
Van Aert and Van Avermaet are two riders that are trying to get across with Elissonde, Cosnefroy and a Cofidis rider.
141km to go and the gap between the leaders and the peloton at 1-19.
Right, lets try and give a clear look at the race situation.
135km to go.
Lead group: Alaphilippe, Rolland, D. Martin and Perez
At 45 seconds: Laengen, Bernard, Mollema, Meurisse, Sbaragli, Politt, Pacher, Durbridge, Van Aert, Périchon, Van Avermaet, Cosnefroy and Elissonde
At 2-04: Peloton
Thomas, Cavendish, Bouhanni and other sprinter/injuried riders are just holding onto the back of the peloton.
Tony Martin and Clément Russo out of the race.
Well, rather oddly, Ineos Grenadiers have taken full control of the peloton with the entire team on the front. This includes Thomas who looks to be doing a bit better now.
Not sure what they're hoping to achieve as Pogačar will likely follow every move Carapaz makes.
Pogačar with a mechanical but he is making his way back in easily enough.
The gap to the lead break is only now going over three minutes. Ineos Grenadiers continue to work. Pogačar still out of the bike with mechanical issues but surely he'll just be taking it very steady and not putting too much into the chase. 126km to go.
The third climb of the day is coming soon with the Col de la Liguière before we hit out first ascent of Mont Ventoux.
Riders are just reaching the summit of the first major climb of the day, the Col de la Liguière.
The race has settled a bit now after an absolutely manic start.
With 117km left to race we still have four riders out in front, including Dan Martin and Julian Alaphilippe.
Behind them we have a 12-rider chasing group including Wout van Aert, Bauke Mollema and Greg Van Avermaet, currently one minute down.
Then we have the peloton on the road, including the yellow jersey Tadej Pogačar, 4-49 behind the front of the race.
After that we have the early forming gruppetto, including Mark Cavendish, currently at 6-19.
Mountain points on offer at the top of the climb.
Dan Martin is the only rider motivated to sprint, taking maximum points.
Pierre Rolland finish second but didn't look particularly fussed, with Alaphilippe third but completely uninterested in the KoM competition.
We've had a shake-up at the front of the race, as the four-rider breakaway has been joined by the chasing group behind.
We now have 16 riders out front, including Van Aert, Alaphilippe, Dan Martin, and Greg Van Avermaet. That group has 5-10 on the yellow jersey group.
Cavendish and the gruppetto are 8-20 behind the leaders as things stand.
We're now onto the early slopes of the first ascent of Ventoux, not the steepest section by any stretch, but things only get harder from here.
Back in the yellow jersey group, Ineos Grenadiers are still controlling the pace with Geraint Thomas doing an enormous turn for his team.
It's not exactly clear what the plan is here for Ineos, but it hints that Richard Carapaz may be planning an attack on the first ascent of Ventoux to try and put Pogačar in trouble.
Let's hope that's the case so we get some action.
94km remaining.
Dan McLay and Tiesj Benoot have joined the abandon list.
David Gaudu has been dropped by the peloton.
Julian Alaphilippe upped the pace and has dropped half of the break. 89km to go with six riders following Alaphilippe.
The leading group is now Van Aert, Alaphilippe, Perez, Bernard, Elissonde, Meurisse and Durbridge.
Chase at 38 seconds back is made up of Laengen, Martin, Mollema, Périchon, Van Avermaet, Rolland and Pacher.
Politt and Sbaragli both dropped with Geraint Thomas still leading the peloton at almost five minutes.
Cavendish and co are around 12 minutes back.
The clouds have cloaked the top of Ventoux as the break are starting to come out of the thinning tree line.
Past Chalet Reynard they go and Alaphilippe leads the way onto the usual climb and the gradient will begin to bite.
The chasing group with Rolland, Mollema and Martin are now down by a minute as Pacher has done his job for Rolland.
Just over 5km to the top for the leaders as Dan Martin has been dropped by the chase group. Its been a tough day.
Périchon and Van Avermaet have been dropped by Mollema and Rolland as they continue to chase the leaders down.
Our man on the ground, Jonny long is at the top of Ventoux where he slept under the stars last night.
This was his view earlier today.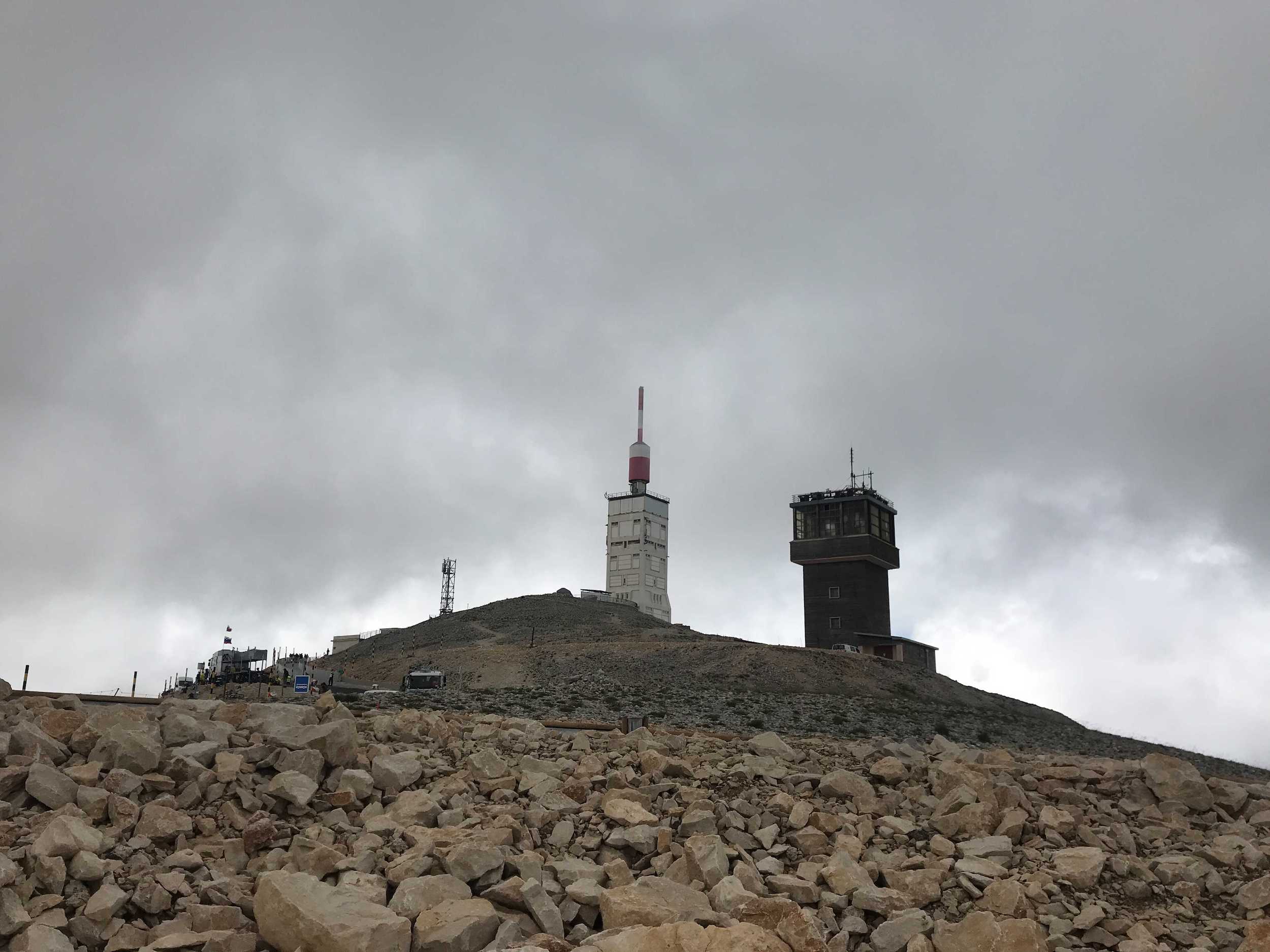 Geraint Thomas has done his job as Dylan van Baarle takes over for Richard Carapaz
Mollema has attacked Rolland to kick across to the leaders as he's about to make it to the cars for the leaders.
Mollema joins his two team-mates in the leading group with one kilometre to the top of the first ascent on Ventoux. 77km to go with a gap of 5-06 to the peloton and 6-33 to Gaudu.
Here we come to the top for the first time and Alaphilippe leaves everyone behind to take maximum points ahead of Perez and Mollema then the rest of the break. Rolland just 30 seconds back. 75km to go.
Right, onto the descent and something that's a bit of a unknown for us as it has been quite a while since we've gone down this side of the mountain.
Alaphilippe showing his usual descending skills along with Perez and Van Aert as the others go down at their own pace.
UAE Team Emirates now take up the pacing of the peloton. I am absolutely baffled by Ineos' tactics. 71km to go.
Ineos retake the lead of the peloton again. I really don't know why. Peloton is still quite large.
Gaps on the road:
62km to go for the leaders.
1-06 to Rolland
4-54 to peloton
6-45 to Gaudu
And I believe about 15 minutes to grupetto.
Just seven other riders along with Cavendish at almost 19 minutes back on the leaders. He has four team-mates with him.
Ineos still leading the way. They're likely wanting to set Carapaz up for the stage win and potentially to gain time in the GC, but why work this hard?
Greg Van Avermaet becomes the next rider caught by the Ineos led peloton. He should not be in danger of missing the time cut today.
And if you would like to know how the time cut works, why not read our guide on it?
Read more: How do Tour de France time cuts work?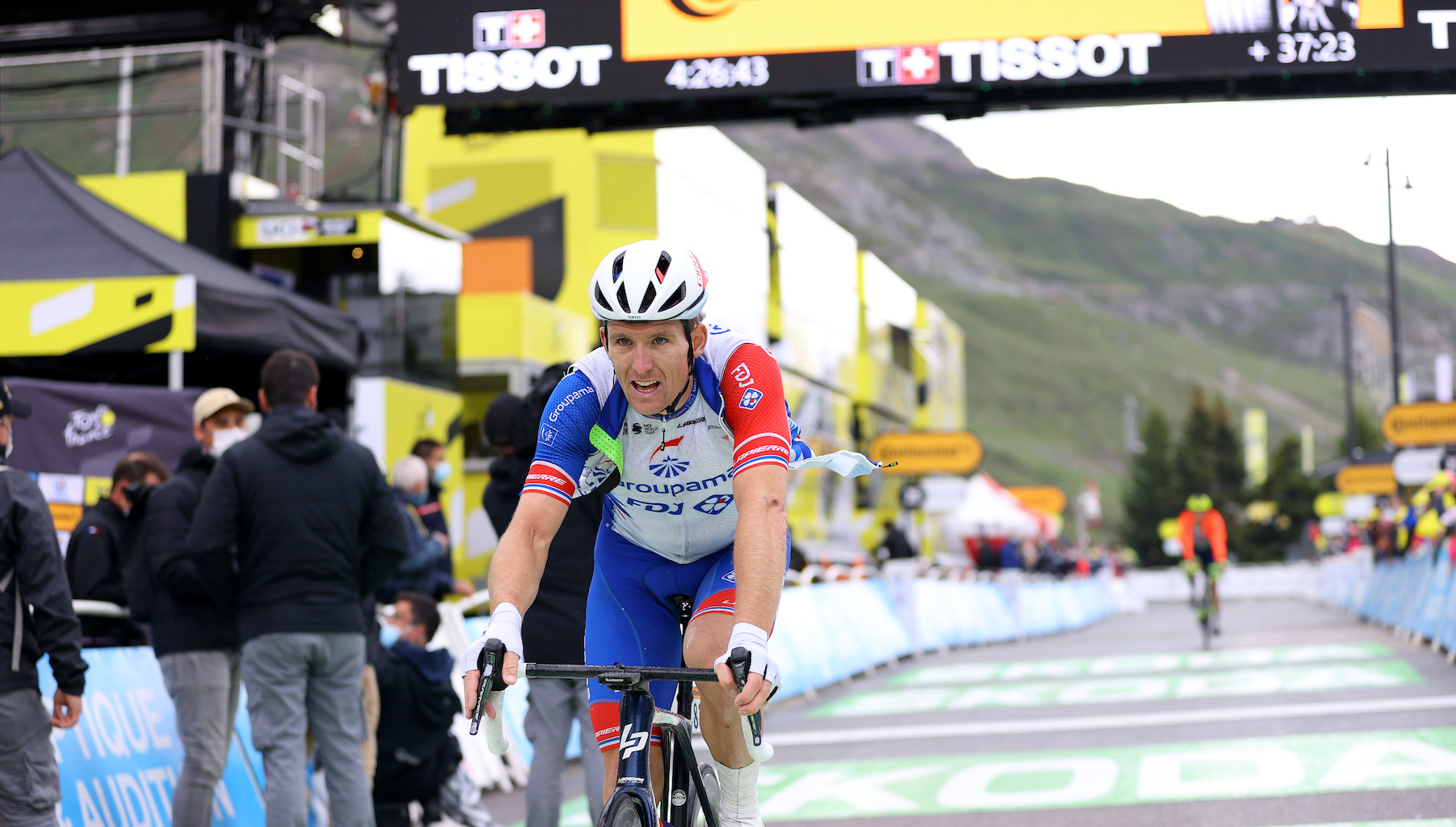 Bernard and Elissonde now working very hard for their main man, Bauke Mollema as we are on the Bédoin side of Mont Ventoux. The most used and hardest side. 38km to go with 4-50 to the peloton.
Dan Martin not having a great time. He's been caught by the peloton and dropped immediately.
Bernard has done his job in the break. Elissonde attacks and this is very good tactics from Trek-Segafredo. 36km to go.
Van Aert, Mollema and Alaphilippe have kicked clear from the chasing group.
Wout van Aert has dropped Mollema and Alaphilippe! Wow this is an immensely powerful ride by the Belgian champion.
He's powered himself across to Elissonde. 35km to go.
Mollema has attacked Alaphilippe now but the world champion isn't done yet. Straight back to him. These two are real battlers but they need to try and catch Elissonde and Van Aert.
Victor Campenaerts becomes the next man to abandon. Such a shame as the list heads closer to 30 riders to leave the race.
Wout Poels dropped by the peloton. Also, Pogačar only has one man left. But, as we have seen, that doesn't tend to matter when it comes to Pogačar.
Mollema actually really is dropping Alaphilippe now as the world champion has absolutely gone pop. He's all over the bike now, head down and that's it I would think.
This is looking more and more like it's either a Wout van Aert day or a peloton day. 33km to go and the gap is 4-38.
Even in the hot weather, Alejandro Valverde is dropped. Sergio Higuita also loses touch.
Van Aert uses a hairpin to drop Elissonde as he sets off on a time trial up the mountain.
That's the massive turn of Jonathan Castroviejo is done and dusted for Ineos Grenadiers as Miguel Ángel López is dropped.
Also the big turn on the front is over for me, I'll hand back over to Alex Ballinger to guide you to the line.
We have the first bit of movement in the top-five, as Ben O'Connor has lost touch with the yellow jersey group.
The Ag2r-Citroën rider started the day in second place, two minutes down on Tadej Pogačar but he's lost contact with a long way to go to the summit of Ventoux.
He needs to defend his position to Rigoberto Urán, who is just over three minutes behind him.
It's going to be a huge ask as he already looks to be in a lot of pain.
Richie Porte is absolutely smashing it on the front of the GC group now, Ineos still have Michał Kwiatkowski to burn for Richard Carapaz.
Tadej Pogačar is still in that group in the yellow jersey but has just one team-mate with him.
Meanwhil at the front of the race, Wout van Aert is alone on Ventoux with 7.4km left to the summit.
The Belgian champion is about 35 seconds ahead of his nearest rival for the stage, Kenny Elissonde.
This is a truly phenomenal performance by Van Aert.
Van Aert is continuing to storm away on the seconds ascent of Ventoux.
He's 3km from the summit now and has the weather station in his sights.
Behind the Trek pairing of Elissonde and Mollema have joined forced 1-15 back down the mountain, but it's not looking good for them so far.
In the GC group, Porte is done for the day as Kwiatkowski now leads the group for Carapaz.
Pogačar and his team-mate Rafał Majka are marking them closely.
This group still has 11 riders in there, 3-55 behind the stage leader.
Ben O'Connor is still fight so hard to minimise his time losses, but is about 30 seconds behind the GC group.
Here's how things stand:
24km to go - 2.6km to the summit of Ventoux
1. Wout van Aert - stage leader
2. Elissonde and Mollema - chasers, at 1-20
3. Pogačar, Carapaz, Urán, Vingegaard and others - GC group, at 3-35
Enric Mas (Movistar) is the latest rider dropped from the GC group.
Kwiatkowski (Ineos Grenadiers) has pulled over after his huge turn on the front of the group.
Carapaz now needs to challenge Pogačar as they approach the summit of Ventoux. Urán is also there.

Vingegaard (Jumbo-Visma, fourth overall) attacks and Pogačar follows immediately.
Carapaz is trying to catch back on, with Urán struggling too.
Vingegaard is looking great, but Pogačar is looking even better.
These two are riding away from Carapaz and Urán who have lost about 20 metres in a very short space.
But the gaps aren't huge so this could come down to a battle on the descent.
Vingegaard goes again and Pogačar has actually lost the wheel!
The Slovenian looks like he might be in a bit of trouble. It's not a disaster yet but this is the first time we've seen Pogačar actually look tired.
Wout van Aert crests Mont Ventoux for the second and final time.
He has 1-17 over the chasers and now just a 22km descent in front of him. He looks very good to take this stage if he can keep the bike upright.
Pogačar really does look to be struggling as Vingegaard continues to ride away.
But Pogačar is still with Carapaz and Urán on the road so he's not likely to lose much time here.
With second place overall Ben O'Connor out the back, Pogačar has five minutes to spare.
Vingegaard is over the top of Ventoux, followed by Pogačar, then Carapaz and Urán.
With the long descent to the finish, the time gaps aren't likely to extend very much now.
Wout van Aert still leads and is looking great on the descent.
He's slightly extended his advantage to Mollema and Elissonde to 1-17.
This is going to be a tense battle as the Trek riders take risks to try and catch Van Aert.
Here's how it stands on the road:
9.5km to go
1. Van Aert
2. Mollema and Elissonde, at 1-20
3. Vingegaard, at 1-41
4. Pogačar, Carapaz, Urán, at 2-03
Van Aert inside the final 2km and still has his advantage, he's going to do it!
Wout van Aert wins stage 11 of the Tour de France 2021!
Stage result:
1. Wout van Aert (Bel) Jumbo-Visma, in 5-17-43
2. Kenny Elissonde (Fra) Trek-Segafredo, at 1-14
3. Bauke Mollema (Ned) Trek-Segafredo, at same time
4. Tadej Pogačar (Slo) UAE Team Emirates, at 1-38
5. Rigoberto Urán (Col) EF Education-Nippo
6. Richard Carapaz (Ecu) Ineos Grenadiers
7. Jonas Vingegaard (Den) Jumbo-Visma, all at same time
8. Alexey Lutsenko (Kaz) Astana-Premier Tech, at 1-56
9. Wilco Kelderman (Ned) Bora-Hansgrohe, at same time
10. Enric Mas (Esp) Movistar, at 3-02

General classification after stage 11

1. Tadej Pogačar (Slo) UAE Team Emirates, in 43-44-38
2. Rigoberto Urán (Col) EF Education-Nippo, at 5-18
3. Jonas Vingegaard (Den) Jumbo-Visma, at 5-32
4. Richard Carapaz (Ecu) Ineos Grenadiers, at 5-33
5. Ben O'Connor (Aus) Ag2r-Citroën, at 5-58
6. Wilco Kelderman (Ned) Bora-Hansgrohe, at 6-16
7. Alexey Lutsenko (Kaz) Astana-Premier Tech, at 6-30
8. Enric Mas (Esp) Movistar, at 7-11
9. Giullaume Martin (Fra) Cofidis, at 9-29
10. Pello Bilbao (Esp) Bahrain-Victorious
Read our race report for a recap of how it all played out on stage 11:
Wout van Aert solos over Mont Ventoux to win Tour de France 2021 stage 11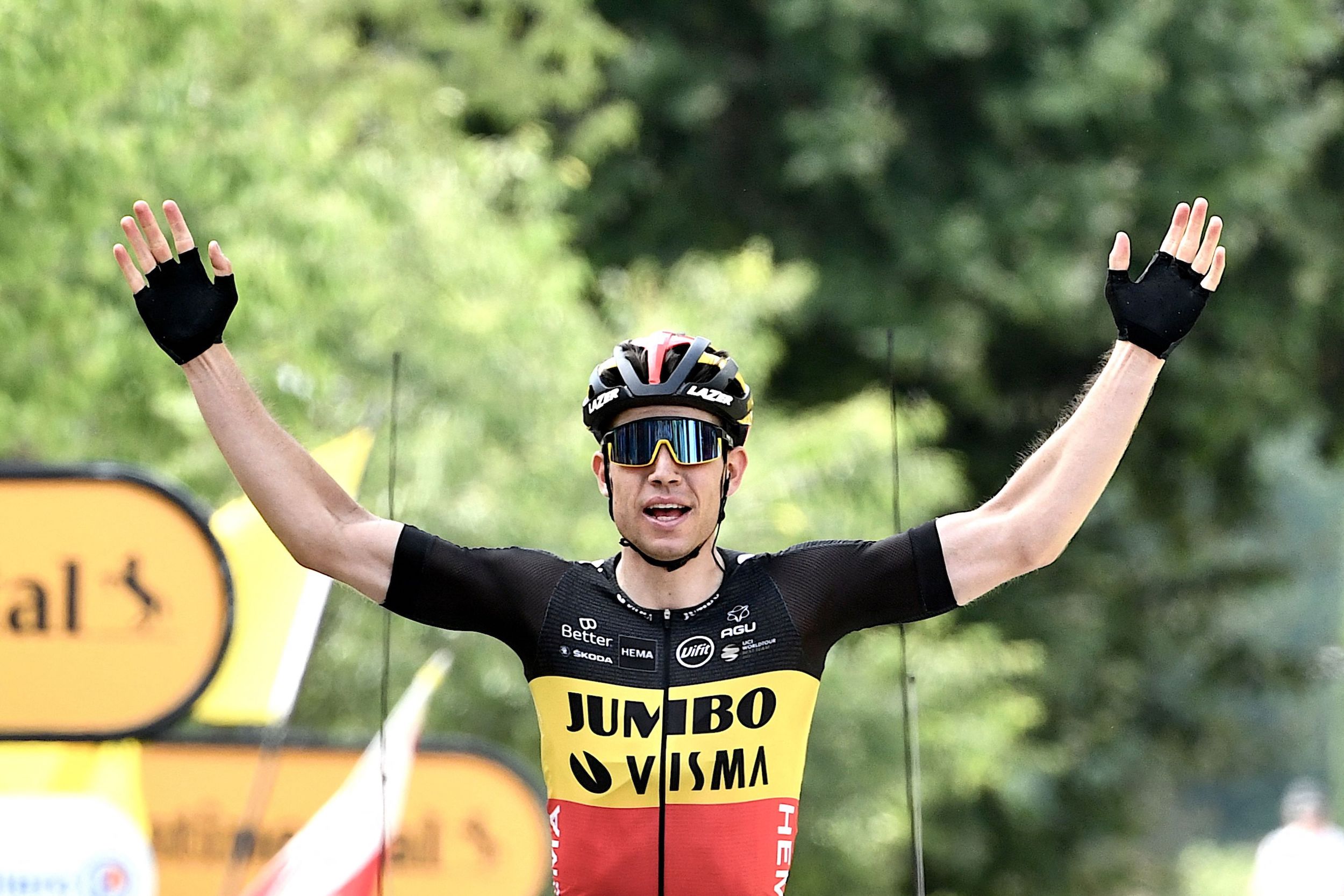 Read Wout van Aert's reaction to his win today:
Tour de France 2021: Wout van Aert says Mont Ventoux stage might be his best ever victory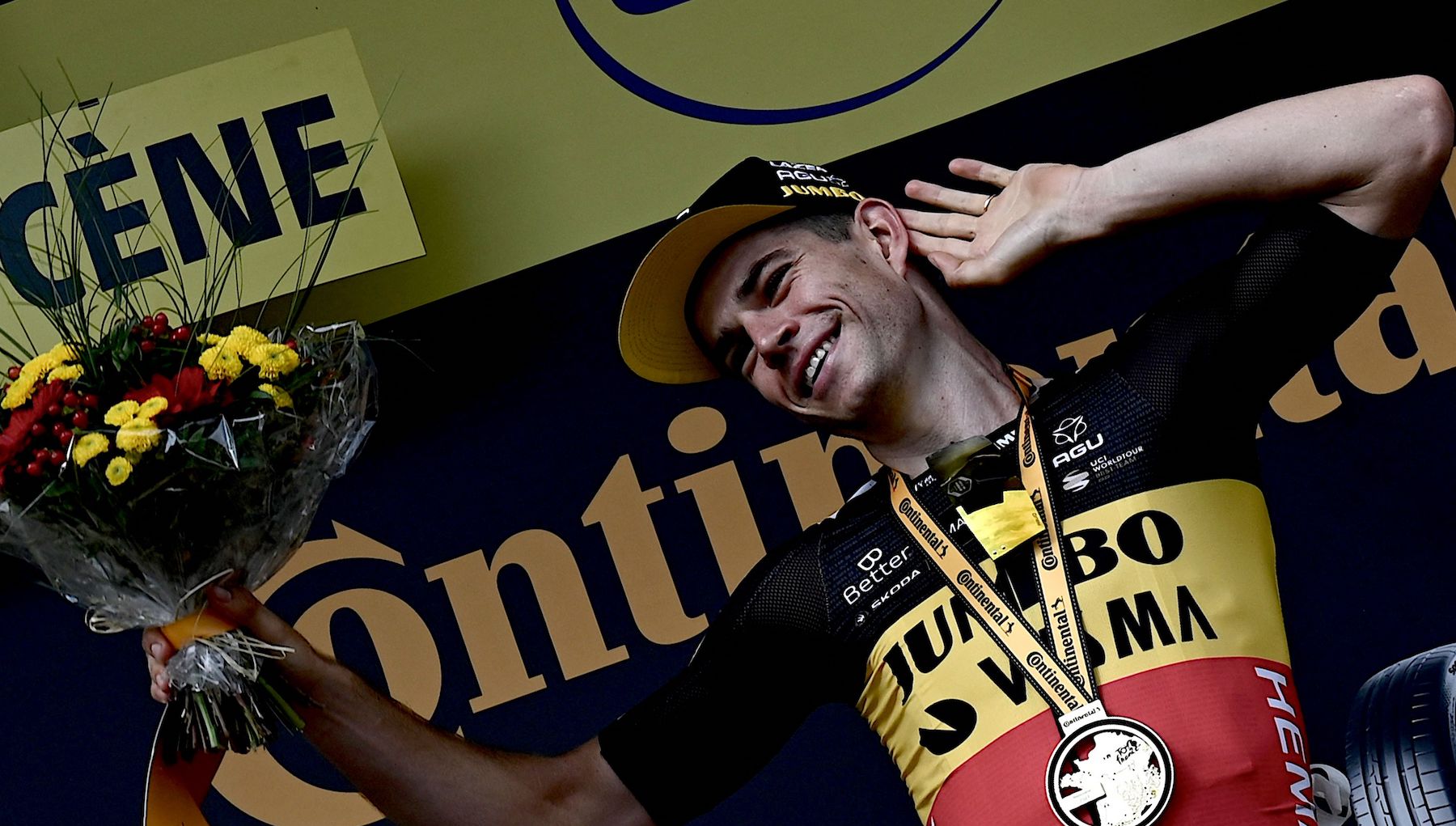 Thank you for reading 20 articles this month* Join now for unlimited access
Enjoy your first month for just £1 / $1 / €1
*Read 5 free articles per month without a subscription
Join now for unlimited access
Try first month for just £1 / $1 / €1