London considers lorry ban to increase cyclist safety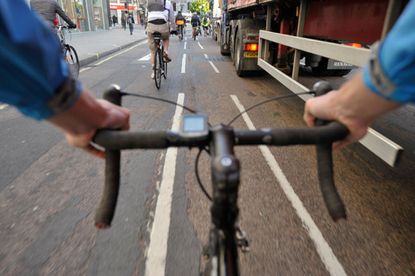 The Mayor's office is investigating a ban on larger lorries in central London amid questions over whether current HGV time restrictions in the capital are increasing risk to cyclists.
After the death of a female cyclist in Victoria on Monday at 8.25am after a collision with a tipper truck, Boris Johnson joined British Cycling and the London Cycling Campaign calling for a ban on dangerous HGVs in London.
At present lorries over 18 tonnes are banned from central London overnight, which means many HGVs enter London during the morning rush hour. The times they are allowed to drive on the streets as well as the safety standards of those vehicles are both being questioned.
Andrew Gilligan, London's Cycling Commissioner told Cycling Weekly: "In our cycling ambition document last month we said we didn't want any lorry that wasn't fitted with the necessary cycle safety equipment to be in central and inner London."
He added: "The experience of the Olympics has shown that it is possible to do things that we didn't think were possible before, such as restricting lorries at specific times of day. We are about to start a study looking at a complete ban in central London in line with Paris and Dublin [where such bans are already in place]."
Gilligan added there are still questions to be asked around the impact of a full-time HGV ban on business and air quality, including whether removing one large lorry adds four smaller trucks onto the streets.
It is understood that such a ban would have to come from central government with the Mayor's office's power limited to lobbying for the change.
Currently lorries over 18 tonnes are banned from London between the hours of 9pm and 7am on Monday to Saturday and from 1pm on Saturday through to 7am on Monday.
The Greater London (Restriction of Goods Vehicles) Traffic Order 1985 was introduced to compliment the construction of the M25 with the objective of limiting noise and air pollution. A small number of routes are excluded from the ban.
London Cycling Campaign's Charlie Lloyd said more incidents happen in the morning peak hour, which is shorter and more concentrated than the afternoon peak.
"We would like a ban of all large lorries in the morning peak, including construction vehicles. If that is not possible then construction vehicles should be redesigned to reduce danger," he said.
Construction and waste vehicles are involved in around half of cyclist fatalities and tend to be most dangerous to cyclists.
Lloyd added the freight industry is lobbying to have the overnight ban revoked, but that this will not make the roads safer for cyclists in rush hour.
Lloyd noted: "The problem is construction industry sites which don't work overnight."
He added overnight deliveries tend to favour larger businesses and supermarkets.
British Cycling's Policy Director, Martin Gibbs, said this week on Twitter the cyclist's death was an illustration of why cities need to remove HGVs from commuting traffic.
He welcomed the Mayor's call for bans on dangerous lorries.
Lorries make up 5% of traffic, yet are currently responsible for half of cyclist fatalities.
Thank you for reading 20 articles this month* Join now for unlimited access
Enjoy your first month for just £1 / $1 / €1
*Read 5 free articles per month without a subscription
Join now for unlimited access
Try first month for just £1 / $1 / €1